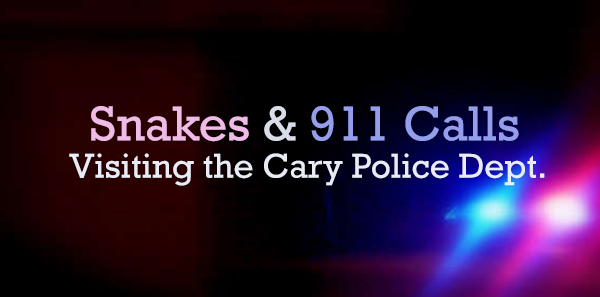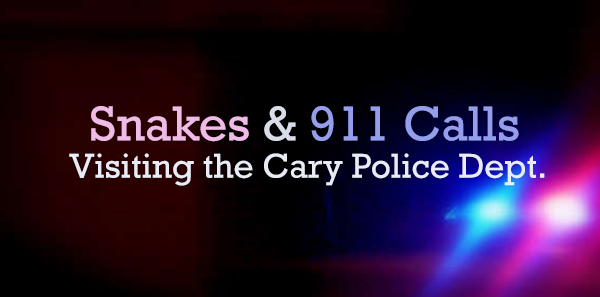 Cary, NC — I visited the Cary Police Department to talk 911 calls, animal control and crime intelligence with Major Scott Davis of the Services Bureau.
The Cary Police Department
The Cary Police Department is a large, attractive building tucked away behind Town Hall and next to the Page-Walker Hotel in Downtown Cary. From the road, it blends in with Town Hall and almost appears hidden, but, inside, busy operations are going on 24/7.
Two weeks ago, Major Scott Davis gave me a grand tour of the building. "The department is broken up into two bureaus," he told me. Davis oversees the Services Bureau, which encompasses investigations, the intelligence unit and other specialties. The Field Operations Bureau (which patrols Cary and answers 911 calls) has even more personnel.
Crime Intelligence
As someone who loves to know "how stuff works," I was excited to tour almost every nook and cranny of the Cary Police Department. In the records department, I met a Crime Intelligence Analyst – it's her job to link and map crimes and suspects, virtually predicting where crime is going to occur so that it can be combated before it even happens.
"This area of law enforcement is only a couple years old," I was told.
I spent most of my tour in the communication center, also known as the call center. Right when I walked in the door, I was greeted by the buzz of voices of 911 operators calming and directing callers. With calls coming in left and right, the room was like a beehive. Sean Cooper, the center's shift supervisor, paused to explain to me how everything worked.
45 Calls in One Hour
As shift supervisor, Cooper's job is to monitor the center's activity and assist with taking calls. He was sitting in front of several monitors – two of which were showing live-time maps of all the active patrol cars and firetrucks in Cary. Police and fire each have their own monitors, and different colors indicate whether they're waiting for a call or responding at a scene.
If you call 911 while in Cary, it's very likely that your call will reach this call center. Landlines are programmed by the telephone companies to go to the appropriate call center for that jurisdiction. Cell phones are a little trickier – cell towers are aimed at specific districts, so, based on where you are when you call 911, you'll be routed to the nearest center.
When calls come in, the call will show up on a third screen with your location, name and phone number. Depending on whether you're calling from a landline or a cell phone, the operator will ask you to verify the number once or twice to ensure they have the right location.
After you give your address and phone number, you'll be asked to describe exactly what happened. "The majority of calls we get are vehicle accidents, falls and medical needs," Cooper told me. People call 911, even when the police aren't needed.
Depending on the nature of the call, it's the call center's responsibility to dispatch police, fire, EMS, animal control, public works or a combination of these. The frequency and number of calls vary, but, the day I visited, Cooper told me that they had received 45 calls in the past hour.
Patrol Officers & Commanders
After I toured the call center, I met Major Jernigan of the Field Operations Bureau – Major Davis' counterpart, he joked. I toured his section of the building, which was made up of offices for various police officials. I met the Watch Commander (who oversees the entire town to make sure officers are where they're needed) and the police department's three district commanders.
Cary is broken up into three different districts – each has roughly patrol 35-40 officers who are overseen by managers. The same officers always work in same district, and, within each district, each officer is assigned a specific sector, so they get to know their areas very well. This ensures that police officers are evenly dispersed and close-by to respond to calls in their area.
I didn't see one patrol officer during my tour, since their shifts are spent patrolling the town. If they're not actively on a call, they're out monitoring their sector.
Arrests & Animal Control
On the final stops of my tour, I saw a gym that is always available for officers and town staff to use as well as a kitchen, a break room and a roll call room, where officers meet with sergeants before their shifts to receive updates and get caught up to speed on what happened last shift.
I then saw the space where officers bring people when they make an arrest. In this secure area, officers give individuals paperwork to fill out and read them their rights. From there, depending on the arrest, they could be taken to the Wake County jail.
The Cary Police Department also has its own animal control unit. "Many people call to report things like dog bites," Major Davis said, "but we get a lot of calls about snakes." That's right – snake sightings. "We don't actually bring the snakes in," Davis laughed when I asked him what they do during those calls. "We'll usually release them someplace else."
Editor's Note: Thank you to my tour guides and to all the other staff at the Cary Police Department for all you do for our community. 
————————————————————————————————————————————
Story and photos by Jessica Patrick. Lead photo by Gustavo Serrano.
https://carycitizenarchive.com/wp-content/uploads/2015/10/Police3.jpg
297
600
Jessica Patrick
https://carycitizenarchive.com/wp-content/uploads/2020/03/cc-archive-logo-450-v3.png
Jessica Patrick
2015-10-22 09:16:47
2015-10-23 14:02:39
Snakes & 911 Calls: Visiting the Cary Police Dept.