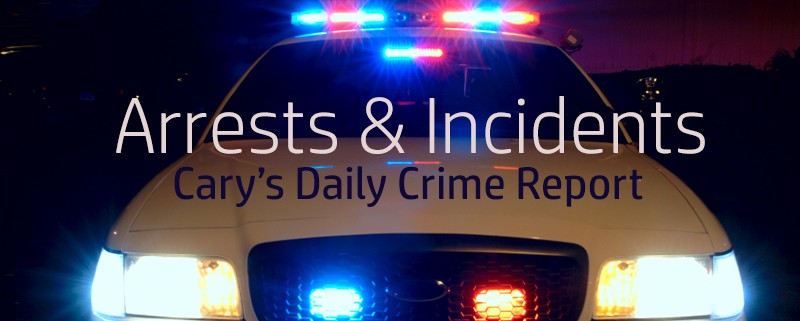 Cary, NC — Have you ever wondered how many people get arrested in Cary each day on average? It's easy to find that information, along with other police data, with the Town of Cary Police Department's daily bulletin. 
Daily Police Bulletin
A list of all arrests, traffic accidents, incidents and citations filed each day in Cary can be found on the Town of Cary Police Department's website. This resource is called the daily bulletin.
With just one click, citizens can enter the date they wish to view data for and instantly see a list of all police reports filed in Cary on that particular day. A complete listing from each day is available on the day that follows it.
The average number of police reports on the daily bulletin, per day, is about 40 listings.
If you want to narrow down your daily search to a specific type of event, you can use a drop down menu on the left to select from arrests, citations/summons, incidents and traffic accidents. Each listing shows the name of the person involved along with their race, sex and age. You can see the officer in charge of the case as well as what the individual was arrested or written up for and where and when the incident occurred.

All the reports are grouped by event type and category. A key (above) shows you what the different abbreviations mean.
Crime in Cary on New Year's Eve
As you can see here, I set the bulletin date to 12/31/2015 and the event type filter to "arrests" to find out how many people were arrested in Cary last week on New Year's Eve.
What else happened on New Year's Eve? According to the daily bulletin, 35 total incidents were reported on December 31, 2015. A handful of residents were stopped for speeding, while others were reported for "unsafe movements" in their vehicles, such as not stopping at red lights or going the wrong way down a one-way street. There were eight traffic accidents (TA) and 11 traffic citations (TC) total. Larceny, vandalism, assault, drug violations and other Dwi's were also reported.
What Else is Going On in Cary?
The list of events occurring in Cary range greatly from day-to-day. Cary saw five murders in 2015, but daily listings show disorderly conduct, burglary, vandalism, drug-related charges, shoplifting and more.
Each day also has a decent amount of traffic citations and accidents.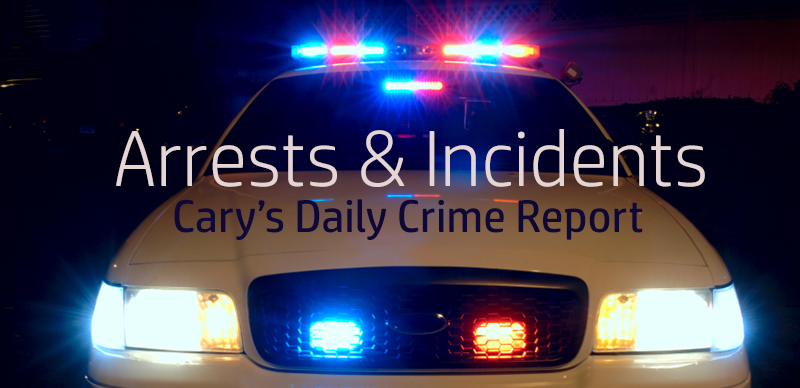 To receive more updates on crime reports in Cary, you can subscribe to email alerts from the Town.
Related Content
---
Story by Jessica Patrick. Photo by Scott Davidson.
https://carycitizenarchive.com/wp-content/uploads/2016/01/Crime.jpg
388
800
Jessica Patrick
https://carycitizenarchive.com/wp-content/uploads/2020/03/cc-archive-logo-450-v3.png
Jessica Patrick
2016-01-05 13:39:06
2016-01-05 13:37:35
Arrests & Incidents: Cary's Daily Crime Report