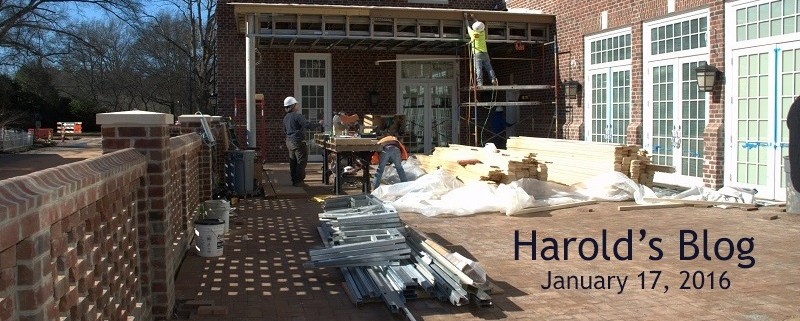 Cary, NC — This was a typical week in the mayor's office with a few small meetings and a regularly scheduled council meeting.
Monday
Monday was very busy and started with a call to all council members to hear of any questions they may have had on the agenda for Thursday's regularly scheduled meeting. I was able to contact all council members except Robinson, who was out of town. There were a few questions about a right-of-way issue from council members.
Agenda Review & Other Meetings
Later in the day I met with management, directors, public information, legal and administration to review the agenda for Thursday. There were no issues of note, and we expected the meeting to be short.
Following the review of the agenda, I met with the Interim Town Manager and the Assistant Town managers to get updates on a few items. The Academy Street and Dry Avenue intersection is about done and is waiting on asphalt.
Hopefully, the asphalt can be put down once it is warm enough.
Another Parking Deck?
In another update, the town will also be working with a developer who is planning a downtown project that will require a public/private partnership on parking. So, it is possible to have another parking structure nearer the Academy Street and Chatham Street intersection, but I believe this is at least a year or two from being a reality.
The Mayton Inn
Updates were also provided for The Mayton Inn. The Mayton House will be moved to the Mayton Inn site and will be the home of the owners of the inn, the Crossmans. It is scheduled to be moved on Monday, January 18 in two pieces. The move is expected to take about two hours. The movers are expecting light traffic since January 18 is a MLK Holiday.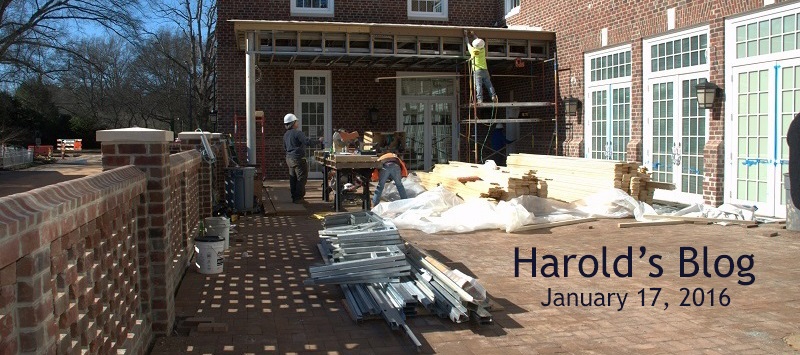 The Mayton Inn soft opening is planned for January 26. This will be their test run, and guests will be sleeping in the hotel. The grand opening is planned for Saturday, January 30. Unfortunately, this happens on the same day as the last day of the council/staff working retreat in Greensboro. Hopefully some council members and staff will make it back in time to attend.
Town Manager & Other Positions
Monday evening, the council went into closed session to discuss the town manager and town clerk vacancies. First, the council talked with the consultant about the town manager search. The consultant will take that feedback, make small adjustments and repost the position. The council will get a report from the consultant and start their involvement about six weeks after the position posting. Next, the council discussed the town clerk position. Council will have this vacancy posted on NeoGov, which is viewed by most people in the town clerk field.
Council also named Virginia Johnson as the Interim Town Clerk during the search time.
Wednesday
Wednesday, I met with Wake County Public School System Chair Christine Kushner. Having grown up on Academy Street, she has ties to Cary.
Wake Co. School System Meeting
In our meeting, we talked about what is being planned by the town near and long term and also what is being planned by the school system. We both believed that strengthening our partnership will help as we move forward.
Our conversation included specifics such as the lack of middle schools in western Cary, the naming of schools and if future schools can use repurposed structures. The meeting was very productive, and I am confident the school board is aware of all of our issues.
Interim Town Clerk Meeting
Later Wednesday, I met with our newly appointed Interim Town Clerk. We talked about Mayor and council expectations and how we can best work together in this interim time.
Thursday
Thursday, I joined five other council members in the dedication of the Sister Cities directional sign located on town hall campus.
New Sign on Town Hall Campus
This sign includes the name of each if its four sister cities partners – Le Touquet, Hsinchu City, County Meath and Markham – their distances from Cary and country flag images.
The sign, which commemorates Cary's sister cities relationships, was installed on Town Hall campus where it will remain until the completion of the downtown park, where it will be placed permanently. Visible from the sidewalk and North Academy Street, the design matches that of Cary's other wayfinding signs. The sister cities' names are placed the pole in order of their official designation, and the sign blades are oriented as correctly as possible to the direction of each sister city location. The sign pole is expandable and can accommodate additional blades as new sister cities are added.
Council Meeting
Later Thursday, the council held our first regularly scheduled council meeting of the month. The council had two items for discussion. The first item was to consider a staff recommendation to refinance $23,560,000 in existing General Obligation bonds to save the town an estimated $1,268,075 in debt service over the next 14 years.
The council agreed and approved this recommendation unanimously.
The second item was to consider a rezoning proposal to allow a daycare center with a maximum of 8,300 square feet and a two-story office building with a maximum of 13,300 square feet to be located on O'Kelly Chapel Road. This proposal was subject to design standards and conditions specified in an associated Preliminary Development Plan (PDP). At the original public hearing, there were concerns expressed and opposition to the proposal. Since that time, changes were made, and all parties seem to be in agreement. Based on this information, the council had little discussion, and the proposal was passed unanimously. The meeting, which lasted about an hour, concluded after council returned from closed session.
Friday
Friday, I had a conversation with school board member Fletcher, who provided information on school construction. This information will be made public at the school board meeting on Tuesday.
Saturday
Saturday, I had the pleasure of making welcoming remarks at the International Diversity Summit, which was part of the MLK Dreamfest series held at the Cary Arts Center. Here is an excerpt from my remarks:
…A lot of people don't realize just what a diverse community Cary is. Not so long ago, a survey reported that only 5 percent of adults living in Cary were actually born in Cary.

We're proud to have such a diverse community, and it's events like this that help keep our community strong and successful as we get to know the values, experiences and talents we each offer, like the great program planned for today.

Diverse as we may be, the teachings of Dr. Martin Luther King Jr. are a message that resonates with us all. Dr. King once said that, "The quality, not the longevity, of one's life is what is important." Like King, we at the Town of Cary value the quality of life of our citizens, and we will continue to promote activities that encourage diversity in our community…
After my remarks, a panel of six pastors discussed diversity in the church. It included both Caucasian and African American pastors. The discussion lasted close to two hours and was absolutely fascinating. I could have listened to the discussion for a couple more hours. I would recommend everyone watching the YouTube version once it becomes available.
New Cary Accolade
Cary received another accolade this week to add to the long list it already enjoys.
Forbes reports that Cary is one of the 10 safest cities in the U.S. for driving in bad weather. While that is an outstanding accolade, it is my hope we avoid the bad weather altogether.
Emails from Staff
Emails from staff this week included an announcement that Cary will once again host the NCAA Division 1 Women's College Cup this fall. This event will be held December 2-4, 2016. Originally, this year's College Cup was slated to take place in Orlando, Florida, but the NCAA Women's Soccer Committee decided to move this year's women's soccer championship due to the recently announced venue completion date of 2017 of the Orlando City Soccer Club Stadium.
In another email from staff, council was notified about the status of the railroad crossing at Northeast Maynard and Harrison. Staff had a positive discussion with CSX, Norfolk Southern and DOT recently and is optimistic that they will be able to improve the situation at both crossings. For the Northeast Maynard crossing, CSX can't go back and lower their tracks, but Norfolk Southern appears willing to conduct similar maintenance work off-cycle and raise their tracks.
However, there is a cost that someone would have to absorb. Their target for this work is February, but it is dependent on the weather and availability to secure the materials and a crew needed for the work.
For the Harrison crossing, the Town is scheduled to resurface Harrison as part of our annual street improvement program from Adams Street to Chatham. As part of this resurfacing, we will pave up to each set of tracks, so, once this is complete, it should help with the approach and departure near the tracks. The resurfacing work is scheduled for this Spring. In the interim, "bump" signs have been installed by DOT and the Town at both locations.
Emails from Citizens
Emails from citizens this week include:
Concerns about the decline of the Cary Mall
A request to have sun screen dispensers at public venues
A concern about the loss of historic structures
An accusation that council is deliberately posting information to prevent people from attending public hearings
An email campaign related to the proposed Publix grocery
In case you are wondering, email campaigns are typically ineffective with this council. Filling up their email boxes with cut and paste messages or the same message over and over is an irritant at best. A better way that will have a bigger positive impact is to have one messenger with the signatures and support of many people.
Next Week
Next week, the pace picks up for me. On my calendar is a meeting of the Wake County Mayors Association, the State of the Town taping, a meeting of the Capital Area Metropolitan Planning Organization's executive board and the February taping of Cary Matters.
Get in Touch
Well, that is all for this week. My next post will be on Sunday, January 24th. Although I have Facebook and Twitter accounts those are not the best means of communications with me. Please send all Town of Cary questions or comments to Harold.Weinbrecht@townofcary.org and email personal comments to augustanat@mindspring.com.
---
From the blog of Cary Mayor Harold Weinbrecht. Photo by Jessica Patrick.
https://carycitizenarchive.com/wp-content/uploads/2016/01/HBLOG.jpg
355
800
Harold Weinbrecht
https://carycitizenarchive.com/wp-content/uploads/2020/03/cc-archive-logo-450-v3.png
Harold Weinbrecht
2016-01-18 13:53:40
2016-01-18 11:53:55
Harold's Blog: Downtown Cary Updates