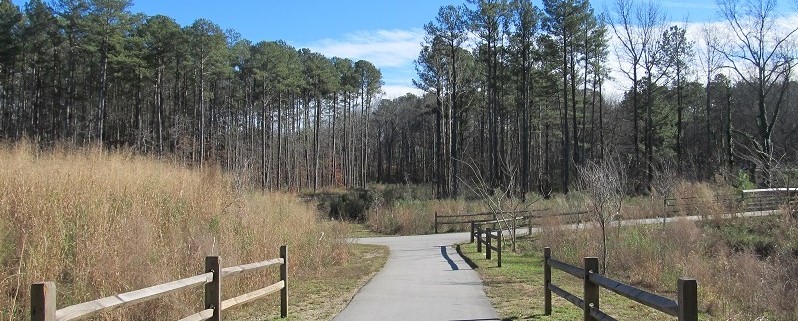 Cary, NC — Lovers of outdoor exercise, and birdwatchers especially, have many options to enjoy among Cary's greenway system. Most of these trails are located in western and southern sections of Cary, but there is one very special greenway that's found inside the Maynard Loop and is not well-known to the general public. 
Higgins Greenway
I revisited Higgins Greenway on a brisk January day in search of birds, and I wasn't disappointed. Neither were those I passed who were in search of a pleasant and scenic walk.
Higgins Greenway, in its current form, is a 0.8 mile paved path along a segment of an unnamed tributary of Swift Creek. It was first constructed in the 1980s reopened in 2013 after an extensive expansion that included a reconstruction and stabilization of the tributary channel. The original greenway was unpaved and ran 0.5 miles between Danforth Drive in the Waterford Place subdivision and SW Maynard Road. The current trail extends north and east to Dorothy Park's west end and includes access points at Union Street and W. Chatham Street.
The trail is part of a larger vision. The Town of Cary anticipates that Higgins Greenway will eventually make connections to the High House Road-side trail to the northwest, the Annie Jones Greenway parallel to Lake Pine Drive to the south and downtown Cary via Hillcrest Cemetery and Kildaire Farm Road.
A Good Home for Wildlife
The greenway provides several habitats that are attractive to birds. First, the trail parallels the unnamed tributary for its entire length. These so-called "riparian" corridors provide water and food sources. Second, there is mature "edge" habitat on all sides of the greenway. These tall trees offer roosting spots, perches for seeking insect prey and cover from predators.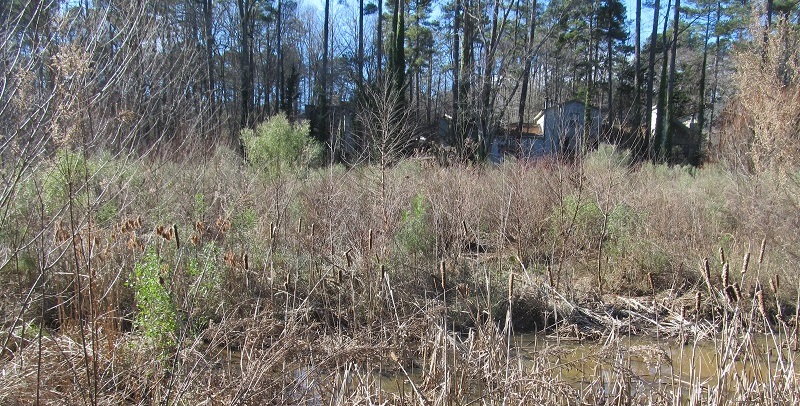 Aging and dying trees along the edge are irresistible to woodpeckers. Third and finally, greenway planners ensured that the stream is flanked by well-vegetated bottom land (including over 8,000 plantings in 2013!) and some open meadows.
Points of Interest
Higgins Greenway isn't one of the longest trails in Cary, but it offers several spots of special interest.
The stream is crossed by a large wooden footbridge about 1,000 feet north of SW Maynard Road. This bridge offers a very fine view of the wetlands north and south. Additionally, there are excellent views from the footbridge at the northernmost curve of the greenway and the footbridge 300 feet west of the Union Street entrance.
Bird watchers will appreciate the meadow and "snags" (dead trees) located near the W. Chatham Street entrance. If you're hungry, The Golden Pig restaurant can be found at the edge of this meadow at 815 W. Chatham Street – only 250 feet from the greenway!
Birds You'll See
The brushy banks of the stream are a great place to find a variety of songbirds such as Fox Sparrows, White Throated Sparrows and Slate Colored Juncos. These birds are skittish, so be patient and they may come out to hunt for seeds along the edge of the greenway. This is also an excellent habitat for Northern Cardinals.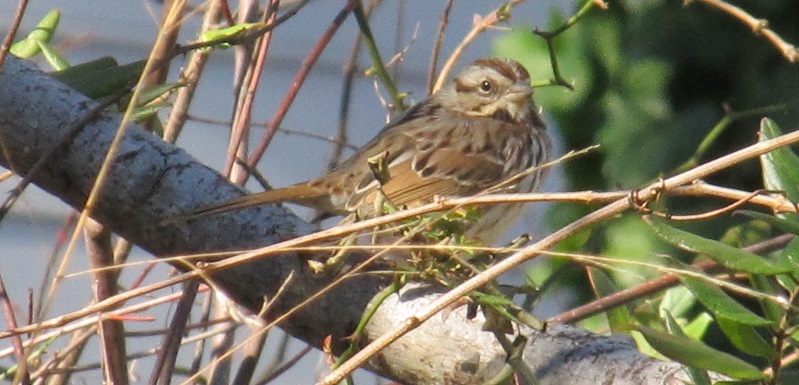 Keep an eye on the tall trees you'll pass – especially at the northeast and southern ends of the trail. A variety of woodpeckers (Downy, Hairy, Red-Bellied and Common Flicker) are easy to hear and sometimes spot. It is also easy to spot Carolina Chickadees, Tufted Titmice, Carolina Wrens and White Breasted Nuthatches.
The maturing shrubs and smaller trees near the stream are favorite spots for Yellow Rumped Warblers, Eastern Phoebes and Eastern Bluebirds, among others. And don't forget to look up! It is easy to find Red Tailed Hawks, Coopers Hawks and Turkey Vultures patrolling the stream corridor from above.
Where to Park
If you wish to visit this greenway, I recommend parking along Marjorie Drive or Dorothy Drive (the streets that flank the narrow Dorothy Park) and entering the greenway from the Union Street entrance. There is no trail head or public parking lot at any of the four entrance points. Plan on 30 or more minutes to walk the length of the trail and back.
Related Content
---
Story and photos by David Lindquist, our bird watching and greenway expert.
https://carycitizenarchive.com/wp-content/uploads/2016/01/Higgins4.jpg
441
798
David Lindquist
https://carycitizenarchive.com/wp-content/uploads/2020/03/cc-archive-logo-450-v3.png
David Lindquist
2016-01-19 08:48:22
2016-01-19 08:48:22
A Day at the Higgins Greenway