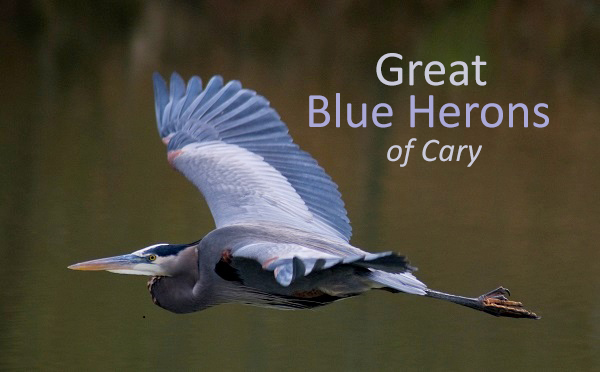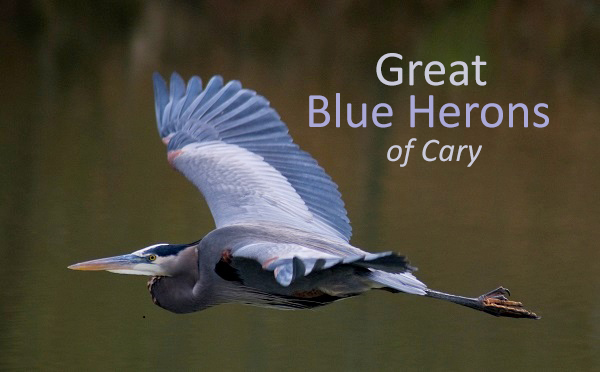 Cary, NC — One of the most visible and largest of the water birds we can see in our area is also one of the most misunderstood. Most people don't even know what to call them. 
Great Blue Heron
Meet the Great Blue Heron (Ardea herodias), which is a close relative of egrets and pelicans. While many people think herons resemble cranes, Great Blue Herons are not related to the many species of crane. Great Blue Herons are large birds, standing up to 52" in height – as tall as a child! They're easily recognized by their blue-gray body and white head with black "eyebrow" plumes, long legs and a long yellow bill.
They are the largest species of heron in North America.
Find Them Near Water
Great Blue Herons are residents in our area all year. You can find these stately birds almost anywhere there is enough water to support the fish, crayfish and amphibians that make up most of the Great Blue Heron's diet – like at ponds, lakesides, marshes and creeks.
Great Blue Herons are the most patient of fishers, waiting motionless until their prey ventures close enough to spear or pin with their long bills. If fish are scarce, herons will hunt for lizards, insects and even small rodents. They hunt by sight and have excellent vision. It is particularly noteworthy that Great Blue Herons are solitary feeders – you won't see them together.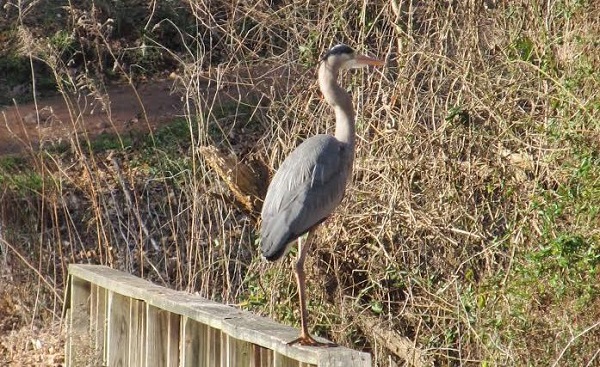 Those who have startled a heron can easily imagine these birds as latter-day pterodactyls! Their wide wing span (up to five feet), almost prehistoric croaking call and impressive size makes for an unforgettable combination. And, while they are adapting fairly well to "people places," herons are easily startled. It is hard to approach one closely without making the bird very nervous.
Herons in Cary
I have observed Great Blue Herons for many years – not only in Cary but on the coast and in many places in the southeast United States. I don't think I have been allowed within 20 feet of any bird, although they will tolerate my presence for lengthy period of time if I stay quietly in one spot. The most interesting place I have seen a Great Blue Heron is atop the fish feeders at Bond Park – I am not sure how easily they can fish from there, but I am sure they manage quite well.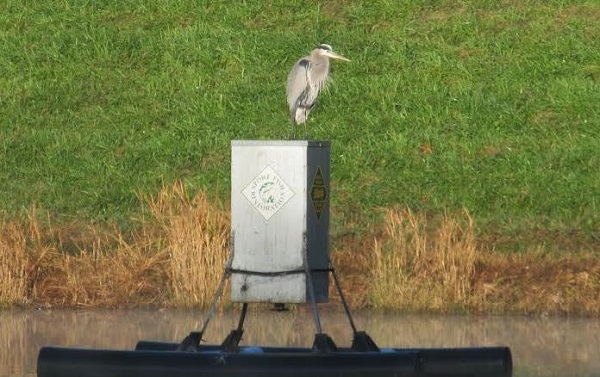 Great Blue Herons are common in our area, but they did once have a brush with extinction, as their plumage was a popular adornment of women's hats. Legislation in the early 20th century helped change the equation. They were also aided considerably by the reintroduction of beavers in many areas, whose ponds are ideal habitats for herons.
We can now enjoy the sight of these amazing creatures close to home.
Visit one of Cary's ponds or lakes, perhaps at Bond Park from the boat house. If you're patient, you will be rewarded by an apparition of the Great Blue Heron.
Related Content
——————————————————————————————————————————
Story and photos by David Lindquist. Lead photo by Pen Waggener.
https://carycitizenarchive.com/wp-content/uploads/2015/11/Great-Blue-Heron.jpg
372
600
David Lindquist
https://carycitizenarchive.com/wp-content/uploads/2020/03/cc-archive-logo-450-v3.png
David Lindquist
2015-12-01 08:25:44
2015-12-01 08:23:12
Great Blue Herons - See Them in Cary