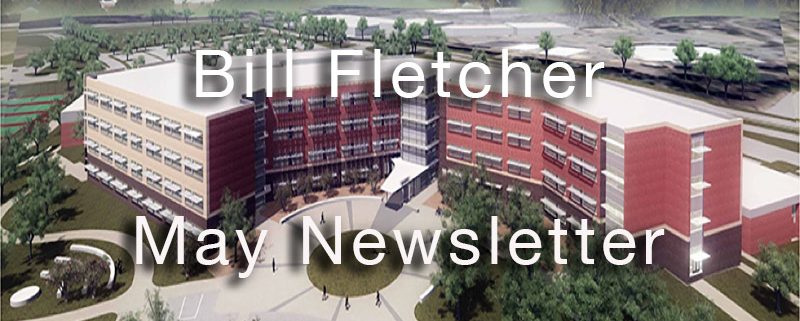 Wake County, NC — Thoughts for May 2016 from Bill Fletcher, Member Wake County Board of Education.
Enrollment Expected to Top 178,000 by 2023
Providing seats for new students and rehabilitating older campuses have found a new balance in the draft CIP2017-23 capital plan for schools. The seven year plan will average about $300M in construction annually to include new schools in high growth areas and campus replacements at some of Wake's oldest and neediest campuses including Fuquay Varina and Apex High Schools, Brooks, Stough, York and North Ridge Elementary Schools and others. The plan provides flexibility to implement innovative new facility/program combinations when available.
STEM has a new meaning: Strategies That Engage Minds!
Driven by the District's strategic plan to prepare our students to be ready for college and careers, teachers are learning and implementing new instructional strategies in their classrooms. Many of these practices fall under the banner of "Problem-Based, or Project-Based, Learning" and require students to develop critical thinking and problem solving skills while working in teams and openly sharing their perspectives and ideas. The role of the teacher is changing from "sage on the stage" to that of coach and facilitator.
Board Adopts Budget Request – Rests with County Commission for Funding
Our public schools are making significant strides in improving student outcomes. One size does not fit all and this budget shifts existing and new resources to provide additional support for students who have not been successful thus far. We expect the Legislature to provide funding for enrollment growth and pay raises for teachers and staff. 59% of the Board's operating budget depends on the State meeting its obligations. The budget is online at wcpss.net/budget. Public comment is welcomed.
Wake Magnets Ranked #1 Again by the Magnet Schools of America!
Shout out to Douglas Elementary School for being named the best in America among all grade levels! In the category of best magnet school by grade span, Wiley Elementary was recognized as the best elementary school. In all, 27 Wake magnet schools received special awards at the recent Magnet Schools of America Conference. The awards are given to schools that demonstrate a commitment to high standards, curriculum innovation, successful desegregation and diversity efforts, and strong parent and community involvement.
Developing the Enrollment Plan for New Schools Opening in 2017 Begins
Staff and Board start work on next year's facility utilization and continue working to find new ways to balance family choice with good stewardship. The next plan will work to assure the District utilizes every seat possible to serve our students while preserving stable and proximate assignments.
Factoid #22
Temporary Classrooms (TCRs) really aren't temporary any more. What once was a cheap way to add seats has become a money pit. Moving one TCR from point A to point B is a $90,000 job – including design, engineering, permitting, transporting, site prep, commissioning the new and decommissioning the former locations. DOT allows TCRs to be on the road only 38 days a year and only between daybreak and noon.
Parent Chats
Note: No Parent Chat on July 7
Parent chats except on holidays:
1st Thursday, 1 PM, Cary Chamber, 315 N Academy St.
3rd Monday, 11 AM, Caribou Coffee shop, 109 SW Maynard
Get In Touch
BFletcher@wcpss.net || Voice Mail: 919-431-7332 || Mobile: 919-880-5301
---
Story by Bill Fletcher, Member Wake County Board of Education. Photos courtesy of the Wake County Public School District.
https://carycitizenarchive.com/wp-content/uploads/2016/05/FletcherSchoolFeature2.jpg
550
800
Bill Fletcher
https://carycitizenarchive.com/wp-content/uploads/2020/03/cc-archive-logo-450-v3.png
Bill Fletcher
2016-05-20 14:11:51
2016-05-20 12:10:34
Education: $300 Million in New School Construction