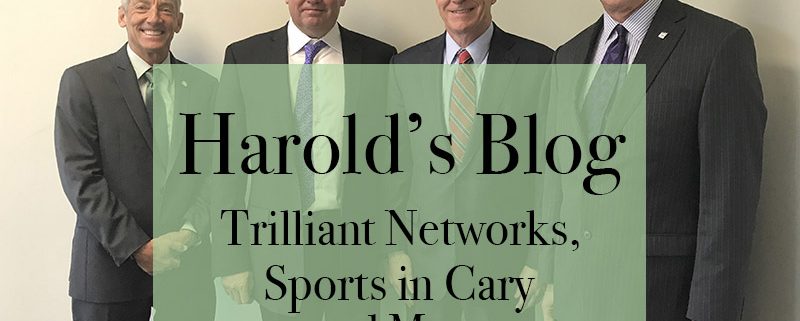 Cary, NC – This week was a busy week and included a couple of big announcements. 

Monday – Eastern Gateway Proposal
Monday I met with representatives of Columbia Development. These are the folks interested in developing the property off Cary Town Boulevard across from the mall. They showed me two simulations of what they plan to propose. It included a Wegmans, retail, residential, a parking deck, and integrated art. The vision was similar to a cross between North Hills and Park West. If the vision gets built I think it would be great for Cary. But that is a big if. We will see what they propose and what conditions they offer to help guarantee that vision will be built. Council members will also need to keep in mind that retail that is likely to redevelop across the street which is important because we don't want an area dominated by retail. Instead we, the council and the community (through the Cary Community plan), want an area with a mix of uses. In addition, the council has expressed numerous times that it wants more office on the site across from the mall.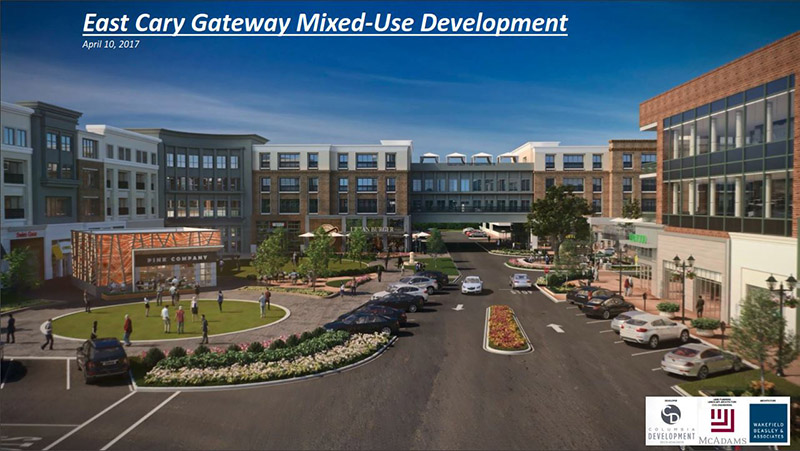 Tuesday – NCAA and Trilliant Networks
Tuesday was a big day for Cary. I joined Governor Cooper, Wake Chair Hutchinson, and several council members in an announcement that Trilliant was adding 130 jobs to Cary. While most people might not have heard of Trilliant they probably will in the near future since their expertise is in communications to save energy. They describe themselves as:
"Trilliant helps savvy utilities and energy retailers achieve their smart grid visions through the Trilliant Smart Grid Platform, the only purpose-built communications platform that integrates these disparate system of systems into a unified whole. Only with using a smart grid platform purpose-built for the energy industry can utilities and energy retailers unify the information from their disparate system of systems to achieve their smart grid visions and enjoy the benefits."
The ceremony started with Chairman Hutchinson making remarks and introducing the Governor. The Governor made remarks and presented a North Carolina flag to the CEO. After the CEO made remarks I finished the ceremony with remarks. Trilliant could have moved their global headquarters from Silicon Valley to anywhere in the world but they chose Cary. We are grateful they chose Cary and will do what we can to help them thrive and prosper.
Tuesday afternoon the NCAA announced that Cary would once again receive championships. Starting in 2018 Cary will host the Division I College Cup for four consecutive years alternating with men and women. Cary was also awarded four consecutive Division II Baseball Championships starting in 2018. This will be a huge economic benefit to our town. After the NCAA announcement the local media outlets were asking for comments so I made the following statement:
"We are pleased to learn that Cary has once again been selected to host NCAA championships. Cary's selection is a testament to our dedication to being one of the premier host communities for amateur and collegiate athletics. We are certain our venues, hailed as some of the finest in the nation, will continue to provide an exceptional experience for NCAA athletes and fans."
I did do one interview on the phone with WUNC.
Later Tuesday I met with the Mayor Pro-Tem about meetings he will be facilitating next week. We were joined by the town clerk for part of that meeting.
Wednesday – ACC and Transportation
Wednesday Cary received more good news as the ACC announced that championships will come back to Cary. The Cary tennis park will hold the ACC championships in 2018 and the Wake Med Soccer Park will hold the women's semifinals and finals soccer championships in 2018. We are so grateful that these events are back in Cary where they belong. It is a true testament to our excellent facilities and staff.
Wednesday I attended a meeting of the Capital Area Metropolitan Planning Organization's Executive committee. Transportation Secretary Trogdon spoke to the elected officials for about 20 minutes. Here are some of the notes I took on what he said:
The focus of the department is to work on infrastructure including roads and bridges.
They will be trying to reduce the cycle of time needed to complete a project.
They will be less conservative on projects meaning they will spend money allocated as soon as they can.
There is about $1 billion in the bank due to slow projects. They want to accelerate those projects.
North Carolina is fifth in the nation in automobile fatalities. He wants to lower that.
He wants to improve mobility.
He believes the state should share analysis tools with the municipalities.
He hopes to have funding for the remaining sections of I540 in 2018 rather than 2020.
He expects automated vehicles and other technology to become more common fast. Currently I540 is one of ten roadways used for pilot testing of automated vehicles. He believes in the future individuals will not have cars which will leave a lot of redevelopment opportunities for parking lots.
Only 17% of all projects submitted are funded. He wants to at least double that in the next five years.
He wants to see light rail to Durham which will help us be competitive with our neighboring states.
Other items at the meeting included information on the Wake Transit Plan implementation, a memorandum of understanding for federal grants, and a 2045 metropolitan transportation plan update. The meeting concluded after about an hour and a half.
Later in the evening I attended a meeting of the Indian-American PAC. Other elected officials at the meeting included Governor Cooper, NC Senator Barringer, NC Senator Chaudhuri, NC Legislator Adcock, NC Legislator Dollar, and Mayor Stohlman. The Governor and Representative Dollar made remarks. The rest of us answered questions or made a statement towards the end. All pledged to work together. I was there about two and a half hours.
Thursday – Homeowners in Cary
Thursday I attended and spoke at a homeowner's association meeting. I talked about projects in the area of the neighborhood and what is going on around town. Then I answered a few questions. If you would like me to speak at your homeowner's association meeting just ask and I will try and fit it in my schedule.
Friday – State Legislation
Friday I participated in a meeting of the North Carolina metro mayors for a legislative update. It was mentioned that this upcoming week will be busy as proposed legislation crosses from the house to the senate and vice versa.  Items discussed included:
Impact fees and how the ones already in place will stay in the current proposal.
Billboards which were the 2nd most debated topic of the week after impact fees.
Electronic notices which would require public notices on the web rather than the newspaper. It was pointed out that many more people are reading the web than newspapers.
This is the state incentive program used to attract companies like MetLife to Cary. The proposal would limit the amount of money that can be given to metro areas in Raleigh-Cary, Charlotte, etc.
Personally, it seems that some legislators are more interested in serving special interest groups (and donors) rather than the public they are elected to serve. I hope the majority will step up and do the right thing.
Town Manager's Report
The town manager's weekly report included the following:
NC Welcomes Trilliant Networks to Cary

Mayor Weinbrecht and Council members Frantz, George, Smith and Yerha along with Cary Chamber officials were on hand for Gov. Cooper's announcement that Trilliant Networks is establishing its global headquarters in Cary, creating 130 jobs over the next five years. The company will invest $1.8 million at its current offices to accommodate for this expansion of corporate operations.

"Wake County and Cary have the ideal business environment, location and talented workforce for the headquarters operations of a high-technology company," said Governor Cooper. "We're proud that this global smart grid software and communications company has chosen to expand its operations right here in the heart of the Research Triangle."

NCAA & ACC Announce Returns to Cary

Lots of great news to share with regards to NCAA and ACC Championships returning to Cary. On Tuesday, the NCAA announced the return of Division 2 Baseball (2019-2022), Division 1 Women's Soccer (2018 & 2020) and Division 1 Men's Soccer (2019 & 2021). Cary has successfully hosted the baseball and soccer championships since 2004.

On Wednesday, the ACC announced they will be coming back to Cary, bringing soccer and tennis championships to our facilities. Cary has been selected to host Men's and Women's Tennis Championships in April 2018 and Women's Soccer Championship in November 2018.

We look forward to hosting these great events with our university partners and the Greater Raleigh Sports Alliance.

H436 Amended as Study Bill

We are thrilled to share that Representative Dollar spoke up for Cary at the committee meeting on Local Government/Regulatory Fees. Rep. Reives also spoke against the bill as written. Another representative offered an amendment to make this a study bill; this amendment PASSED! While the exact language has not been published yet, this is a great win for Cary. Please reach out to Nelson Dollar as well as Rep. Reives and thank them for supporting Cary citizens.

This bill will now proceed to the full House for discussion and potentially further amendments before coming to a vote. We expect this to happen next week.

Ban Smoking in Parks? Here's What We Found

After inquiries from citizens, Council asked staff to look into what other NC municipalities do regarding smoking bans in parks. Staff has completed initial research on smoking ordinances in NC. Of the six largest cities, five have ordinances regulating smoking to a certain extent (Winston-Salem does not have a ban.) Each municipality that does regulate smoking do it in slightly different ways. However, when reaching out to our Police counterparts in these different localities, they could not remember a time when they enforced the ordinance.

NC Mayors: Call Off Travel Ban

Mayor Weinbrecht joined fifteen other NC mayors, including Charlotte's Jennifer Roberts and Raleigh's Nancy McFarlane, in asking mayors of cities across the country to reconsider their bans of travel to North Carolina. Chicago and Washington state this week became the latest to reaffirm travel bans that started after the passage of House Bill 2, now repealed. In the joint letter, the NC Mayors reiterated that "the values our cities hold are not changed by legislation" and "our cities remain safe, welcoming places for all people."

Thursday's Work Session 

After the regular Council meeting on Thursday, staff will also present three topics at the Work Session. Those topics include: a Manager's operation update, an update on our legislative efforts with the General Assembly, and a presentation about the next steps in the development of the Downtown Park Phase II.

Cary Named Among the 20 Safest Cities in NC 

On Tuesday, SafeWise ranked Cary #8 among the 20 safest cities in NC. The SafeWise method to identify and rank the safest cities is based on the most recent FBI Crime Report statistics from 2015, along with population data. It is important to note that we are by far the largest city of any in the top 20.

CAMPO Executive Board Meeting Action Summary

At the April 19 meeting, opening remarks were delivered by NCDOT Secretary Jim Trogdon. Highlights from Secretary Trogdon's remarks included a new commitment to significantly accelerating transportation projects and consolidating existing programs for small projects to rapidly simplify that process. Secretary Trogdon also shared his commitment to reducing motor vehicle fatalities due to driver behaviors and the department's work to improve safety. He closed with a discussion on moving up the 540 project scheduled to advertise the project in 2018, instead of the currently planned 2020.

The Executive Board voted to approve the MOU for the Sub-Allocation of Federal Transit Administration Formula Grants to the Raleigh Urbanized Area, endorse the Southeast Area Study recommendations and approve the TPAC/Wake Transit Administration new CAMPO staff position. The next Executive Board meeting will be helped on May 17 from 4-6 p.m. at One City Plaza in downtown Raleigh.

Women's History Month 

As part of "Women's History" month, our own Council member Lori Bush coordinated with the National Foundation of Women Legislators to showcase the documentary, "Miss Representation" at The Cary Theater. A special thanks goes out to Council member Bush and The Cary Theater staff for making such a great collaboration happen!

Cary Honors Family with Police Funeral

On Thursday, Police officers from around the region came together to celebrate the life of Riyansh Suraneni, a 4 year-old boy who loved the police. Earlier in the week, we were contacted by Morrisville Council Member, Satish Garimella, asking Cary to support the family's request to lay their son to rest as a police officer. We were honored to be able to work with the family and have the opportunity for Riyansh to join our ranks as a Cary Police Officer. The family was presented with a Cary Police Officer Badge and patch for his uniform, which he was buried wearing. Additionally, Assistant Chief Toni Dezomits and Assistant Chief Tracy Jernigan presented an American Flag, a symbol of honor for police funerals, to the Suraneni family. Officers lined the walkway outside the funeral home to pay final respects.

Recognitions

This week we received an extraordinary email from a citizen about her family's experience with one of our trash collectors. We thought others would enjoy reading and so we have copied it below. After a little investigating, we determined this driver is Grady McKey. He has been with the Town for over 14 years.

"For over a year (likely longer) we have had the same trash collector each Wednesday. My 4 year old son LOVES him and calls him "his buddy." I apologize that I've never had the chance to learn his name.

Each week he collects the trash and honks his horn for my son who sits by waving hello. He even honks when my sons isn't there…just in case he just didn't make it to the door in time. Well, today we weren't home when the trash was collected. But the drive came back around when leaving the neighborhood, making sure to pass our house and stopped in front until my son came to the window…so he could honk!

This is obviously beyond his job requirements and well above typical customer service expectations. He simply does this to make a random four year old smile each week! This is the type of service and behavior that should be acknowledged and rewarded. Please be sure that he and his supervisors read this and know how appreciated his weekly act of kindness is to us!"

In the true spirit of OneCary, I'd like to recognize staff in Public Works, Police and Fire for working multiple days to rescue a citizen's cat that had become trapped in a stormwater drain.
 Emails From Citizens
Emails from citizens this week included:
A nasty complaint about my signing a letter asking cities to call off the travel ban. (Folks I don't mind anyone disagreeing with me but name calling and nastiness is not productive in a discussion. All I ask is that we all be civil.)
A request to honor a war veteran.
Several requests to attend and speak at events.
Questions about the Trimble Avenue rezoning.
A request to oppose the White Oak rezoning.
A complaint about the town's plan for the state property.
Several requests to oppose the Urban Drive rezoning.
Next week I will be traveling with my wife to France. We will spend a few days in Paris and then head to Cary's sister city Le Touquet. Therefore, I will not post next week. And just to be clear I am paying for this not the taxpayers.
Get In Touch
Well, that is all for this week. My next post will be on Sunday, May 7th.  Although I have Facebook and Twitter accounts those are not the best means of communications with me. Please send all Town of Cary questions or comments to Harold.Weinbrecht@townofcary.org and email personal comments to augustanat@mindspring.com.
---
From the blog of Cary Mayor Harold Weinbrecht. Photos courtesy of Harold Weinbrecht.
https://carycitizenarchive.com/wp-content/uploads/2017/04/HaroldsBlog-Apr24-Featured.jpg
550
800
Harold Weinbrecht
https://carycitizenarchive.com/wp-content/uploads/2020/03/cc-archive-logo-450-v3.png
Harold Weinbrecht
2017-04-24 10:20:05
2017-04-24 10:20:05
Harold's Blog: Trilliant Networks, Sports in Cary and More