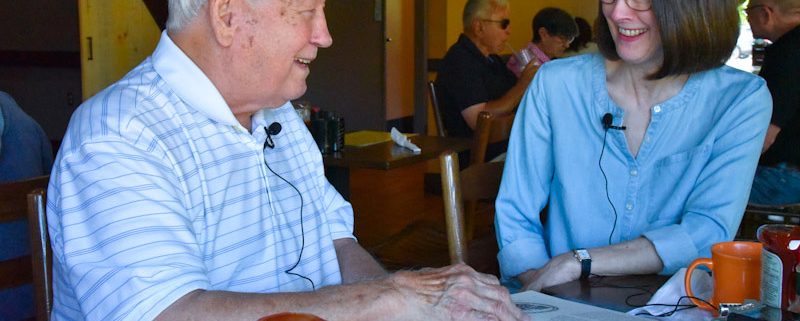 Cary, NC – There is a lot of history in Cary and the best way to learn about it is just by talking to those who know it best. So, this is the beginning of a new series for CaryCitizen titled "History for Breakfast" where we sit down with historians from around town at the Famous Toastery to eat breakfast and talk about Cary.
You can listen to our conversation on SoundCloud.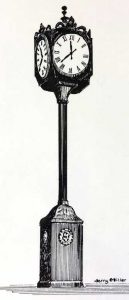 In our first installment, we sat down with Carla Michaels and Jerry Miller. Michaels is a board member of the Friends of Page-Walker and Miller worked on the Cary history book "Around and About Cary," together with Tom Byrd, whom he met almost by coincidence.
When Miller moved to Cary in 1957, he got the idea to draw significant locations around Cary on pen and ink, inspired by a similar book about Raleigh. Miller was encouraged by R.O. Heater, former chair of the Wake County Board of Commissioners, to continue with the project.
"Once I got 40 or 50 of them, I told Mr. Heater I might want to put a book out and I need someone to put the caption under my pictures," Miller said.
And so, Miller learned that Byrd, his next door neighbor, was an agricultural writer for NC State and the two paired up.
"I didn't know he was going to get so deep into the history. I thought he would just do captions," Miller said. "For the Page-Walker Hotel, all I wanted was a few lines underneath it. But Tom got into it and got real deep into the history and he loved it so much."
From there, the two published two books about the history of Cary, "Around and About Cary" being the second one.
"If we were to figure out how much this cost us an hour to put this book together, it would be about 25 cents an hour," Miller said. "But that wasn't the point of doing the book. The point was to do a history book about Cary."
And the book has gone on to be a key resource for local historians such as Michaels.
"I have used this as my first resource. This is my first stop when I try to learn something about Cary," Michaels said. "A lot of historic houses around Cary have been taken down and Jerry's art is sometimes one of the very few ways we know about the historic structures that were around Cary. I think that is so valuable to understand what we've lost."
Some of those houses include the Rufus Jones House and the Frank Page House where the town's founder lived, nearby where he would later put up the Page-Walker Hotel. The house no longer stands because it burned down in 1971.
"A guy rode a hot lawnmower or something up under the porch as I understand it," Miller said. "I've got three drawings of that house."
Page lived in the house while the Page-Walker Hotel was being built. It was previously owned by Phares Yates, owner of the Yates Mill.
"It was a lovely home and it was so sad when we were getting ready to celebrate Cary's 100th anniversary and one of the most important houses in Cary goes up in flames," Michaels said.
From talk of the Frank Page House led Michaels and Miller to talk about the Page-Walker Hotel itself. In 1960, Miller learned he might be able to purchase the historic building but learned about rotten beams and decided against it. Then, over a number of years, the Town of Cary purchased it and was able to do renovations thanks to the support of Anne Kratzer.
"The reason we've got this building today is because of Anne Kratzer," Miller told town staff during a talk about Cary history.
While not a building, another important piece of infrastructure in the history of Cary is the railroad. Michaels said it was originally built to link Wilmington and Charlotte and in 1851, survey parties decided on Cary as a town for the tracks to pass through.
"That's sort of what opened Cary up for the logging industry, which is where Frank Page really made his money," Michaels said.
And the railroad had similar impacts on other towns, as Miller told the story of how the railroad moved from nearby Jonesburg to Sanford.
"Sanford grew and Jonesburg died," Miller said.
Speaking of Sanford, Michaels added an interesting anecdote about the town. It had a large Page Hotel as well, run by Frank Page's brother Wilbert, which later burned down.
"He was a well-known figure throughout the state of North Carolina for his ability to run a really good hotel," Michaels said. "I guess hotels were in the Page blood."
Audio: Hear the Whole Conversation
Listen to our whole History for Breakfast conversation with Carla Michaels and Jerry Miller:
Soundcloud: History for Breakfast
---
Story by Michael Papich. Illustrations by Jerry Miller from Around & About Cary, available on Amazon Books. Photos by Hal Goodtree. The History for Breakfast series is sponsored by Famous Toastery in Waverly Place.
https://carycitizenarchive.com/wp-content/uploads/2017/04/HistoryBreakfast1-Photo2.jpg
550
800
Michael Papich
https://carycitizenarchive.com/wp-content/uploads/2020/03/cc-archive-logo-450-v3.png
Michael Papich
2017-04-21 12:59:52
2019-12-08 10:39:03
History for Breakfast: Carla Michaels and Jerry Miller