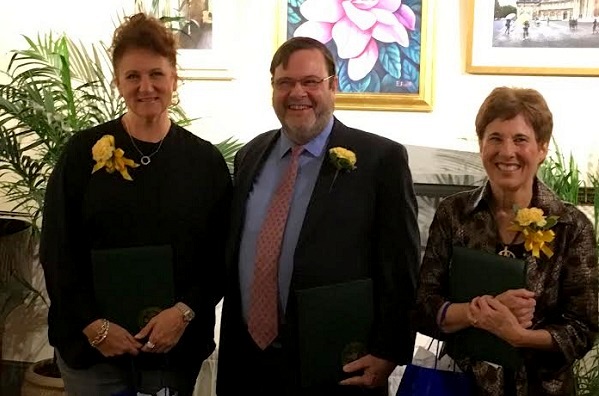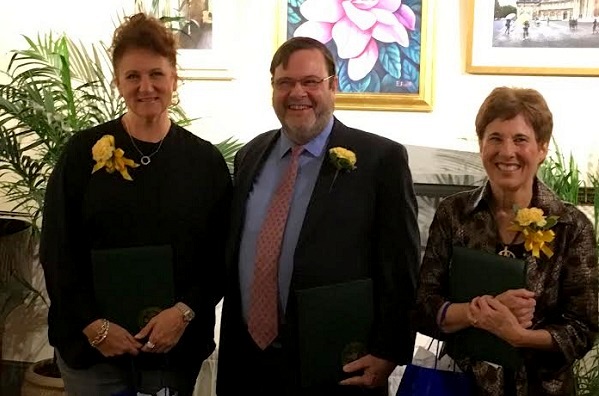 Anne B. Kratzer (far right) stands with the other 2015 Hometown Spirit Award finalists, Desiree Kettler and Brent Miller, at the reception at Page-Walker in Downtown Cary.
Cary, NC — On Thursday, November 19, 2015, Anne B. Kratzer received Cary's annual Hometown Spirit Award during a council meeting at Town Hall.
Hometown Spirit Award
Cary gives out a Hometown Spirit Award every year. The tradition started in 2009 when Alisa Wright Colopy, who was there to celebrate Kratzer last Thursday night, received the honor.
Colopy, along with winners and nominees from previous years, attended Thursday evening's reception to celebrate Kratzer and the other two 2015 nominees.
Since 2009, the list has of Hometown Spirit Award recipients has grown, with both winners and nominees earning much-deserved recognition for their contributions to Cary.
What is the Hometown Spirit Award? Cary describes it as an award "designed to recognize community-minded citizens who enhance the quality of life in Cary by preserving, promoting and carrying out positive small-town community values and traits."
Citizens can nominate any Cary resident over 21 who they believe exemplifies these traits. Anne Kratzer, who founded the Cary Historical Society (and, later, the Friends of Page-Walker), was nominated by Leesa Brinkley and Brent Miller, who was also a finalist for the award this year.
Anne B. Kratzer
We had the privilege of meeting Kratzer for the first time several months ago when we attended the 30th anniversary celebration of the Friends of the Page-Walker. There, we learned more about the historical building and about Kratzer's role in forming a group to preserve Cary's history. You can read the whole story here, but here's a highlight of Kratzer's achievements:
Kratzer started preserving Cary's history in 1973 when she and like-minded friends planted an educational herb garden around the Page-Walker's smokehouse in hopes of preserving the structure. She continued her preservation journey by forming the Cary Historical Society to save papers from the 1800's that were stored in the basement of Cary Elementary School. She then formed The Friends of the Page-Walker Hotel to restore, renovate and, finally, create what is now the Page-Walker Arts and History Center. Since that time, Kratzer has also overseen the restoration of the White Plains Cemetery and helped create the Cary Heritage Museum. She continues to serve as an active board member of the Friends of the Page-Walker Hotel to sustain and bring recognition to the Town's rich history.
A Cause for Celebration
Before Kratzer was awarded the Hometown Spirit recognition on Thursday evening, a reception was held at the Page-Walker to celebrate all nominees and finalists, past and present.
The other 2015 finalists included Desiree Kettler and Brent Miller.
Kettler is an organizer of neighborhood events, a promoter of local businesses through neighborhood's mailing list and Next Door and a caregiver for those with health issues. Page-Walker's own Brent Miller, the chair of Historic Preservation Commission, is an active member of the Friends of Page-Walker, a Town volunteer and a past Assistant Scoutmaster.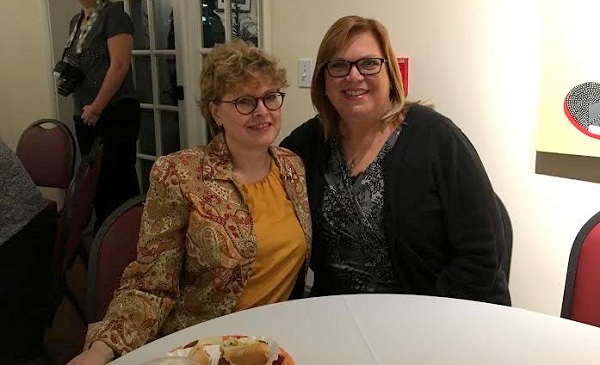 Betsy Dassau and Joy Pike (above) were among the past winners at the reception. Co-winners in 2012, both, like Kratzer, have done incredible things for Cary. Dassau, who started the Carolina Creative Center, promotes art, sustainability and community outreach daily, and Pike devotes a great deal of her time volunteering for almost any Cary event you can imagine.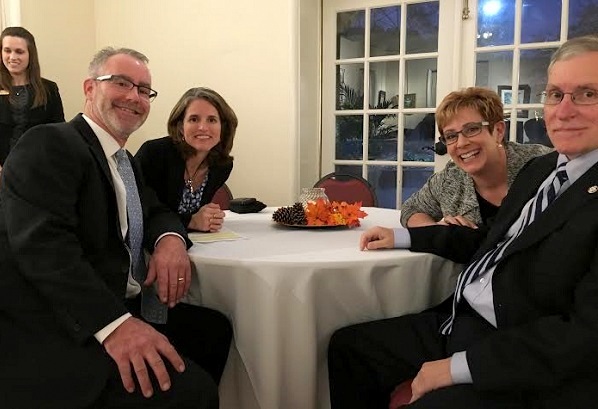 Cary Town Council members attended the reception as well. Don Frantz, Jennifer Robinson, Lori Bush and Ed Yerha (pictured above) shared a table at the event.
Following the reception, an audience in Town Hall watched as Kratzer received the 2015 award from Mayor Weinbrecht and last year's winner, David J. Martin. Mayor Weinbrecht hugged Kratzer as everyone clapped and cheered in recognititon.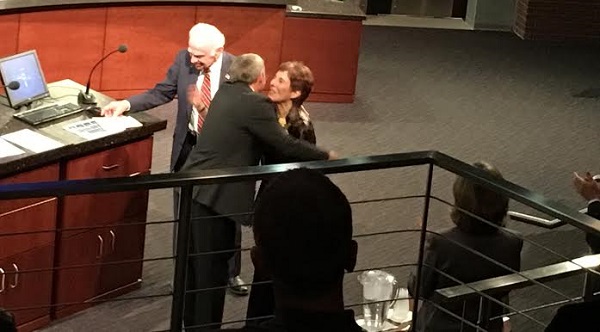 The Hometown Spirit Award will return next year, and, starting next summer, you can nominate residents who you believe fit the bill. Congratulations to all the winners, finalists and nominees!
——————————————————————————————————————————
Story from staff reports. Photos by Lindsey Chester.
https://carycitizenarchive.com/wp-content/uploads/2015/11/Hometown4.jpg
396
599
Staff
https://carycitizenarchive.com/wp-content/uploads/2020/03/cc-archive-logo-450-v3.png
Staff
2015-11-25 09:36:58
2015-11-25 09:36:58
Anne Kratzer Wins 2015 Hometown Spirit Award