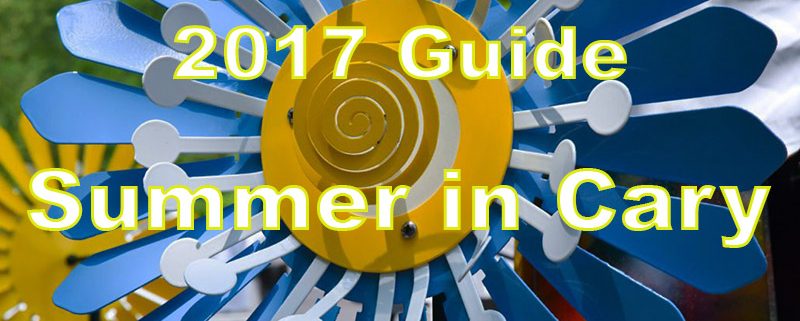 Cary, NC – Something about warm weather brings out all the big events. This Summer, plan out all the fun things going on in Cary with our guide to the season.
For a full list of events, go to the CaryCitizen calendar.
Concerts at Koka Booth Amphitheater
8003 Regency Parkway, Cary
All this Summer, the large outdoor theater and venue in Cary will have concerts big and small, as well as other festivals and movie screenings.
Hob Nob Jazz Series
This is live jazz by nationally recognized artists. With only four concerts left in the series, make sure you get a ticket and check it out. Shows start at 5:30 PM on Wednesdays
May 10 –  Yolanda Rabun
May 17 – Mint Julep Jazz Band
May 24 – Peter Lamb and the Wolves
May 31 – Marcus Anderson
Details: Hob Nob Jazz Series
NC Symphony SummerFest
The North Carolina Symphony comes to Cary to perform. Some are classical concerts, others partner with bands and singers to create a unique show. Shows start at 7:30 PM
May 27 – New World Symphony
June 3 – Romantic Broadway
June 9 – Classics Under The Stars
June 10 – A Space Spectacular
June 17 – An Evening in France
June 24 – A Night of Beethoven
June 30 – Steep Canyon Rangers
July 1 – Appalachian Spring
July 7 – The Music of U2
Details: NC Symphony Summerfest
Other Concerts and Movie Screenings
May 21 – Triangle Brass Band w/ Triangle Youth Bands Perform the Music of John Williams
May 28 – Triangle Wind Ensemble Perform the Best of Broadway
June 2 – Rogue One: A Star Wars Story (PG-13)
June 7 – Paul Simon
June 8 – La La Land (PG-13)
June 16 – The Secret Life of Pets (PG)
June 23 – The Lego Batman Movie (PG)
June 28 – John Mellencamp with Emmylou Harris and Carlene Carter
June 29 – The Jungle Book (PG)
July 8 – Sturgill Simpson
July 14 – Moana (PG)
July 15 – Beach Party with Jackie Gore and North Tower Band
July 21 – Sing (PG)
August 4 – Finding Dory (PG)
August 10 – Fantastic Beasts and Where to Find Them (PG-13)
Ticket prices and times vary. Details: Booth Amphitheater
Music and Comedy at the Cary Theater
122 E. Chatham St., Cary
In addition to showing movies, The Cary Theater hosts performances by musicians, dancers and stand-up comedians.
May 6 – Sirens of Spring: Mama's Black Sheep, Christine Havrilla and Naked Blue, presented by Six String
May 13 – Comedy with Collin Moulton and Andrew George
May 31 – A Series of Fortunate Events, Documentary and Concert, presented by Arts Access
June 9 – Chuck Brodsky and Wyatt Easterling, presented by Six String
June 13 and 14 – Hillel Kogan: "We Love Arabs" Dance Presentation
June 17 – Comedy with Andy Woodhull and Jennie Stencel
June 23 – David LaMotte and Bill West, presented by Six String
July 28 – Cliff Eberhardt, Louise Mosrie and Dean Driver, presented by Six String
Details: Cary Theater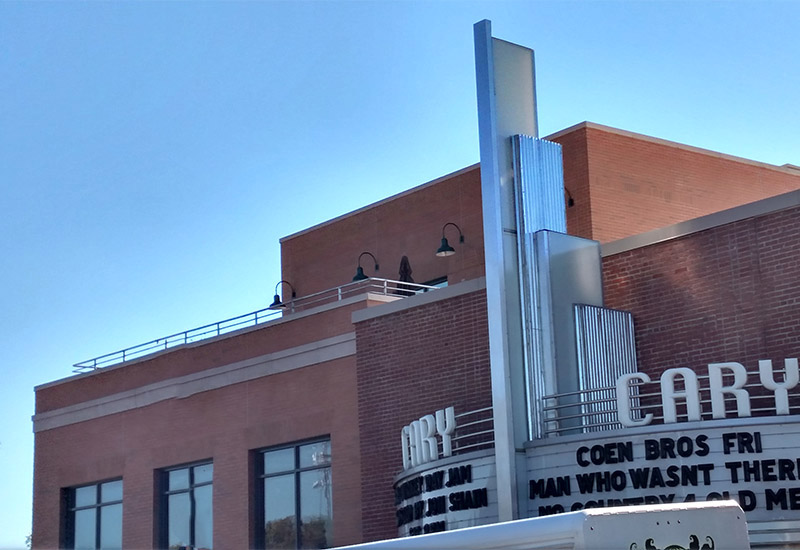 Fest in the West
200 Brooks Park Ln, Cary
This is the second year of CaryCitizen's Fest in the West event, and this year looks to be bigger than ever. There will be live music, art vendors, food trucks, local beer vendors, a kids' zone, contests and much more.
2017's Fest in the West takes place at the USA Baseball National Training Complex, starting at noon on Saturday, May 20.
Details: Fest in the West
Food Events
People in Cary love their food and all the different kinds we have around us in the populous and diverse Triangle. Here are some of the food events going on in Cary.
Downtown Chowdown
Chatham Street, Downtown Cary
This is Downtown Cary's food truck rodeo, with dozens of food trucks lining Chatham Street, including beer and wine vendors, with live music included. They run from 12:30 to 5 PM, on Sundays June 25 and July 30.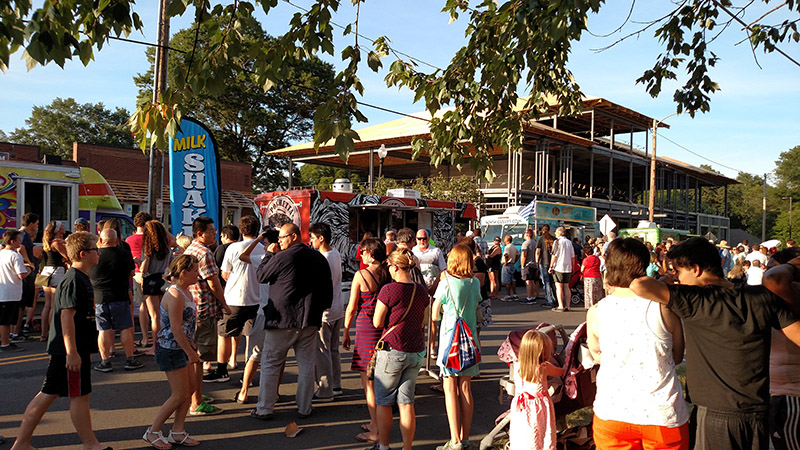 Beer, Bourbon and BBQ Festival
8003 Regency Parkway, Cary
This is a yearly festival at Koka Booth Amphitheater that lasts Friday and Saturday, July 28 and 29. There will be music, beer, bourbon, barbecue, cigars, contests and more.
Arts and Crafts
Cary has lots of artists and artisans and the town has multiple events to highlight these creators and give residents a chance to shop and see what people in their community have made.
Lazy Daze
316 N. Academy St., Cary
Cary's long-standing arts and crafts festival, Lazy Daze is now two days, with vendors all over Cary Town Hall Campus. There will also be live music and food and beer vendors. This year, Lazy Daze is on Saturday and Sunday, August 26 and 27.
Details: Lazy Daze
Downtown Food and Flea
200 S. Academy St., Cary
In Ashworth Village, every second Sunday at noon, there is a flea market with local arts and crafts as well as food. And you can hear live music from local musicians as well.
Details: Downtown Food and Flea
Final Friday Art Loop
In galleries, museums, town buildings and more all across Cary, there will be receptions for artist exhibits. They start at 6 PM on every last Friday of the month, with opportunities to meet the artists and often refreshments will be provided.
Details: Art Loop
Free Concerts
All across the Spring and Summer, there are free outdoor concert events in Cary and Morrisville. At these shows, you can bring your own picnic and sit down and enjoy the shows.
Live at Lunch – Downtown Cary, Thursdays at 11:30 AM
Live in the District – Park West Village, Thursdays at 6:30 PM
Sertoma Concert Series – Bond Park, Saturdays at 7 PM
Wind Down Wednesdays – Waverly Place, Wednesdays at 6 PM
Check out these concert series for specific details and dates. For more information, check out our Guide to (Free) Outdoor Music in Cary.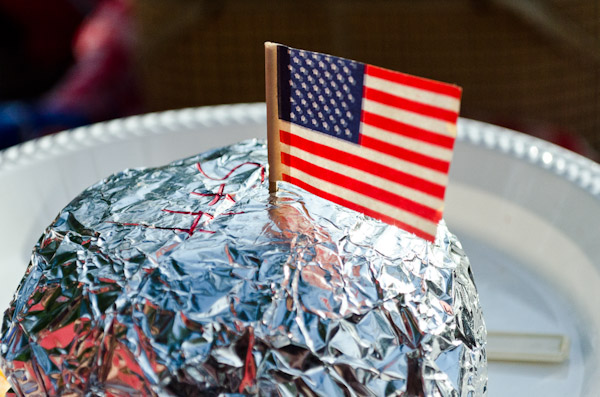 Other Events and Festivals
Independence Day
On Independence Day, July 4, there will be events across town, with larger celebrations at Bond Park and Koka Booth Amphitheater.
801 High House Rd., Cary
Starting at 8 AM at Bond Park, there will be a fishing tournament with prizes for largest and smallest fish caught. Then, at 10:30 AM, there will be a parade starting at the Kiwanis Shelter. And at 11 AM, there will be various contests at the Bond Park Boathouse, from watermelon-eating to sidewalk decorating and more.
8003 Regency Parkway, Cary
Starting at 3 PM, Koka Booth Amphitheater will open up to guests and there will be fun events such as scavenger hunts and a Ferris wheel. Then, at 5:45 PM, the Cary Town Band will begin performing, followed by the NC Symphony at 7:30 PM, playing patriotic music followed by a fireworks display. And it is free to attend.
Ritmo Latino Festival
316 N. Academy St., Cary
Ritmo Latino Festival is an annual celebration of Latino and Hispanic culture, presented by Diamante, Inc. and the Town of Cary. There will be music, food, dancing, vendors and much more, starting at noon on Saturday, May 13.
Celebration of Bluegrass
119 Ambassador Loop, Cary
This is a free concert at the Page-Walker Arts and History Center. See students from the Pinecone Bluegrass Camp perform for free, starting at 6 PM on June 23.
Bands, Bites and Boats
801 High House Rd., Cary
This is a new event at the Bond Park Boathouse. See live music by local bands, with a food truck at each event. And, there are after-hours paddle boat rentals that you can take and ride around the lake on. They start at 5 PM, with dates varying across the months.
Details: Bands, Bites and Boats
Wheels on Academy
Academy Street, Downtown Cary
This is the sixth annual Wheels on Academy event, with vintage and unique cars lining the street for visitors to admire and inspect. There will also be large emergency vehicles and trucks for children to climb on and touch. Food and entertainment included, starting at 9 AM on Saturday, May 20.
---
Events from the CaryCitizen calendar. Photos by Brian Speice, Michael Papich and Hal Goodtree.
https://carycitizenarchive.com/wp-content/uploads/2017/05/Summer2017-Guide.jpg
534
800
Staff
https://carycitizenarchive.com/wp-content/uploads/2020/03/cc-archive-logo-450-v3.png
Staff
2017-05-05 10:03:08
2019-12-08 10:15:54
2017 Guide to Summer in Cary