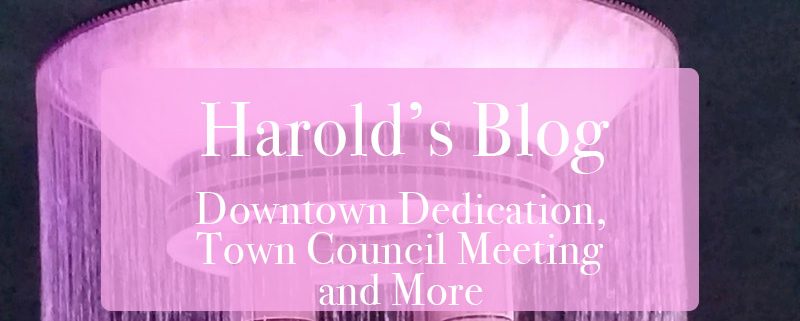 Cary, NC – This was a busy week for me highlighted by the 2018 fiscal year budget and dedication of the downtown park.
Monday – Planning for the Week
Monday I joined the Apex Bible Study group for a breakfast meeting. We didn't talk religion. Instead I gave them an update on what was going on around town. I was there about an hour before having to head off to work.
Monday during the day I contacted council members to hear of their questions and concerns about the agenda for Thursday's regularly scheduled meeting. I was able to contact all council member but two. Most of the questions and comments were on whether or not to send the Trimble Drive rezoning request back to the Planning and Zoning board for their review since the proposal they denied was completely changed.
Later Monday I met with key staff members and we went over items on the agenda. We talked about staff presentations for the budget, the Trimble Drive rezoning, the Reedy Creek Road widening project, and other items. I believed the council meeting would last until about 10.
My next meeting on Monday was with the town manager and Mayor Pro-Tem. We talked about our process of providing feedback versus providing little feedback after the public has spoken at public hearings. Some council members feel you should say very little after the public has spoken so that you won't taint ideas of the Planning and Zoning board who would review the project next. Other council members feel that the applicant should know at the public hearing whether or not a council member has concerns about a particular proposal. I suspect there is a happy medium. This is an issue we will need to discuss in the future.
My last meeting on Monday was with the Wake County Mayors Association. Ten of twelve mayors were in attendance. Mayors from Raleigh and Wendell were absent. We talked about our budgets and our tax rates. None of the ten municipalities represented are planning a tax increase with this year's budget which begins July 1st. Our meeting concluded after about two hours.
Tuesday – Town Staff
Tuesday the council met in closed session for over four hours to review the annual performance of our three employees. The town employees that report directly to the council are the town manager, town attorney, and town clerk. While I can't talk about the review I can say that Cary is blessed to have such talented people working on behalf of the town.
Wednesday – Metro Planning Meeting
Wednesday I attended the Executive board meeting of the CAMPO (Capital Area Metropolitan Planning Organization). There were two public hearings and five discussion items. The discussion items included the Locally Administered Projects Program, the Prioritization 5.0 Modal Candidate Project Lists, among other items. Basically, Cary is set to get several projects in each of these programs. The meeting concluded after an hour and a half.
Thursday – Town Council Meeting
Thursday the council held its last regularly scheduled meeting of June. On the agenda were six consent items, five public hearings, and seven discussion items. For the first time in many years the entire time allotted for Public Speaks Out was used. Most people spoke about the Trimble rezoning. The public hearing for the proposed Keisler rezoning across from Waverly to put a grocery store in place of an office building drew strong criticism from citizens and council. The other public hearings did not have speakers.
One of the biggest discussion items was the Trimble rezoning. Several council members noted that communications with the applicant, Habitat, and the residents was lacking and as a result wanted to table to see if other condition might be offered. A representative for the applicant stated that there wasn't enough time to offer conditions and that nothing would change if it were delayed. Staff also presented a slide with citizen concerns. All the zoning conditions were met and the rest were site plan issues. The biggest site plan issue was stormwater which staff has agreed to work with the applicant on.
A rezoning at Walnut Street and Tryon Road also had a good council discussion. This area is a gateway to Cary and some council members felt that the type of restaurant proposed was not good for a gateway. The counterpoint was that development is generational, ten to fifteen years, and that this could redevelop when the rest of the area (which is relatively new) redevelops. Council eventually approved the rezoning 5-2. If the applicant doesn't sell and builds there project then this will be a Bojangles.
The Reedy Creek Road widening was also approved by council and should be completed by 2020. The reason it will take so long is that funding for this project is being done in two parts. The first part has been approved and we anticipate the second part being approved in the next round of funding.
Our final discussion item was the budget. Most of our work on the budget was done in work sessions. Therefore there wasn't much discussion and instead a lot of praise heaped on staff for their work. Council approved the budget unanimously. The budget keeps our tax rate at 35 cents and launches several capital projects. We will begin reviewing the budget quarterly starting later this year.
Friday – State Legislature
Friday I participated in a meeting of the North Carolina Metro Mayors' legislative review. Topics included the budget (now on the Governor's desk), impact fees, road improvements for public and charter school that will now have to be funded by municipalities, economic development, environmental laws, and many more. The legislature will continue their work next week talking about topics such as billboards, quarter cent sales tax for municipalities, and redistricting. This session has been somewhat successful since our legislature has done less harm to municipalities in the past. It is my hope they will focus on helping everyone and less on harming or punishing municipalities that they are angry with.
Saturday – Downtown Dedication
Saturday I had the joy and pleasure of giving remarks at opening of the downtown park. The ceremony was delayed an hour due to a thunderstorm but there were still a couple hundred people in attendance. Here is an excerpt of my remarks:
… This is an historic moment for Cary. A moment that is possible because of so many hands and hearts:

There have been numerous presentations by design firms and architects.
Long, countless hours by so many staff from across all departments to coordinate timelines and deadlines, field questions from citizens, and keep us on the track to completion.
Sweat by our construction crews.
Foresight and leadership by my fellow Council members.
And, perhaps most importantly, passion from you all, our Cary voters, who way back in 2012 spoke loud and clear that this project was a priority for our community. Thank you for your support over the last two years during construction, and thank you for your confidence in our vision to create a revitalized downtown.

There is a saying we all know: "If you build it, they will come!" No kidding! Since the weather's warmed up, I haven't been able to drive past this park and see it empty. I drove by at 11:30 after a council meeting and there were people here. People are coming to downtown at all hours, on all days, and discovering the great things we have to offer: eateries, breweries, boutiques, places to spend the night…or at least a relaxing evening out of the house.

And while this fountain is quite the show stopper, I don't want to lose sight of the great work accomplished along Academy Street. The project brought 70 new trees to line up and down Academy Street and over 250,000 pavers in the roadway and sidewalk that improve aesthetics and pedestrian and handicapped accessibility. I believe Academy Street has become an attractive place to citizens and visitors as a place to hold downtown festivals, events, concerts and other activities. This supports downtown businesses and complements the activities of the Cary Arts Center. In fact, our Downtown Chowdown food truck rodeo will be right here tomorrow afternoon. So if you aren't exhausted from celebrating today, be sure to come back tomorrow, right here, from 12:30 until 5.

Don and I have thanked many people, but I think we've forgotten one very special person. This person saw an opportunity to serve the community, and it's just one of the many reasons I'm proud to have him as a colleague. You see, knowing that folks would be tossing coins into our fountain, Mayor Pro Tem Ed Yerha suggested a few months ago that all coins from the fountain be allocated to support Relief for Recreation. This scholarship program helps youth, adults and seniors participate in Town of Cary programs, camps and team leagues that otherwise may not be possible without financial assistance. Last year, the program awarded over $45,000 to fellow Cary citizens. I may be mayor, but I can't make any specific wish come true. Yet, thanks to Mr. Yerha, I'm proud that we've found a specific use for this loose change.

So today we celebrate! That the dirt's settled and that the orange cones are gone. Traffic is moving, and all places along Academy Street are accessible. And thanks to our Mayor Pro Tem Yerha, we can celebrate the new opportunities to be had by our neighbors participating in educational courses and camps that otherwise wouldn't be possible. Thank you all so much for your support and for joining us tonight to mark this special occasion. …

After the ceremony everyone made a wish tossed coins into the fountain. There was a fountain light show at 9 PM that thrilled those in attendance.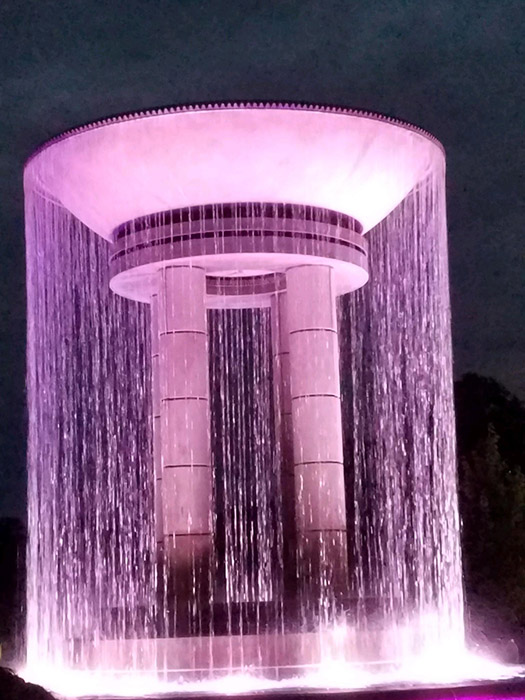 Emails from staff this week included notification on Tuesday of a tree removal at 307 South Academy Street. Unfortunately, the tree was in a state of decline and presented an imminent danger to pedestrians and the drive public according to an independent certified arborist. Sadly, the tree was removed on Wednesday.
Town Manager's Report
The Town Manager's report included the following:
Downtown Park Dedication

Mother Nature had staff keeping an eye on possible unfavorable weather for tomorrow's Celebrate the Park and Streetscape event. Supporting staff recommendation, the event will go on as planned. Do know contingency plans are in place as we continue monitoring the forecast, but plan on enjoying an evening with fellow friends and neighbors as we celebrate the cumulative success of these projects.

Legislative Update

HB310 Small Cell Legislation:

This week staff attended Senate committee meetings on HB310. On Tuesday, the State and Local Senate committee met, discussed and approved the bill. On Thursday, it was also approved by the Commerce and Insurance Committee and then referred to the Finance Committee.

Staff, working with Jack Cozort, shared our concerns with the bill in written comments that were distributed to committee members. Some of those comments, specifically, smart cities components were discussed as part of the bill for the first time. While staff still has concerns with this bill, we are encouraged by several legislators expressing interest in smart cities and underground infrastructure provisions when discussing the bill. Staff will continue to track this bill closely.

HB436 Local Government/Regulatory Fees:

Staff has been following the progress of HB 436, "An Act to Provide for Uniform Authority to Implement System Development Fees for Public Water and Sewer Systems." This week, a new version of the bill was introduced with the full support of the League of Municipalities. The bill would create a state-wide system for calculating water and sewer development fees (that would apply to Cary beginning in 2018), and would clarify that the statute of limitations to file suit alleging that a municipality has charged an unlawful fee for water or sewer service is three years. The bill must still be voted on by the Senate and must also return to the House before becoming law.

Jordan Lake Water Allocation

On March 9, the North Carolina Environmental Management Commission unanimously approved our Round 4 Jordan Lake Water Supply Allocation. This was a coordinated effort led by the Jordan Lake Partners, made up of water utilities surrounding the lake to plan for the region's long-range water supply needs. The time period in which the commissioner's decision could be contested has expired without any challenges being raised and the State of North Carolina is now completing the paperwork that will secure our Jordan Lake water supply to meet our anticipated needs until at least 2045.

CAMPO Board Update

The Capital Area Metropolitan Planning Organization (CAMPO) Executive Board met on Wednesday and voted to approve the FY18 Wake Transit Work Plan and Financial Policies and Guidelines and adopt the State Transit Asset Management Performance Measures and Targets for State of Good Repair. The Board received information on proposed FY19 LAPP minor program changes and the 2045 Metropolitan Transportation Plan (MTP) update. Finally, the Executive Board approved releasing Prioritization 5.0 Modal Candidate Project Lists for public review and approved the designation of critical urban freight corridors as recommended by NCDOT. The next Executive Board meeting will be on August 16. There will be no July meeting.

Father's Day "Rap Session"

Last Saturday, staff from Police, Fire and Parks, Recreation and Cultural Resources helped host a community engagement opportunity honoring fathers at Headliners Barbershop in Cary. The Town partnered with the barbers of Headliners and Tru Access Consulting to organize an engaging and edifying discussion ("rap session") about the challenges and blessings of fatherhood. There was also a bounce house and games for the kids, fire truck and police car displays, face painting and good food. Approximately 100 citizens enjoyed this wonderful event.

Wrenn Drive Block Party

Also last weekend, despite afternoon storms, project PHOENIX pulled off a successful block party for the residents of the apartment communities along Wrenn Drive. Approximately 500 residents joined the fun! There were over 35 different vendors on-site to provide information about local services and resources, as well as free food, live music, crafts and games. The annual block party was first held in 2013 and has grown into a highly anticipated community event!

Statement from EAB

At the June 13 meeting of the Environmental Advisory Board (EAB), the board members crafted and approved the following statement and asked that it be shared with Council.

EAB statement regarding the Town of Cary's Commitment to Carbon Reduction, Rick Savage, Chair, June 2017

The EAB recommends that the Town of Cary reaffirm its commitment to carbon reduction.

In solidarity with municipalities across the United States who are reaffirming their commitments to reduce carbon, and in response to the federal withdrawal from the Paris Climate Agreement, we want to reaffirm the Town of Cary's commitment to carbon reduction.

The Town of Cary has demonstrated an on-going commitment to carbon reduction. In 2008, Council unanimously agreed to join the Mayor's Climate Protection agreement. Since that time, great strides have been made to reduce carbon emissions in Town operations and in our community. This is consistent with Cary's core values to preserve and protect our environment. In the 2017/2018 Board year the EAB will add a "Carbon Neutrality" section to its work plan in order to provide recommendations to Town of Cary staff on developing incremental steps toward town-wide carbon neutrality.

Recognitions

In a demonstration of Cary's benevolence, staff from across departments are working to support the volunteer Fire Department of Autryville, NC. Last month a tornado destroyed their fire station and most of their equipment. An idea that originated in the Fleet Division of Public Works has spurred action and support in Finance and the Fire Department. Cary has a pumper truck ready to go to surplus and now our staff is working to transfer this resource to the volunteer fire fighters of Autryville. This is a great example of OneCary!
Emails From Citizens
Emails from citizens this week included:
Complaints about me not signing the climate protest against Trump
Comments for and against the Trimble rezoning
Concerns about a traffic signal at Lake Pine Drive
Concerns about a proposed Keisler Drive rezoning
A request to have a port-a-john at the downtown park
A question about the reedy creek road widening
Next week will be less busy for me and includes staff meetings, private meetings, USA baseball against Taipei, and a Cary Matters taping.
Get In Touch
Well, that is all for this week. My next post will be on Sunday, July 2nd.  Although I have Facebook and Twitter accounts those are not the best means of communications with me. Please send all Town of Cary questions or comments to Harold.Weinbrecht@townofcary.org and email personal comments to augustanat@mindspring.com.
---
From the blog of Cary Mayor Harold Weinbrecht. Photos courtesy of Harold Weinbrecht.
https://carycitizenarchive.com/wp-content/uploads/2017/06/HaroldBlog-Jun26-Featured.jpg
550
800
Harold Weinbrecht
https://carycitizenarchive.com/wp-content/uploads/2020/03/cc-archive-logo-450-v3.png
Harold Weinbrecht
2017-06-26 10:19:53
2017-06-26 10:21:22
Harold's Blog: Downtown Dedication, Town Council Meeting and More