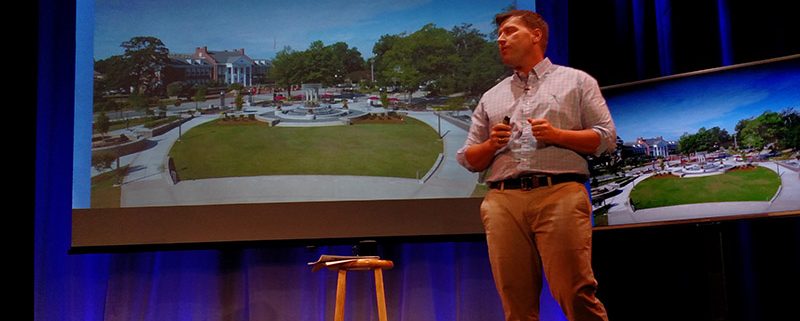 Cary, NC – Cary is growing fast and that growth can be clearly seen in its downtown. To give residents another update and to respond to questions, Downtown Development Manager Ted Boyd outlined what is new and what is on the horizon in Downtown Cary.

What's New
Speaking to Caryites on Wednesday, July 19, 2017, Boyd started by putting Downtown Cary into context, looking at one stretch of Chatham Street, from Pharmacy Bottle and Beverage down to Crosstown Pub and Grill. With this stretch of stores and the Cary Theater, it represents several new businesses, one major remodeling process and a business that took part in a Town facade improvement (Johnson Jeweler's).
"That's all eight years in the making," Boyd said.
The point Boyd made was that the work in Downtown Cary resulted in some property and projects that people can enjoy, it should not be seen as an overnight effort. For example, while the Downtown Park is heavily trafficked, it also took a lot of work and several years to get here.
"The ability to have events there, the ability to have it open at night, the ability to have a place where people can hang out is really pretty remarkable," Boyd said. "And Academy Street, with the works there, is now beyond what a lot of us were expecting."
Boyd talked about some of the new businesses in Downtown Cary, such as Pro's Epicurean Market & Café opening recently and new brewery Jordan Lake.  For the La Farm Bakery that opened in the old Sorrell's building, Boyd said there would be additional tenants coming into the building as well as a café restaurant  and façade changes to the exterior.
Boyd said The Midtown Square building, near the intersection of Chatham Street and Templeton,  is now either fully leased or under contract.
"It's exciting to build something but it's more important that they can lease it," Boyd said.
Coming to Downtown
The next big project in Downtown Cary will be the new regional library behind the Downtown Park, which will be two stories and include a parking deck. As for the rest of the Downtown Park, there are six acres that remain to be developed and Boyd said the town is working with national design firms.
"Given what we've done, the second phase needs to be spectacular," Boyd said. "It has to compliment what's already there."
Large private developments include the Northwoods Associates project, on W Chatham Street. The process has taken 10 years because part of the land is owned by First Baptist Church but the developers have come to an agreement there and are now finalizing it. Boyd said this will be a mix of office space and 188 apartments.
Other residential projects include a plan for a 30-unit townhome along Park and Walker Streets. These will be three stories tall.
"The units that face the street will be designed with front stoops," Boyd said.
There is also the 36-unit condominium project going onto Urban Drive, which will borders a large townhouse project that is currently being seen by Cary's Planning and Zoning Board.
Another big announcement Boyd made at the meeting was the possibility of moving the downtown train station. It would remain within Downtown Cary but with the funds coming in for transit, this opens up the possibility to move it.
"The way it's located now, when the train comes in, Chatham and Harrison have to shut down," he said.
Other approaches the town has looked at are building either a bridge or a tunnel to get cars past the tracks.
Questions from Residents
The possibility of the train station moving brought out new questions from the audience at the downtown talk. Boyd said this is not a definite plan but said if it were to happen, his personal feelings are that it would move in the direction of downtown's North side.
Related to transportation, Boyd was also asked about pedestrians moving around. Speakers asked about the mobility to the stretches of Academy Street past the Chatham Street intersection. Boyd said with anchors such as La Farm and the coming Annelore's German Bakery, that will attract more people but currently pedestrian movement is hindered.
Two possible solutions Boyd said are adding striping to make crosswalks clearer and more on-street parking to signal to drivers that pedestrians are in this area.
"But you don't want to inconvenience drivers to much or they won't be coming through downtown," he said.
On the subject of housing, Boyd was asked by one resident about stormwater protections, citing repeated floodings of his own home downtown. Boyd said current policies are in place for all new developments to mitigate stormwater runoff but the resident pushed back, saying nothing had changed and arguing that his own home is not in the floodplain. Boyd agreed that more spending needs to be done on reducing stormwater and did not rule out the possibility of buying up affected homes down the road.
Another resident asked about affordable housing in Downtown Cary. Boyd said he considered the homes surrounding downtown as being affordable but agreed that a lack of affordable housing in Wake County as a whole was a problem and there needed to be attention paid to the progress of residential developments in Downtown Cary. For example, the Park/Walker townhomes would go for, according to Boyd, around $550,000.
One speaker asked about the several stores across the street from the Cary Theater, in the shopping center that includes Taipei 101, and asked about any plans to remove or replace those. Boyd said these are largely family-owned stores that have already been passed down and have no debt. There are façade improvement projects that can be done but Boyd said it's up to the owners  to take advantage of those. On the subject of the façade improvements, the empty stores along Cedar Street are currently undergoing these changes, with new eaves and windows being put in now.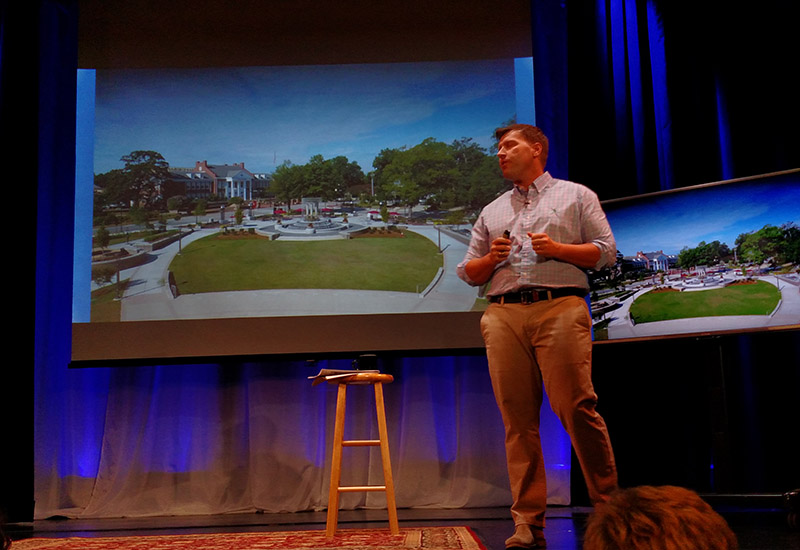 ---
Story by Michael Papich. Photos by Michael Papich and Hal Goodtree.
https://carycitizenarchive.com/wp-content/uploads/2017/07/DowntownTalk-July20-1.jpg
550
800
Michael Papich
https://carycitizenarchive.com/wp-content/uploads/2020/03/cc-archive-logo-450-v3.png
Michael Papich
2017-07-20 12:38:49
2018-04-30 14:12:56
Latest Downtown Talk Looks at New Offices, Housing and Possible Train Station