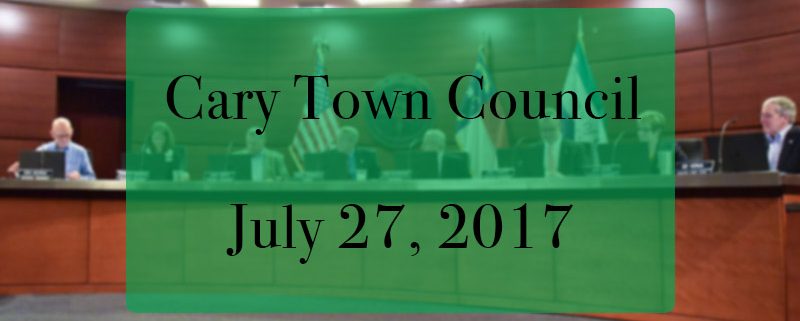 Cary, NC – The latest Cary Town Council meeting took on the "Brunch Bill," funded changes to the USA Baseball National Training Complex and saw several public comments on a grant that was moved to a future date.
Note: Councilmember At-Large Lori Bush was not in attendance at this meeting.
Discussion Items
Even when the Cary Town Council votes to approve a plan or new development, it can take some time before residents feel the impact or even see the beginnings of construction. But at the Thursday, July 27, 2017 meeting, a vote on the "Brunch Bill" has an immediate effect that Cary residents can take into account this Sunday.
In June, the North Carolina General Assembly passed Senate Bill 155, allowing towns and cities to decide whether or not alcohol can be sold before noon on Sundays, moving the limit up to 10 AM.
Ken Quinlan, assistant police chief for the Cary Police Department, introduced the item. He said in discussions with other police departments in towns where this has passed, they have not seen any uptick in alcohol-related incidents. Town Council approved the item unanimously.
Also in discussion items, Town Council voted on the financial agreement for expansion of the USA Baseball National Training Complex. The expansion will add offices, training facilities and team rooms.
It will cost $6.4 million, half of that coming from the Restaurant and Occupancy Tax from Wake County and half financed by USA Baseball. The Town of Cary will pay that money back over the next ten years with 3 percent interest. Doug McRainey, Cary's Parks, Recreation and Cultural Resources manager, said the funding USA Baseball is providing comes from the new standards for baseball bats, requiring many new sales of bats for teams to be within regulations. Town Council passed the plan unanimously.
Town Council also voted on an extension of a water interchange across Morrisville Parkway, passing through NC-540. This would also make use of the existing waterline running parallel to NC-540. In total, the discussion item sought to appropriate $750,000 in capital for the project, which Town Council voted for unanimously.
Public Speaks Out
The original agenda for the Thursday, July 27, 2017 meeting included the funding recommendations for the 2018 Community Development Block Grant action plan. At the start of the meeting, Town Council voted to hear this item at their Thursday, August 10, 2017 meeting because it fits with other items on that agenda related to public grant funds.
But several community members at Public Speaks Out came to talk about this exact issue and made their opinions known despite the change in agenda. They were from the Scottish Hills neighborhood, which was the site of the Trimble Avenue rezoning case that brought out so much public comment.
All of these speakers talked about the allocation of funds to Habitat for Humanity, who are the planned developers for the homes in the Trimble Avenue case. Two of them brought up questions about Habitat's funding, namely that as the number of houses in their plan shrank, the amount of money they asked the town for has increased. One speaker asked that other organizations for affordable housing, such as Resource for Seniors or The Carying Place, see an increase in their funding instead.
Another speaker said he does not want any more money going to Habitat for Humanity. Instead, he said he wanted money going to affordable housing for seniors, saying other people can get a better job if they want to afford a home but seniors typically cannot work and only have Social Security to pay for their housing.
The fourth and final speaker on this subject said she wants any money going to Habitat for Humanity to be spent on stormwater prevention and flooding protection because the homes on Trimble Avenue will be flooded, according to her. She also wants Trimble Avenue to be widened.
There was one other speaker at Public Speaks Out unrelated to this case. He represented the International We Love You Foundation, a group that works on community projects around the world, and extended the organization's help to the Town of Cary.
Public Hearings
Town Council held a public hearing for the annexation and rezoning of land on Arthur Pierce Road, next to the Cotswold and Glennmitt Stone neighborhoods. The land would be rezoned to transitional residential conditional use, with restrictions including a maximum of 50 lots, a 6,000 square foot minimum lot size, a community gathering space with a minimum size of 10,000 square feet and an age restriction for 55 and older.
The annexation actually stretches across Arthur Pierce Road but only the Southern portion will be rezoned. Also, an existing one acre lot inside of the land, listed as 3512 Arthur Pierce Road, is additionally annexed as part of this proposal.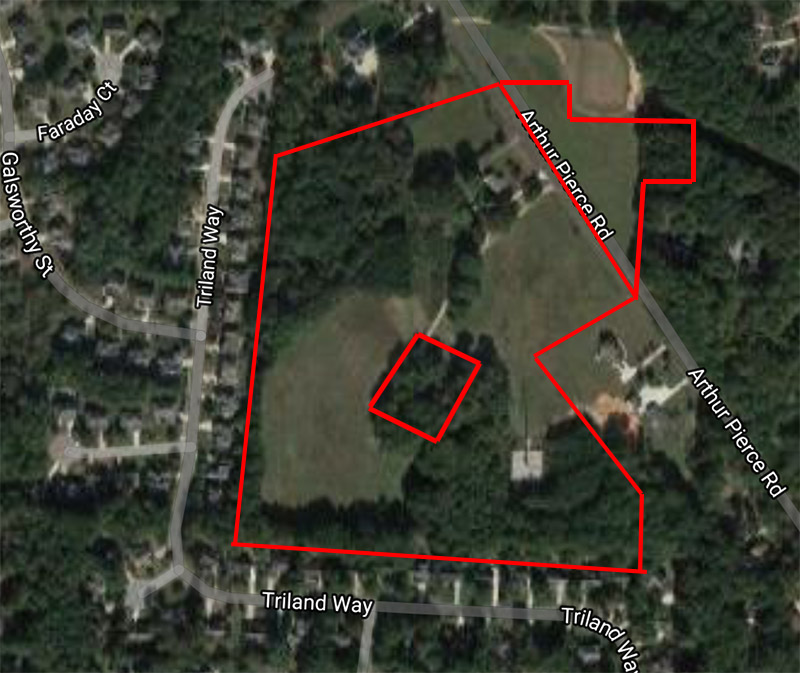 There is a potentially historic building on the property: a terra cotta tobacco barn. Town staff are currently assessing it to see what can be done with it on the new property.
"That's not something you see every day," said Mayor Pro Tem Ed Yerha.
There is also a cell tower on the property that will continue its operation.
No one spoke out at this public hearing, so it will be referred to the Planning and Zoning Board for their recommendation on the rezoning. The Cary Town Council will vote on the annexation at the same meeting the rezoning returns to them.
The only other Public Hearing was for an annexation of two lots along NC-55 and Morrisville Carpenter Road. This also saw no public comment and will be taken up for a vote at a future meeting.
---
Story by Michael Papich. Photos by Hal Goodtree and Google Maps.
https://carycitizenarchive.com/wp-content/uploads/2017/07/TownCouncil-July28-Featured.jpg
483
800
Michael Papich
https://carycitizenarchive.com/wp-content/uploads/2020/03/cc-archive-logo-450-v3.png
Michael Papich
2017-07-28 11:36:07
2019-12-08 15:29:33
Cary Town Council: 7/27/17