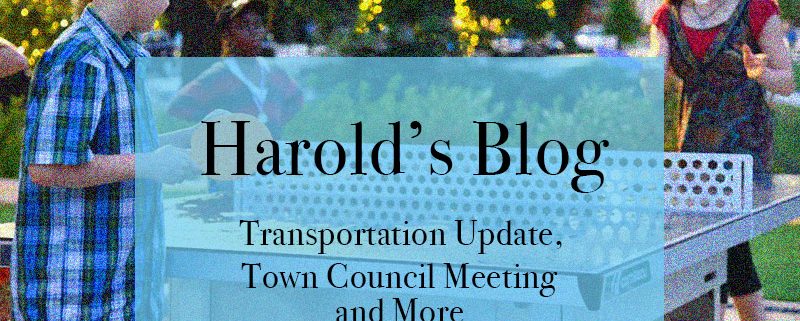 Cary, NC – This week was much busier than the last couple of weeks.
Monday – Cary-Morrisville Joint Issues
The week started with calls to council members to hear of questions or concerns about the agenda for the regularly scheduled meeting on Thursday. I was able to reach all council members except George and Robinson. There were really no issues or questions on the agenda.
Later in the day I met with management and key staff members to go over the agenda items. There were no controversial items on the agenda and our meeting was short. I anticipated the Thursday meeting would last an hour and a half.
Next I joined Mayor Pro-Tem Yerha in my weekly meeting with the town manager. We discussed the visit from SAS's Dr. Goodnight, the Cary-Morrisville joint issues committee, and how to make sure town resources aren't mistakenly used for any political purposes during this campaign season.
The last meeting of the day was the Cary-Morrisville joint issues task force. Most of our meeting was spent discussing upcoming East/West Thoroughfare projects. Those projects include:
Morrisville-Carpenter Realignment and Grade Separation: This is the new alignment from NC55 to just west of Louis Stephens Drive. It is funded by Cary and construction will begin in early 2018.
Morrisville Parkway Extension and Interchange with NC540: This is the completion of the missing gap between Green Level Church Road and NC55 with a new interchange with toll road facility. This is funded by Cary, CAMPO (Capital Area Metropolitan Planning Organization), and NCTA and will begin construction in early 2018.
Green Level West Road Widening: This widening will be between NC55 and NC540. It is funded by Cary and CAMPO and is already under construction.
O'Kelly Chapel Road Extension: This extension will be from Parkside Town Commons across CSX railroad at-grade to Little Drive in RTP. This is funded by Parkside Town Commons with construction beginning and ending in early 2018.
McCrimmon Parkway – Feasibility Study: This study is from NC55 to Louis Stephens Drive. It will be funded by Cary and will be begin sometime in this fiscal year.
Carpenter Fire Station Road Widening: This widening will be from the NC540 bridge at Cameron Pond to NC55. It will be funded by Cary with design underway and construction beginning in the next fiscal year.
Aviation Parkway Widening and I40 Interchange Improvements: This will be from just west of NC54 to just east of the I40 interchange. It is funded by NCDOT and includes environmental permitting. Construction will be in 2023.
The committee also discussed and decided to meet with both entire council's twice a year beginning with the next meeting in January.
Tuesday – Transportation Work Session
Tuesday the council held a work session on Transportation. We talked specifically about funding, Cary projects, technology, and state projects.
Funding options include STIP (State Transportation Improvement Program), LAPP (Locally Administered Project Program), and other sources (Wake County grants, State bonus allocations, etc.). STIP projects are usually over $10 million, are awarded every two years, focus on regional projects, and usually are for capacity improvements. LAPP projects are usually less than $10 million, are awarded annually, and focus on operational, safety projects, and enhancements. Projects throughout Cary use all of these including debt and the general fund.
Cary projects include the following:
Academy Street : completed
Walnut Street: completed
Green Level West Road widening: underway
Cary Parkway at High House: utilities are currently being moved
Carpenter Fire Station Road Grade Separation: starting soon
Morrisville Parkway Extension and NC 540 Interchange: starting soon
Reedy Creek Road Widening: under design
Cary Intersection improvements include the following:
US1/64 at Cary Parkway: completed
Maynard Road at Chapel Hill Road: completed
Kildaire Farm Road at Cary Parkway: bidding this fall
Evans Road at Cary Parkway: bidding this fall
Maynard Road at High House Road: bidding this fall
Chapel Hill Road from Bowden Street to Sorrell Street: In design
Kildaire Farm Road at Advent Court: In design
Kildaire Farm Road at Ten Ten Road: In design
Waldo Rood Boulevard at Cary Parkway: In design
Waldo Rood Boulevard at MacArthur Drive: In design
High House Road from Carpenter Upchurch Road to Widdington Lane: In design
The technology update focused on upgrades to the Traffic Management System that now includes 112 traffic cameras and 199 state of the art signal controllers.
Sidewalk projects listed in our discussion included:
Old Weatherstone Way: Completed
Cary Town Boulevard: Completed
Old Apex Road: In design
Penny Road: In design
Walker Street: In design
SW Cary Parkway: In design
North Harrison Avenue: In design
East Chatham Street: In design
Edinburgh Drive: In design
Sudbury Drive: In design
Lake Pine Drive: In design
Greenway Improvements listed in our discussion included:
White Oak Creek at the American Tobacco Trail Connection: Construction Pending
White Oak Creek at MacArthur Drive: In design
Panther Creek: In design
Crabtree Creek: Under construction
Our transit discussion focused mostly on BRT (Bus Rapid Transit). It is important to identify those corridors since that is where future development might occur. We also talked about a new Bus Operations and Maintenance Facility that will be on Towerview Court. GoCary will also see increased service that will include Sunday service from 7 AM until 9 PM, half hour frequency Monday through Saturday, and a half fare discount for students age 13 to 18.
In our discussion on technology Cary's installation of LED lighting has already saved us a half a million dollars. Future technology will include information to help cars find parking spaces, autonomous vehicles, and more. These are closer to reality than most people realize. Most predict mainstream in five to ten years.
Regional projects discussed included the Southeast extension of NC 540, Aviation Parkway, Louis Stephens Drive at its planned end near NC 540, Ten-Ten Road, US 64 improvements, Swift Creek Greenway improvements, Black Creek Greenway improvements, US 1/64 at I40/440 improvements, Maynard Road grade separation, Trinity Road grade separation, and North Harrison Avenue grade separation. The Maynard Road grade separation will likely require moving the intersection which will be costly. The North Harrison Avenue grade separation will likely have the CSX moved closer to the other tracks before a bridge could be built. This will be another costly grade separation.
Our work session concluded after a little over two hours.
Thursday – Town Council Meeting
Thursday the council held the only regularly scheduled meeting of the month. There were 11 consent agenda items, 3 public hearings, and 4 discussion items.
One item of note on the consent agenda was the removal of the NE Cary Parkway extension from the transportation plans. This would have extended Cary Parkway through wetlands and connected it to Trinity Road which would eventually end up at the RBC center. IMHO this would serve as a bypass for I40 on congested times more than anything else. In addition, it would have created more congestion on Harrison Avenue from Cary Academy to I40. That could have a detrimental effect on the future development and redevelopment of that portion of Harrison Avenue. As a result I strongly advocated for the removal of Cary Parkway from the transportation plan.
The Public Speaks Out portion of our meeting had several speakers who complained about giving more money to Habitat for Humanity. They stated they would prefer it to go to another non-profit. These speakers identified themselves as living in the Scottish Hills area which opposed Habitat's development on Trimble Avenue.
In the discussion items council unanimously agreed to expand the USA Baseball facility using $3.2 million of the Hotel Occupancy Tax funding, begin the Morrisville Parkway and NC 540 interchange utilities project, and approve the brunch bill. The Community Development Block Grant (CDBG) funding was moved to the August 10th council meeting. The meeting ended after just an hour.
Town Manager's Report
The town manager's report for this week included the following:
Transportation Technology

On Tuesday the Town implemented the first Thermal Imaging Sensor at the intersection of Dry Avenue and Academy Street. The sensor detects pedestrians crossing to/from the Cary Arts Center and Downtown Park. Upon detection, it automatically activates the pedestrian crossing without having to physically touch the pedestrian push button. This technology will help our citizens and all those who visit our downtown.

Rerouting Curbside Collection

As we do every few years to ensure high efficiency and service reliability, staff is in the process of rebalancing our solid waste collection routes. While details are still being worked out, we do know our existing Tuesday through Friday collection schedule will change to Monday through Thursday. With that chance, most Friday customers will shift to Monday. This rebalance is anticipated to impact less than half of our 50,000 households. The new routes and collection days are expected to go into effect late fall. You will start seeing communications on this new service change with our August edition of Bud, which hits homes starting today, July 28.

Cary Approved to Become Certified Local Government 

Cary's application to become a Certified Local Government (CLG) under the National Park Service's Federal Preservation Program has been preliminarily approved by the N.C. Department of Cultural Resources' (NCDCR) Historic Preservation Office. The next step in the certification process is for the Town Council to consider signing a Local Government Certification agreement between the Town of Cary and the NCDCR. Entering into the agreement would mean that Cary agrees to follow state and federal requirements in conducting its preservation program, and in return becomes eligible to apply for available CLG grant funds in competition with other CLG. If Council approves the agreement, NCDCR will forward it and our CLG application to the National Park Service in Washington, DC for final approval.

Good News for Municipal Bonds

The House Financial Services Committee voted 60-0 for a favorable report on H.R. 1624, the "Municipal Finance Support Act of 2017" and it is now eligible to be heard on the floor of the US House of Representatives. This bill would require federal banking regulators to treat certain municipal securities held by financial institutions as high-quality liquid assets. This change will protect financial institution investment in communities by including investment grade municipal bonds in bank liquidity buffers, thus ensuring that municipal bonds continue to be a desirable investment which will help keep interest rates low. Protecting the integrity of municipal bonds is part of Council's Federal Legislative Agenda.

PIT Crew Tackles ACT Chapter

The Plan Implementation Team (PIT Crew) is an interdepartmental team formed to help with organizational-wide implementation of Imagine Cary. This week, the PIT Crew began work categorizing the ACT Chapter into 'buckets' of short, medium and long-term actions. The purpose of the 'bucket' exercise was to break the actions into manageable groups and logical sequencing for implementation. This will allow us to dig into the short-term bucket in more detail and identify connections between the actions. It was a powerful moment because there are 37 separate actions identified in the chapter.

Smart Cities Conversation Continues 

Assistant Town Manager/CIO Dan Ault met with State Representative Jason Saine on Wednesday to discuss opportunities to work in unison with the state in using technology and smart cities initiatives to bridge the urban/rural divide in North Carolina. Rep. Saine sponsored the recently passed small cell wireless bill (HB 310). Staff will continue working with him and other state leaders in finding ways for Cary to be a model smart city community and pave the way for economic development across the state.

Recognitions

Happy THREE year anniversary to the staff at the Western Wake Regional Water Reclamation Facility (aka GPOE)! Collectively, the project was the largest capital improvements project the Town has ever undertaken. It began operating on July 28, 2014 and provided treated water to the Cape Fear River on August 11, 2014. Facility Manager Damon Forney and the plant staff have successfully provided high-quality treated wastewater to the Cape Fear River Basin during the startup and first three years of operation. The facility has operated with no violations and consistently provides water quality that surpasses permit standards.
Emails From Citizens
Emails from citizens this week included:
A complaint about a proposed rezoning in the White Oak area
A compliment of public works cleaning up after a storm
A complaint that downtown events create too much noise
A request to widen Cary Parkway to four lanes for the Evans to Harrison section
Several request from residents in Scottish Hills that Habitat for Humanity shouldn't receive any additional Community Block Grant money (This comes from residents who were opposed to the Habitat project on Trimble Avenue)
A request to fund a group home
A complaint about a GoCary driver
A complaint that affordable housing will be reduced if projects on Park Street are approved
A request for a gas station on Stonecroft Lane
A request for a pet parade
Activities for next week include the christening of the new "Cary" locomotive, public meetings with the architects of the second phase of the downtown park, and a quasi-judicial council meeting.
Get In Touch
Well, that is all for this week. My next post will be on Sunday, August 6th.  Although I have Facebook and Twitter accounts those are not the best means of communications with me. Please send all Town of Cary questions or comments to Harold.Weinbrecht@townofcary.org and email personal comments to augustanat@mindspring.com.
---
From the blog of Cary Mayor Harold Weinbrecht. Photos by Hal Goodtree.
https://carycitizenarchive.com/wp-content/uploads/2017/07/HaroldBlog-July31-Featured.jpg
550
800
Harold Weinbrecht
https://carycitizenarchive.com/wp-content/uploads/2020/03/cc-archive-logo-450-v3.png
Harold Weinbrecht
2017-07-31 10:30:13
2017-07-31 10:32:12
Harold's Blog: Transportation Update, Town Council Meeting and More