Cary, NC – The latest Cary Town Council meeting saw a vote on the Community Development Block Grant, which brought up many of the same criticisms that surrounded the Trimble Avenue rezoning case approved in June as Town Council voted to give Habitat for Humanity its requested funding.
Community Development Block Grant
The Thursday, August 10, 2017 Cary Town Council meeting had the yearly vote on the funding recommendations for the Community Development Block Grant (CDBG). This is federal money from the Department of Housing and Urban Development as well as $400,000 of the Town of Cary's own general fund allocation.
Expenditures in this block grant include resources for economic development and public services but what brought the public out to this meeting was spending on affordable housing. Notably, funding for Habitat for Humanity.
Habitat for Humanity bought land in the Scottish Hills neighborhood on Trimble Avenue and requested for it to be rezoned so they could build affordable housing, going from 23 proposed townhomes down to seven detatched houses over the several months  leading to Town Council's vote to approve.
What made this CDBG vote controversial was that Habitat for Humanity requested $135,000 for assistance with the project. Because the number of houses on the property had decreased and because infrastructure costs are fixed, they said, they had fewer homes to spread out their costs and would therefore need more money to make the project work.
The funding recommended by town staff through the CDBG for affordable housing were:
$300,000 for the Housing Rehabilitation Program
$135,000 for Habitat for Humanity of Wake County
$250,000 for Evergreen Construction
$30,000 for Resources for Seniors
$30,000 for Rebuilding Together of the Triangle
$90,000 for the Tammy Lynne Foundation
Nine residents spoke at the Public Speaks Out section of the Town Council meeting against the proposed funding. While not all of these speakers identified themselves as such, several said they were Scottish Hills residents. Among the criticisms were saying Habitat for Humanity did not file their paperwork in time, the changes in the rezoning proposal should have triggered a new Public Hearing, problems with the way the press, the Town Council and Mayor Harold Weinbrecht's blog have described the neighbor's criticisms and the allegation that Habitat for Humanity gives out housing to do not need it, citing a news story of graduate students living in a local Habitat home.
Mixed in with these criticisms were the charge that because Habitat for Humanity has other means to fund this project, the Town of Cary should allocate the CDBG money to other organizations such as The Carying Place.
Also speaking at the Public Speaks Out section on this topic was a representative for Habitat for Humanity, who gave the above reasoning why they are requesting $135,000, a lawyer who has worked with Habitat for Humanity who reiterated the fixed infrastructure costs and said no other private developer would be able to maintain the cost of moving from 23 homes to 7, and a representative for the Tammy Lynne Center talking about their need for funding and they work that they do for families with disabilities.
John Donachie with the Town of Cary's planning department described the way organizations are scored to receive more or less funding in the CDBG, saying that because Habitat for Humanity would be adding units to Cary and because its outside funding gives it more stability, it scored higher in their matrix, though Donachie said a general increase in funding would be able to cover more organizations.
Donachie also said Habitat for Humanity did not miss its filing deadline and that deadline was extended for a week at the request for Dorcas Ministries and Transitions LifeCare. Also, Donachie said there was not a new Public Hearing because the underlining use for the property had not changed.
In the original vote on rezoning the Trimble Avenue property, Councilmember Ken George voted against it and here he questioned the increased funding for Habitat for Humanity and said that money could be put to better use elsewhere. But he also acknowledged the lack of affordable housing in Cary.
"Many people who live in Cary could not afford to buy their house again," George said.
Councilmember-At-Large Lori Bush also talked about the need for affordable housing, calling it integral to Cary and said this town has one of the lowest percentages of affordable housing in Wake County. Councilmember Jack Smith countered by saying the affordable housing communities in Cary, citing the Wrenn Drive community specifically, are "livable" while affordable housing communities in other parts of the county have high crime rates.
While Smith added that he did not like giving Habitat for Humanity the additional money, he thought it would lead to a better community, which was echoed by Councilmember Don Frantz.
"We want stormwater mitigation to exceed code and I believe these funds will help accomplish that," Frantz said.
Frantz also said he liked that the scoring matrix led to an apolitical allocation of CDBG funds. Mayor Pro Tem Ed Yerha agreed with this in principle but said it leads to discussions about funding "at the eleventh hour" and would like to see more work done on crafting the matrix. Donachie also invited those in attendance to join the focus group on creating the scoring system in the future.
The CDBG recommendation ended up passing 6-1 with George voting against it.
Public Hearings
While a sizable crowd came out for this Town Council meeting, only one person came to speak at a Public Hearing. That was the Public Hearing to rezone 4.7 acres along Piney Plains Road to make it Transitional Residential Conditional Use. Included would be a minimum 1,200 square foot community gathering space and a 50-foot buffer on the side facing the street with 40-foot buffers on each remaining side.
The one speaker was a neighbor who supported the rezoning and said he may want to do something similar with his property one day, but only asked for the sewer system in the area to be upgraded.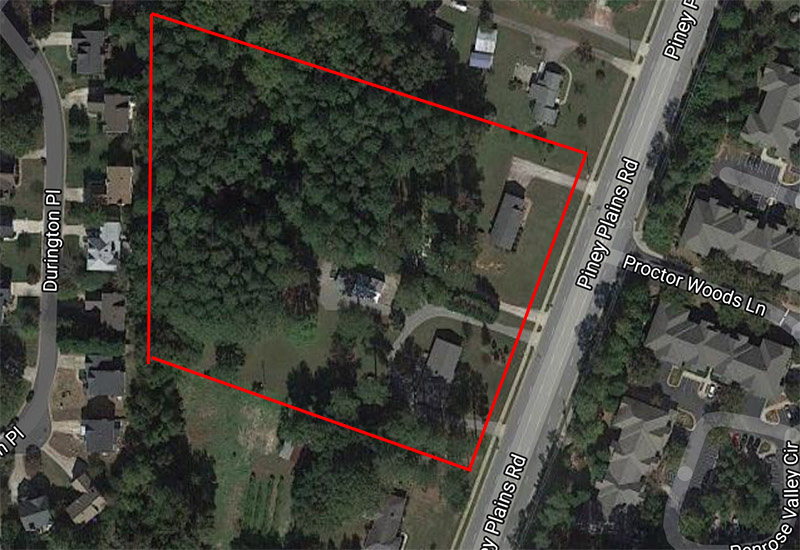 Weinbrecht said this kind of infill development interested him but it would need to be something they pay close attention to because it will become more common and they need to set a good precedent.
"This first domino will determine how these go so we need to be careful how we approach it," Weinbrecht said.
The rezoning was sent to the Planning and Zoning board for their recommendation.
Also on the Public Hearing agenda was rezoning 10.61 acres of land near White Oak Elementary School, with a density of 2.25 homes per acre and a minimum 5,000 square foot community gathering space. This also went to the Planning and Zoning board with no discussion or public comment.
Discussion Items
There were two other discussion items on the agenda aside from the CDBG vote. The first was an order to demolish a house at 209 Marilyn Circile. According to Philip Smith with the town's Planning Department, the house is abandoned, foreclosed and the cost of repair exceeds 50 percent of its value.
"The lot is worth more than the home," Smith said.
Councilmember Jennifer Robinson asked about asbestos inside the house and Smith said they will do a test before demolition. Town Council voted unanimously to approve the demolition.
Also on the agenda was a vote on adding three school speed zones around Hortons Creek Elementary, Pleasant Grove Elementary and Green Level High School. When asked if this process had any downsides, David Spencer with Transportation and Facilities just said it was getting through the process. Town Council voted unanimously to approve the demolition.
Public Speaks Out
There was only one Public Speaks Out speaker who did not comment on the CDBG funding. The speaker identified herself as a Cary resident who said her son was mistreated at the Mariposa School For Children with Autism and said this has led to harassment and surveillance of her home and phone. The speaker said Cary officials and police have not responded to her reaching out and expressed her frustration with local leadership.
Legacy Gift and Tree Program
At past meetings, Yerha has talked about updating or clarifying the town's policy of "legacy gifts." If you see a tree or a bench with some sort of sign or plaque saying it is in someone's memory, that is a legacy gift. Town staff gave a brief presentation on this update, which includes a more navigable website to make formal requests for legacy gifts.
Also, they have created a webpage for people to be able to log their "favorite trees" around Cary.
Quasi-Judicial Meeting
There was one quasi-judicial meeting at the end of the Town Council Meeting, dealing with a required expansion of a road near Cary Academy due to the school adding a 22,602 square foot building. The school requested keeping overhead power lines in place, as well as payment-in-lieu for road improvements and reclaimed water system extension.
The motion was passed unanimously.
---
Story by Michael Papich. Photos by Google Maps and Hal Goodtree.
https://carycitizenarchive.com/wp-content/uploads/2017/08/TownCouncil-Aug11-Featured.jpg
483
800
Michael Papich
https://carycitizenarchive.com/wp-content/uploads/2020/03/cc-archive-logo-450-v3.png
Michael Papich
2017-08-11 11:11:30
2017-08-11 11:11:30
Cary Town Council: 8/10/17