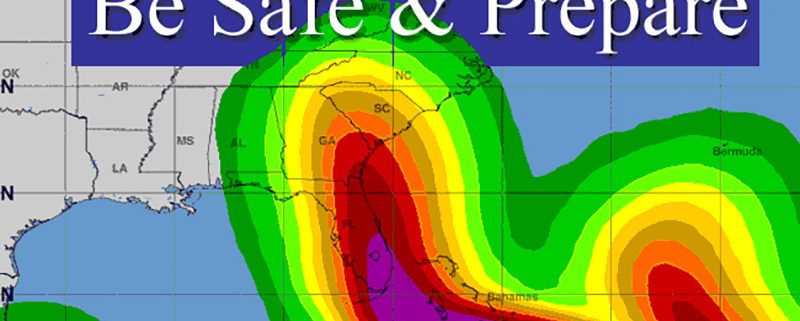 Cary, NC – It's been hurricane season here in North Carolina for awhile now – so preparing might have already been on your to do list. But sometimes, it takes a big storm to bring the value of being prepared to the forefront.
As we all watched the devastating impact of Hurricane Harvey – our hearts, hands and wallets opened up to assist.
Now, we see one potentially headed our way – and it's time to make sure that we are ready, as well. Please take a few moments and do the following – while we wait for Hurricane Irma to decide her path.
Sign up for ReadyWake if you haven't done so already. In partnership with Wake County, the Town of Cary will notify you via your preferred means of contact (phone, text and email) when there is an imminent threat to life, health and property. Sign up and get information directly on the device of your choice.You can also download the ReadyNC app for iPhones and Android phones. It has information like road conditions, power outages reported, areas that are being evacuated, and where open shelters are near you.

You can also find this information on the ReadyNC webpage. You'll find lots of great information that should be updated as Irma gets closer.

Create your own support network and an emergency communication plan. That way, you'll know of family, friends and neighbors, and have their contact information to help you, or you help them, in an emergency. Know where and how you will all connect if various communication routes are down, and where you might go if you need to evacuate.  Reach out and tell them what you might need.
Think about what you need for you and your family. Check out FEMA's Plan & Prepare site for some great tips.
– Do you have pets? How will you care for them?
– Do you have children and/or seniors? What special arrangements might you need?
– Dietary needs? Medical needs or equipment? (Medications, CPAPs, medical equipment?)
– Special cultural or religious consideration
Protect your important documents/valuable and make sure you document and insure your property.
– Make sure to have items ready in your emergency supply kit – like family records, wills, deeds, social security cards, bank information, medical and tax records, and medical cards and prescriptions.
– Take pictures of your property – and upload them to a Cloud based service (like iCloud, Box, Dropbox) so your information is in the cloud, not just on your computer and backup drive.
Emergency Supply Kit – This one is something you can do by collecting items above, and/or heading out to the store.  You need to make sure you have enough water, food and supplies for 3-7 days.  I remember we were without power for 7 days when Fran hit – and I was glad to have some of these items at the ready.Here are some suggestions from a variety of websites.  (By the way, I'm not opposed to adding things like chocolate brownies (my must have, I might need to make some now) and beer or bourbon (a request by some family members and friends) – make this YOUR kit. Also make sure to include the items mentioned above.
One other tip: I also put some of my gallons of water in the freezer – that way I can use them if I need to keep food cold if we are out of power. (Make sure to take some water out of the bottle, as they expand when they freeze.) And start stocking up on your ice cubes, too.
Water – 1 gallon per person, per day
Food – non perishable, and canned (don't forget the can opener!)
Battery powered or hand crank radio, extra batteries
Flashlights – extra batteries
Cell phone w/Charger
First aid kits
Hand wipes
Tools to be able to turn off the water
Prescriptions, medications, glasses/contacts (solution)
Blankets, change of clothes, dopp kit items
You house and car keys
Cash and credit cards
Books, and other items to distract you
Candles/matches
Pet needs (if you have them).
Please Be Safe
The Town of Cary, Wake County and others will be posting on social media, and alerting citizens as the Hurricane moves closer.  You can follow their Facebook pages (Town of Cary, Wake County) and their Twitter feeds (Town of Cary, Wake County, ReadyWake).
Please be safe and prepare. We can always replace stuff, we can't replace you or your loved ones.  
Feel free to comment on any tips and tricks you have for preparing, I'd love to hear from you.
---
From the blog of Cary Councilmember-At-Large Lori Bush. Photos courtesy of Lori Bush.
https://carycitizenarchive.com/wp-content/uploads/2017/09/LoriBush-Sept8-Featured.jpg
406
800
Lori Bush
https://carycitizenarchive.com/wp-content/uploads/2020/03/cc-archive-logo-450-v3.png
Lori Bush
2017-09-08 09:30:03
2019-12-08 15:29:44
Lori's Blog: Be Ready in Cary