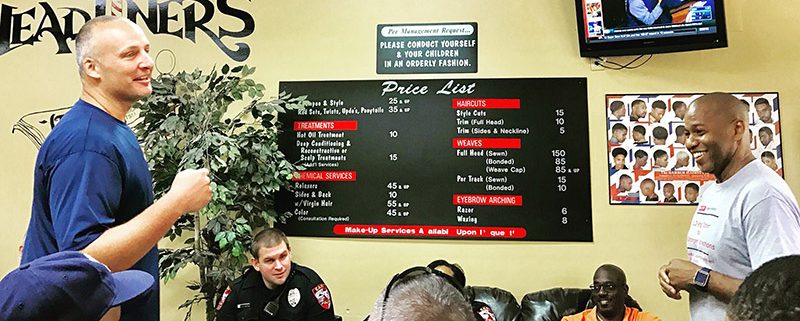 Cary, NC – At a time when tensions between police departments and communities of color are prominent in the news, local programs have been working to bridge any divides between these two groups in Cary. Many of these programs were started because of one man who went to the police station because he was afraid of his son's future.
Starting the Conversation
Tru Pettigrew moved to Cary nearly a decade ago, working in marketing for brands and more recently in speaking and coaching for businesses and organizations. But Pettigrew's involvement with bridging a gap between minority communities and police started at a local barbershop: Headliners on Ryan Road in Cary Village Square.
Conversations about police were already common at the barbershop, Pettigrew said, and he had a number of experiences with police abuse and brutality in cities he had lived in, from Baltimore to Los Angeles, Atlanta and more, though never in Cary. In August 2014, following the shooting death of Michael Brown, an unarmed black 18-year-old, by Darren Wilson, a 28-year-old white police officer, these conversations got more intense.
"There were already a lot of things causing tension between police and the black community but this was a big topic for us," Pettigrew said. "The Saturday after the shooting, we were all talking about our feelings. I was the most vocal that day."
Pettigrew said he had a perception of what the police in Cary were like, despite never interacting with any members of the local police force. He based this off of his past experiences with other police officers, but also because of Cary's reputation as a predominantly white and affluent town.
"The sentiment was, police protect and serve white people but police people of color," Pettigrew said.
So in addition to talking about his anger and fear with other black men and women at Headliners, Pettigrew decided to go to the Cary Police Department and express his feelings directly. He said the motivating factor was his son, who was one year old at the time.
"My fear was, as a young black man growing up in Cary, it could happen to him too," Pettigrew said. "I didn't want him to be the next hashtag."
He went to the police station, stormed in as he tells it, and said he was upset about relations between black communities and police and wanted to talk to someone. That someone was Sgt. Jeremy Burgin. Burgin, now a lieutenant, spoke with Pettigrew and asked "what I can do," which began to change Pettigrew's perceptions of the local department.
"He could have gotten defensive or gotten an attitude but instead he listened," Pettigrew said. "He showed me the importance of understanding before being understood, and that's changed my life."
Burgin challenged Pettigrew on how to change the "hearts and minds" of others who feel the same way as him while also working to help the Cary Police Department to understand the concerns of the community.
Not long after, Pettigrew became a charter member of Building Bridges, an initiative consisting of local African-American pastors and other community members working with the Cary Police Department to create programs that help with the relationship between the department and communities of color.
"I had no idea it would take me on this path," Pettigrew said. "I started this all for selfish reasons but now I see it's bigger than just me and my son."
Building Bridges
Four years running now, Building Bridges is a series of programs and initiatives that has expanded beyond Cary. One of the earliest aspects of Building Bridges linked back to where it all started: Headliners. The first Saturday of each month, police officers come to the barbershop and talk with the community of color that frequents Headliners.
"We want to make sure that policing is something that's not done 'to' a community or even 'for' a community. It's done 'with' the community," Pettigrew said.
Jimi Clemons has also written opinion columns on these barbershop talks and meeting with Jeremy Burgin for CaryCitizen.
Building Bridges has led to forums at historically black colleges and universities with Cary police as well as immersions at local African-American churches. The program has also created youth citizen police academies where young people learn their rights and interact with the police community.
Arguably Building Bridges' biggest program so far is COHORT, a diversity training program for police officers, which is facilitated by Pettigrew.
"It's a way to truly impact police by helping them to experience life alongside these communities," he said.
This has also expanded to COHEART, which is the same program but for schools, where faculty, staff and students work through all forms of divides and differences related to racial tension. COHEART started at Green Hope High School but is looking to expand to more Cary high schools in the near future.
COHORT has been put in place across North Carolina and is expanding nationwide, with Pettigrew talking at the recent International Association of Political Consultants meeting in Philadelphia, all starting from a program that began here in Cary.
Pettigrew said the importance of spreading programs such as COHORT across the state and country came from concerns he still had.
"I feel more comfortable in Cary. I don't worry about any officer pulling me over and having problems," he said. "I'm good in Cary, but I told Chief [Tony] Godwin, when I leave and enter Apex or Raleigh or Chapel Hill, my radar goes up again."
Pettigrew said the push to spread these Building Bridges programs across the region was partially a push by Godwin and the influence he can exercise in the area, with these programs being replicated in other towns and cities. Pettigrew has also spoken at the North Carolina Association Of Chiefs Of Police meeting.
"It's not that Cary's better; it's about best practices," he said. "When everyone gets a chance to familiarize themselves, trust has permeated in a community."
While Pettigrew is a charter member of Building Bridges and instigated many changes, he credits Godwin, Burgin and Sgt. Robin Edwards, also with the Cary Police Department, with helping this all happen.
"I'm not saying it wouldn't be the same in other police departments if I had reached out but it's all been helped because of them," he said. "Attitude reflects leadership."
Building Bridges started four years ago and it has been in place at a time of increased racial tensions in the United States. But with these programs in place, Pettigrew said they have helped Cary weather the storm.
"These programs have come at a time when they are more needed than ever," he said. "When things have the potential to raise their ugly head, the likelihood of it happening is a lot less."
In the end, Pettigrew said the best way to bridge divides is to focus on understanding before being understood and for people to interact more with one another.
"Frequency breeds familiarity and familiarity breeds trust," he said. "The more time we spend together, the more we can understand and trust each other. We know the other person is real."
For anyone interested in participating in the Building Bridges program, Pettigrew suggests they contact Robin Edwards in the Cary Police Department.
---
Story by Michael Papich. Photos courtesy of COHORT and COHEART.
https://carycitizenarchive.com/wp-content/uploads/2017/12/Cohort4.jpg
550
800
Michael Papich
https://carycitizenarchive.com/wp-content/uploads/2020/03/cc-archive-logo-450-v3.png
Michael Papich
2017-12-01 13:04:38
2017-12-01 13:04:38
Profile: Tru Pettigrew and Building Bridges