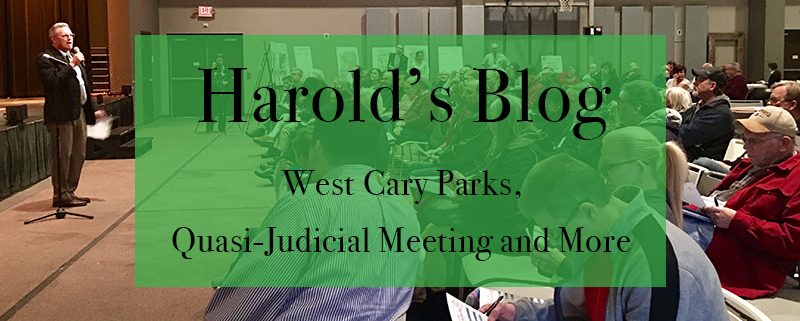 Cary, NC – This was a busy week through Thursday.
Monday – Lazy Daze Grants Reception
Monday started with my town manager one-on-one meeting. We went over the council/staff retreat tentative agenda. Our retreat will be on Friday, February 9th and Saturday, February 10th. Friday will be from 8 AM until 5 PM and Saturday will be from 8:30 AM until 3 PM. Some of the topics include Quarter 2 updates, the rolling budget, downtown, community resilience, and stormwater.
Later Monday I attended the Lazy Daze grants reception at the Cary Theater. This year the committee handed out $40,000 from the proceeds of Lazy Daze. Since the program's inception approximately $680,000 has been returned to the community. Lazy Daze is the largest and longest running cultural arts festival the Town produces each year, and one of the largest in the southeast. Thanks to each of the cultural groups that received grants for their service to our citizens.
Tuesday – West Cary Parks Meeting
Tuesday I attended the public meeting at Crosspointe Church on Carpenter Fire Station Road. The purpose of the meeting was to provide input on the design of two future neighborhood parks in western Cary. The two 20-acre sites are located at the southwest corner of Carpenter Fire Station Road and Highcroft Drive and the southeast corner of Green Level Church Road and McCrimmon Parkway. Staff and consultants were on hand to talk with and gather input from Cary citizens. Now they will take the input they gathered, create a committee of citizens, staff, and consultants to help design concepts for the parks.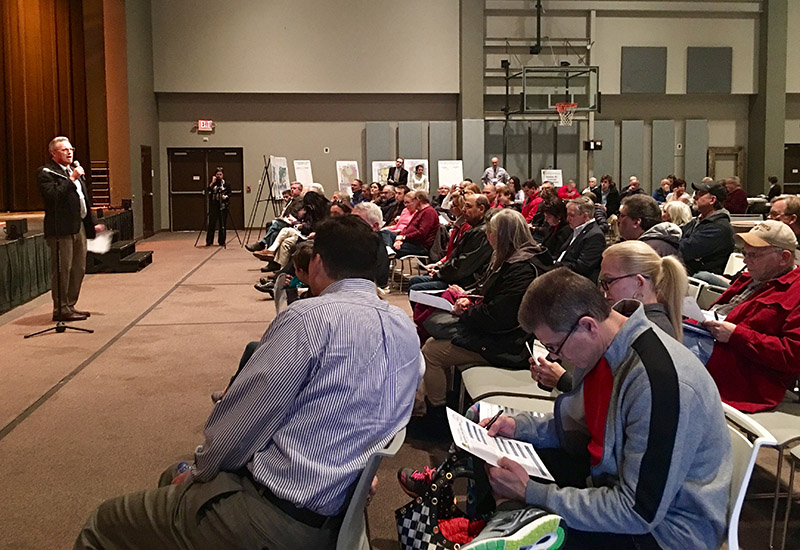 Wednesday – State of Cary Recording
Wednesday started with a taping of an abbreviated version of the State of Cary address. The original version presented live to the Cary Chamber of Commerce on January 24th was about 30 minutes. This should be about 10 to 15 minutes long. The taping was divided into 3 segments and it took about half an hour to tape. Afterwards I taped an updated version of our winter weather message that plays on Cary TV when we have a winter storm.
Wednesday evening I joined several council members and invited guests at the reopening of the McDonalds on Harrison. The owner, which has two LEED certified McDonalds in other parts of Cary, refurbished the restaurant but was not able to make this one LEED certified. He did, however, make it more technologically advanced. That is, you can continue to order the way you always did or order from a menu board in the restaurant, or order outside using your phone, or order with Uber Eats. One big surprise of the evening was the Pilot program of one of their sandwiches using fresh instead of frozen meat. And it was really tasty.
Thursday – Quasi-Judicial Meeting
Thursday the council held its monthly quasi-judicial meeting which included three cases. Council member Frantz was not present since he was representing Cary at an event.
The first case was to add a Starbucks to the Millpond Village shopping center. This was a quasi-judicial hearing because it had a drive through. The hearing lasted about 15 minutes, had very few questions, and was approved unanimously by council.
The second case was for a Shelbourne Senior Living on a 13-acre tract in Regency across from Symphony Lake and the Booth Amphitheater. This was a quasi-judicial hearing because it had over 100 units. I raised concerns about the 95 decibel level coming from the amphitheater. Other concerns included storm runoff retention which may impact communities, across from the Lochmere Golf Club, which has houses built in the floodplain. A condition, approved by council, was added to include noise decibel levels in lease agreements.
Our last case was for Channing Park which is a proposed development plan for 189 attached single-family dwelling units (townhomes) and 17 detached single family dwelling units near the intersection of Highcroft Drive and McCrimmon Drive. Council expressed concerns about the private streets and safety risks associated with the location of the development across from Panther Creek High School. After much discussion the council approved the development by a 4-2 vote.
Town Manager's Report
The town manager's report this week included:
Two Cary Companies Earn SPACE Awards

Each year the Triangle Business Journal recognizes the Triangle's top commercial real estate deals and developers through their SPACE Awards. The SPACE Awards were presented on Thursday at the American Tobacco Campus in Durham. Council Member Don Frantz, joined Ted Boyd and myself attended the event as two Cary companies were recognized at the 2018 SPACE Awards. Trilliant at One Harrison Parkway received the Top Economic Development Award and Northwoods Associates was awarded Best Redevelopment Project for their Mid-Town Square redevelopment in Downtown Cary.

Sharing Rap Session Conversations with TOC Family

On Wednesday, a group of approximately 50 staff gathered for the first monthly Town of Cary Rap Session. As you may recall, our Police Department has been conducting Rap Sessions at barbershops over the past several years to encourage an open and honest dialogue between the black community and Cary Police. This partnership was formed through Jeremy Bergin in our Police Department and Tru Pettigrew, a Cary citizen. The goal of the session was to get to know each other closer to make us stronger. It was an enlightening and revealing two hours, in which we were reminded that real change happens in the heart. Thank you to Chief Godwin for bringing this special partnership to your colleagues!

Town Selected as Finalist for Smart Cities Readiness Challenge

The Town was selected as a finalist out of 125 applications from across the U.S. The competition going forward will be fierce to ultimately select five winning applications. The final announcement is expected in March. Our application focused on the efforts underway with the Garage for Innovation group, as well as the Innovation Analytics Lab and the Simulated Smart City Project.

Public Input Meeting for Neighborhood Parks Planning 

Approximately 150 citizens attended the public meeting at Crosspointe Church on Tuesday to hear more about the projects currently under design for western Cary. A team of about 30 staff members, in conjunction with 10 consultants and two artists, shared information and led attendees through several exercises to gain public input into the two neighborhood parks currently being planned. Thank you to Mayor Weinbrecht and the other council members who joined.

I-40/Airport Blvd Interchange Improvements 

On Tuesday, NCDOT held a public meeting for the I-40/Airport Blvd Interchange Improvements project, which presented two alternative designs to relieve traffic congestion. One design option is a Diverging Diamond Interchange (DDI) and the other is a Partial Clover Interchange, which is a modification of the existing interchange. NCDOT is receiving comments until February 14. Staff has already submitted initial comments including a request for a pedestrian plan, which illustrates any provided pedestrian facilities throughout the project limits.

Cary Participates in Regional Water Quality Collaborations

The Town's commitment to delivering high-quality, reliable water to our growing community includes contributing to regional efforts to protect Jordan Lake. Upcoming events highlight two of these regional initiatives: the Jordan Lake One Water Association and the NC Policy Collaboratory's Jordan Lake Nutrient Management Study.

The Jordan Lake One Water Association, a collaborative group representing local governments, utilities, conservation groups and industry stakeholders, holds its next meeting on February 15. Council Member Lori Bush is the Town's liaison to the group.

The NC Policy Collaboratory was created by the Legislature in 2016 to perform research into environmental science and policy issues. The Collaboratory is currently engaged in a study into Jordan Lake nutrient management issues and solutions. An interim report was published in December. On March 22, Town staff will participate in a Collaboratory stakeholder meeting to provide input on project goals and hear from UNC/NC State researchers on their initial findings. The study will be completed in 2022.

Exploring Bikeshares in Cary

Bikeshare programs are continuing to grow nationwide. There are two primary types of systems, the dock-based system and the dockless system. The traditional, dock-based system requires users to pick up and drop off bikes at existing stations located in pre-determined locations. The dockless system differs in that the bikes typically have a rear-wheel locking system which enables riders to bike up and park the bikes anywhere within a geographic region.

As the bikeshare industry continues to grow and as our neighbors are adopting bikeshare programs, staff is exploring the potential of bikeshares in Cary. We will examine their policies, usage, compliance, accessibility to determine best practices and gain insights that may be beneficial to Cary.

Previewing Next Week

I am incredibly excited about the Council/Staff retreat next week. It's truly remarkable that the Council is able to set aside the time to focus on strategic, big picture issues facing the community. We will have the agenda and supporting materials available for you on Monday. As we'll be together, we will not be sending a Weekly Report next week.

Recognitions

This week the 2017 Lazy Daze grants were presented at a ceremony and reception at The Cary. Thirty-one Cary based non-profits were awarded a total of $40,000. Also, Cary High School senior Bevin Neill's artwork, "Dandy Daze" was unveiled. This is the third year a Cary area high school student was selected to produce the artwork for the Spring Daze Arts & Crafts Festival.
Emails From Citizens
Emails from citizens this week included:
An email campaign to vote against a gas station rezoning proposal at Kildaire and Penny Road (While I LOVE feedback filling up my email box with the same message over and over just makes it difficult to address concerns)
An email campaign to vote against a rezoning proposal at Weldon Ridge.
A request to address zoning violations (an operational issue which staff is handling)
A complaint about not being allowed to give an opinion at a quasi-judicial hearing (these requirements are created by the state and US Consitutions)
Next week is the council/staff working retreat and other than a few minor meetings that is all that is on my calendar.
Get In Touch
Well, that is all for this week. My next post will be on Sunday, February 11th.  Although I have Facebook and Twitter accounts those are not the best means of communications with me. Please send all Town of Cary questions or comments to Harold.Weinbrecht@townofcary.org and email personal comments to augustanat@mindspring.com.
---
From the blog of Cary Mayor Harold Weinbrecht. Photos courtesy of Harold Weinbrecht.
https://carycitizenarchive.com/wp-content/uploads/2018/02/HaroldBlog-Feb5-Featured.jpg
550
800
Harold Weinbrecht
https://carycitizenarchive.com/wp-content/uploads/2020/03/cc-archive-logo-450-v3.png
Harold Weinbrecht
2018-02-05 10:20:03
2018-11-25 11:19:00
Harold's Blog: Western Cary Parks, Quasi-Judicial Meeting and More