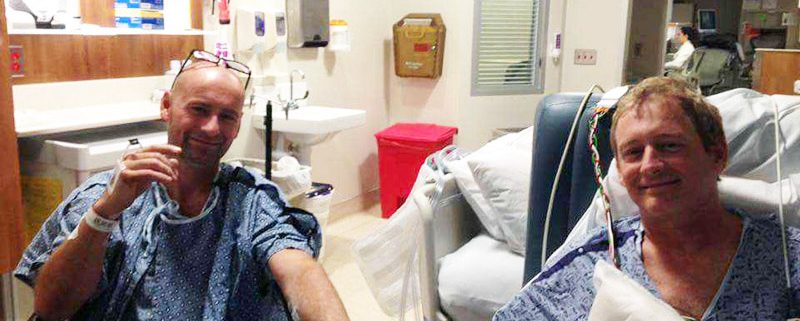 Cary, NC – Welcome to Samaritan's Corner. Let's Talk!
In 2017, in the U.S. alone, 4,500 people died from kidney failure, but Keith Braswell didn't. In 2017, 20 people a day died waiting for a kidney, but Keith Braswell didn't, and to God be all of the glory!
Now that tad bit of info is the end result of God's mighty hand moving to produce yet another miracle, but let's go back a little bit. What do you do when you know that five generations of your family have been diagnosed, and have died, from kidney failure? What do you do when your own mother sits you down and tells you she's going to die from kidney failure, and does at age 50? What if you, at age 47, were told that your kidneys were shutting down and you had to have a kidney transplant? Welcome to Keith Braswell's world.
I've been wanting to write an article about Keith's five year journey, how God used his brother Chris to bring an end to the journey and all of their experiences along the way. With these articles can come some really tough questions that I have to ask. As a writer, I do my best to be a compassionate, respectful and unselfish as I share people's lives, and some of the beautiful things that God is doing. Keith has been through a lot mentally, emotionally and physically for the last five years. Knowing all of that, the last thing I wanted to do was set him back in any way. When I sat down with Keith and Chris, I told them they didn't have to answer any question that made them uncomfortable to talk about. But in typical Braswell fashion, they were all in, smiles and all. Out of all of the questions I asked, there are six particular ones that I wanted to write about in this article, and here they are.
(1) How are you doing overall?
(2) What was your first thought when you were diagnosed?
(3) Did you get mad at God?
(4) Did you ever find yourself slipping into a dark place mentally and emotionally?
(5) Did you think you were going to die?
(6) How do you see life now?
In this article, my goal is to sum up the spirit, the heart, the fight, the love and the will to move forward with life as Keith and Chris explained it to me. I took a lot of notes, just to end up scrapping them all to write straight from my heart.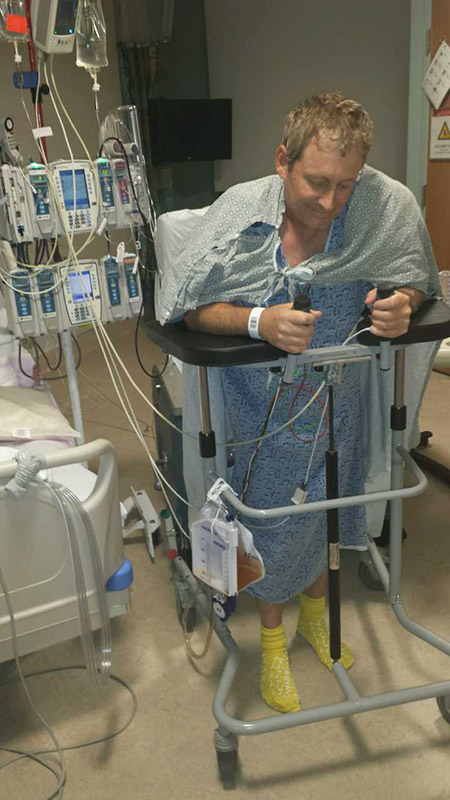 Me: Keith, how do you feel, where are you in your recovery from the transplant?
With that big Keith Braswell smile that has provided so much joy to so many people over the years, he said:
Keith: Jimi my friend, I'm a walking miracle! A lot of people that have had this surgery are never able to get back to a normal life, but I have. And everything is so diffrent now, its like I have a "new normal." When I found out that my kidneys were shutting down, the first thing I thought about were my two boys Dylan and Tyler. I thought to myself, how do you tell your children that you have a medical condition that has killed five generations of your family? I was very concerned about how they would take it. Kids don't understand that stuff, and you just hate to tell them, but you have to. I was 100 percent honest with them about everything, because they deserved the truth.
As parents we think we can cut corners in so many areas with our children, and we wonder why they're so devastated by the diffrent seasons of life that just come along with living, like death. But they were so strong. They'll never know just how much I needed that strength in that moment. I'm so proud of them both. They're going to grow up to be great men. A lot of people go through an emotional journey of anger when diagnosed with something like this, or cancer. That anger is often times aimed at the Heavens, and God is the target. But it never crossed my mind!
I was stage five, as bad as it can get, and not one time did I get angry with God. I was too busy thanking Him for letting me get it and not any of my brothers. When I was a kid helping my mother and grandmother with their kidney dialysis, I knew that I too would be walking this same exact road one day. It was final, it was inevitable and I knew it. I truly do believe it was God's way of preparing me for it, and that's why I didn't go over the emotional edge when I was diagnosed. That doesn't make me any stronger than someone who does, it just means I was ready to accept it.
Like most people I suspect after receiving news like this, I had some dark moments. I thought about not being here to see my boys grow up, and leaving my family. Some of those days were tough, and the nights felt like they were going to last forever. I never knew midnight could last so long, but I'm human. Even now, I have some good days and some not-so-good days, but I'm still here. Thousands of people didn't survive 2017 to make that statement in 2018. I'm at peace in my soul, Jimi. It's a second chance I've been given by God and I'm not going to waste it sitting around feeling depressed. He gave me new insight as well. Things that I use to worry and stress about, I no longer care about. I'm alive, doing well, my boys are doing well, I have a family that absolutely loves me and a long list of friends that would drop everything if I needed them.
There are people that will live a lifetime and never have even half of the life I've been blessed with. I had relatives that were ready to line up to be tested to see if they were a match. 20 people die everyday just waiting for a kidney. All three of my brothers stepped up to be tested to help me. I'm so blessed and so loved. And of the three, it was my brother Chris that was a match.
Me: So tell me Keith, how do you feel about Chris after all of this? I mean I know you've always loved him, but how do you feel about him now? As Chris is sitting next to me on the couch, and Keith tries to find the words to describe his love for this amazing brother of his, the Lord speaks to my heart and reveals a powerful reality, that causes me to speak out into the silence in the room. "Fellas, I'm not a tough guy. Not at all. I feel like going to break down and cry, this is crazy! The bond you guys have is like nothing I've ever known."
Keith looks at Chris, still desperately trying to gather the right words, and said, "I'm so grateful, Jimi. I just can't explain the gratitude and appreciation I have in my heart for him and what he did for me. I'm so grateful." Keith's answer reminds me of what Jesus spoke through the apostle Paul in 2nd Corinthians 9:15 – "Thank God for this gift. God's gift. No language can describe it, or praise it enough."
Chris then spoke up. "God made it very clear to me that I was going to be the one to help Keith. After my brother Brent's results came back and showed that he wasn't a match, no matter what happened with my brother Scott's tests, I just knew I would be the one and I was more than happy to help him. Like Keith, the first thing I thought about was my two kids Amanda and Troy. I shot straight from the hip with them as well, and gave them the honest truth. And after a little conversation they said. "If God has called you to do this then you have to help Uncle Keith."
What an amazing sacrifice. To be handpicked by the Lord to give life to another human being. To be willing to remove one of your organs to keep your brother alive. Only Jesus! Only Jesus! Chris, I can completely understand why Keith was lost for words. How in the world can you even begin to thank someone for such an amazing act of love? You can't. So you just thank and give glory to the one that brought it all to pass. Chris, your love for the Lord was obvious to me. That couch conversation we had  revealed enough fruit for me to know that the hand of the Lord is all over your life, and in your heart. God gave you instructions, and you followed them. It's a sacrifice that a lot of  people would not make. But I know you understand that an even greater sacrifice was made for you on Calvary that day on that old wooden cross. I know you do.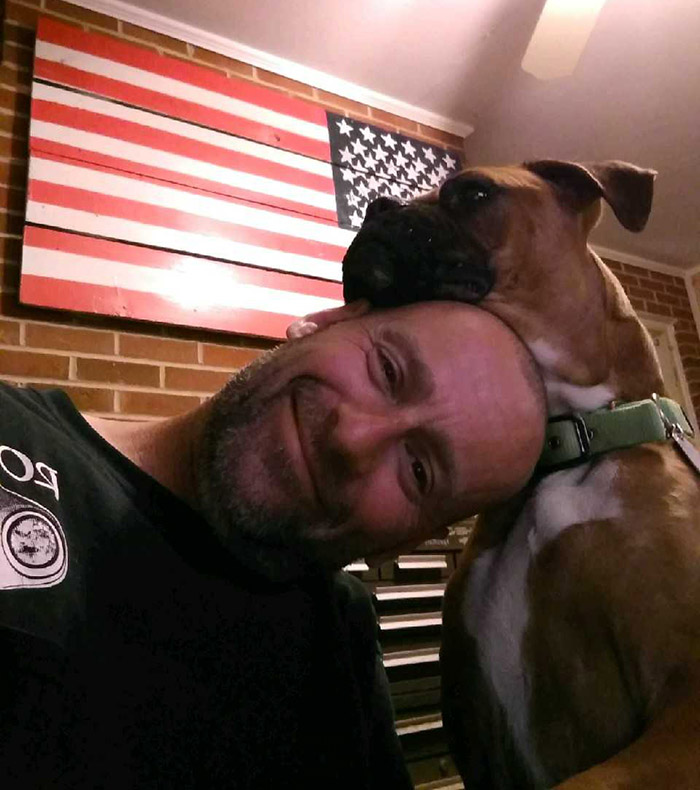 Luke 12:48 – "When someone has been given much, much will be required in return, and when someone has been entrusted with much, even more will be required." Chris, Jesus entrusted your brother's life to you, required you to help save him and you humbled your heart and answered the calling.
To you, Chris, on judgement day, as you stand before our wonderful Savior Jesus Christ, you will hear these words from Matthew 25:21 – "Well done my good and faithful servant. Because you've been faithful over a few things, I'll make you a ruler over many things." Keith, Chris! You guys aren't the only ones that have been changed. This story will be used to open all of our eyes to see that life is but a mist and then it's gone. The next diagnosis could land on any one of our doorsteps tomorrow. This story will be all the proof we need to be reminded that we take to much of life for granted.
Thanks for this gift, God's gift!
---
Story by Jimi Clemons. Photos courtesy of Jimi Clemons.
https://carycitizenarchive.com/wp-content/uploads/2018/02/SamaritanCorner-Feb6-1-1.jpg
550
800
Jimi Clemons
https://carycitizenarchive.com/wp-content/uploads/2020/03/cc-archive-logo-450-v3.png
Jimi Clemons
2018-02-06 09:29:03
2018-02-06 09:31:55
Samaritan's Corner: The "Piece" of A Brother's Love