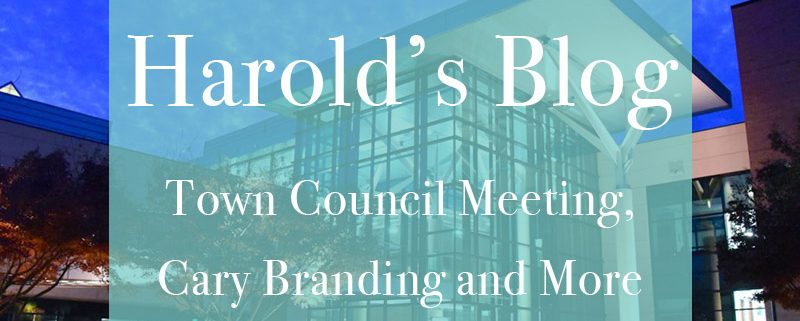 Cary, NC – This week was typical for a week that included a council meeting.
Monday – Wake County Mayors
Since there was a CAMPO (Capital Area Metropolitan Planning Organization) meeting on Wednesday I talked with the Director on Monday morning to go over the agenda for the monthly meeting. The CAMPO meeting agenda was straight forward with mostly informational items so our meeting time was short.
Later Monday I attempted to contact all council members to hear of any questions or concerns about Thursday's council agenda. I was only able to talk with four of the council members and there were very few questions. Later in the day I met with staff and went over the agenda items. We believed at the time that there weren't any significant concerns.
Following the agenda meeting I met with the town manager, deputy town manager, and Mayor Pro-Tem for my weekly one-on-one. We mostly talked about issues related to downtown developments and businesses. We also talked about the developer agreement for the Fenton proposal.
Monday night I met with the Wake County Mayors Association. In attendance were the Mayors from Raleigh, Holly Springs, Morrisville, Wake Forest, Rolesville, Zebulon, Knightdale, and Cary. We talked about the association's finances, calendar, and upcoming events. We also talked about writing a letter of support for the I540 extension. As is typical in our meetings, we went around the table and provided updates about what was going on in our municipalities. Our meeting concluded after about two and a half hours.
Tuesday – Cary Branding
Tuesday I attended a meeting of the Economic Development Committee. The second of the consultant finalists for Cary's branding initiative made a presentation to the committee that lasted a little over an hour. Their two representatives were the owners and did a great job in their presentation which had a lot of detailed data on the exercise related to whether or not Cary should be a town or city.
Later Tuesday I joined the entire council, chamber members, and others in a reception with the consultants. This was our opportunity to spend one-on-one time with the consultants to hear their thoughts and ideas. The Economic Development Committee will meet again on April 3rd to decide which of the two consultant companies should be recommended to the council. It should be pointed out that three council members are on the Economic Development Committee.
Wednesday – Managed Motorways
Wednesday I chaired the March meeting of the Executive Board of CAMPO (Capital Area Metropolitan Planning Organization). Our agenda had 2 public speakers – one against the I540 expansion and one for the I540 expansion, 3 consent items, and 3 discussion items. One discussion item was a presentation about Managed Motorways. This program would control the number of vehicles entering highways. If implemented at entry points to the highways there would be traffic signals which would control the rate of cars entering. This has been shown to improve traffic by 25% in Australia where it is used. It would require legislative approval and so no action will take place unless that happens. The Executive Board also unanimously approved 2 adjustments to the LAPP (Locally Administered Projects Program). One was for Fuquay Varina and the other was for Cary's Panther Creek Greenway. The adjustments allocated more funding since both project bids came in higher than expected. The last discussion item was on the LAPP mid-year funding availability report. That is, how much of the allocated money has been spent to date. This is important because if the money isn't spent as planned then it is susceptible to being rescinded by the federal government.
Later Wednesday I attended the kickoff event for Erv Portman campaign for Wake County Commissioner. I have known Erv since appointing him to Cary's Planning and Zoning Board in 2000. He is honest and open and willing to make the tough decisions. In this election several commissioners, including Portman, are criticized for not providing all the funding requested by the school board. Portman says that they increased spending by $100,000 this year and have been willing to raise taxes to do it. He also said that teachers in Wake County now have salaries that match the national average thanks to Wake County subsidies. He and other county commissioners plan to use a five year budget plan. I have endorsed Erv and will support him in this upcoming election. I normally don't endorse but will occasionally endorse people I have known and worked with for a long time.
Thursday – Town Council Meeting
Thursday the council held its last regularly scheduled meeting of the month. On the agenda were 12 consent agenda items, 1 public hearing, 6 discussion items, and a closed session. The public hearing was about a subdivision with a condition to provide a pedestrian bridge over the Black Creek Greenway. Unfortunately, that bridge keeps getting washed out and the neighborhood of less than 50 homes can't afford to keep rebuilding it. So they are asking the town to take over their responsibility. There were several speakers advocating for the town to take over the cost of building and maintaining. This will now go to the Planning and Zoning Board for their review and recommendation.
Under the discussion items council voted unanimously to approve a Twin Lakes rezoning for senior housing, a bid award for the Panther Creek and Mills Park trailhead, and an agreement to receive just over $1 million dollars from Wake County towards synthetic fields and Wi-Fi at the WakeMed Soccer Park, and court, lighting, and bleacher improvements at the Cary Tennis Park. It should be pointed out that these funds are from the Wake County Occupancy Tax and Prepared Food & Beverage Tax and are much less than Cary contributes. Over the years Cary has given much more than we have received.
After about a 20 minute closed session the council adjourned around 8:30 PM.
Town Manager's Report
The town manager's report for this week included:
Guided By North Star

Our second branding finalist, North Star, provided us with another powerful look at what branding Cary could entail. What stood out to me was their incredible grasp of the often subtle yet significant realities of working with communities and their approach to freelancing the creative work to ensure unique outcomes. The next step is for the EDC to meet on April 3 to determine its recommendation to the full Council, which should occur in late April or early May.

Cary S.T.A.R.T.E.R.S Takes Root

Nearly four years ago, the Cary PD started forming closer ties within the community by attending and engaging in Barbershop Rap Sessions. Taking a section from this playbook, the town added a similar initiative to promote open dialogue and foster greater understanding on a variety of topics that affect all of us. Tru Pettigrew and Winslow Thornton have partnered with us to begin a youth-focused mentoring program. This program, "Students That Are Restoring Trust Empathy Respect and Support" (STARTERS) is initiated by high school resource officers and students as a forum for students to tackle issues important to today's youth and tomorrow's leaders. This opportunity is available to students, free of charge, with initial training on effectively facilitating dialogue. Panther Creek High School held two sessions, referred to as Catamounts Connect. Over 50 students voluntarily attended each session during their free lunch period. Plans to expand this program to Green Hope and Middle Creek high Schools are underway.

NCDOT Local Projects Update

NCDOT is in various stages of planning and design for several transportation improvement projects in and around Cary, including N.C. 540, I-440 and U.S. 64. These projects represent an investment of hundreds of millions of dollars into our local transportation network. On March 28, at the Cary Chamber Eye Opener, NCDOT Division Engineer Joey Hopkins will speak about the current and future Cary projects that will help support growth, increase mobility and reduce congestion.

Citizen Feedback for Neighborhood Park Concepts

On Tuesday at Fire Station 7, the Town held the initial Citizen Resource Team (CRT) meeting to review results from the first public meeting for the two neighborhood parks located at Carpenter Fire Station Road and McCrimmon Parkway. There were approximately 16 citizens of all ages in attendance. The next step is to refine a draft concept plan based on the feedback.

German Students Visit Cary

Council Member Ken George spoke to a group of students from Oberursel, Germany on Thursday. The students are visiting Cary as part of an exchange program with Cary Academy. The student group was very engaged and asked questions about connectivity, pace of development and major initiatives on the horizon for a community of our size.

Sales & Use Tax Seminar

On Thursday, the Finance Department hosted an all-day sales and use tax seminar; thirteen area municipalities attended the seminar. Sales and use tax laws are very complex and it's important to maximize the refund of taxes paid by the Town and stay compliant with the laws. Thanks to Johnsie Dickerson and Ishani Padmaperuma for recognizing the need for this seminar and including our neighbors in the event. Additional thanks goes to staff in PRCR and PW for assisting with the logistics.

NCDOT Strategic Plan Summit

On Wednesday, staff attended the Transportation Strategic Plan Summit at the Raleigh Convention Center. The workshop highlighted North Carolina's strategic transit framework – Connecting North Carolinians to Opportunities – building healthy communities; supporting job creation and economic development; and providing equal opportunities so all can thrive. There was discussion around enhancing access for seniors, veterans and persons with disabilities, as well as building quality transit stops and engaging the business community in strengthening job and economic development opportunities.

Women's Safety Awareness

On March 20, Assistant Chief Toni Dezomits and Sergeant Robin Edwards conducted a Women's Safety Awareness presentation to over 40 employees from various departments. This presentation has been given to many women's groups throughout the community and has always received rave reviews. It was valuable to offer this knowledge to our own employees as well as our citizens.

Cary Recognized for Solid Waste Rebalancing Efforts

Bob Holden and Srijana Guilford attended the Carolina Recycling Association's conference in Cherokee, NC this week to learn, plan and influence issues affecting recycling. Each year, the association honors top performers that advance waste reduction and recycling in the Carolinas. This year, award categories were consolidated to select a set of outstanding people, projects and programs that recognize the new and innovative efforts that are changing the way recycling happens in the Carolinas. Cary was honored as an award recipient this year for our thorough, smooth and successful implementation of our recent solid waste route rebalancing. Congratulations!

Recognitions

Congratulations to Virginia Johnson for achieving her Certified Municipal Clerk designation! We are so lucky to have an amazingly talented Clerk representing Cary.

Last week, Fire Captain Chip Dimmick and Senior Officer Tom Vibert were recognized by the Cary Franklin-Sloan VFW Post 7383 as Firefighter and Police Officer of the year. Captain Dimmick was recognized for his long history of exemplary service to the citizens of Cary. Senior Officer Vibert was recognized for his work in getting assistance for a homeless U.S. Veteran that is suffering from PTSD and addiction. Also at this event, Senior Officer Vibert was recognized as the North Carolina VFW Police Officer of the year for this same work. Congratulations to Captain Dimmick and Senior Officer Vibert for their outstanding service and recognition!
Emails From Citizens
Emails from citizens this week included:
Complaints about the proposed gas station at Kildaire and Penny.
A proposal to amend the Constitution to stop government corruption.
A complaint about raw sewage (on private property).
A complaint that there aren't enough female tennis teachers at the Cary Tennis Park.
A complaint about a future gas station near Hortons Creek Elementary (approved 15 years ago).
A request for a dog waste dispenser.
A complaint about the lack of ridership on Cary's buses.
Support for the Panther Creek Greenway improvements.
Opposition to the proposed hotels on Harrison Avenue.
Next week will be a busy week. Activities include staff meetings, water/sewer utility meetings, a meeting with a pastor, a meeting with a high school senior for their project, a meeting with a student on the impact of growth, a meeting with students on gun control, and the police awards and promotion ceremony.
Get In Touch
Well, that is all for this week. My next post will be on Sunday, April 1st.  Although I have Facebook and Twitter accounts those are not the best means of communications with me. Please send all Town of Cary questions or comments to Harold.Weinbrecht@townofcary.org and email personal comments to augustanat@mindspring.com.
---
From the blog of Cary Mayor Harold Weinbrecht. Photos by Hal Goodtree.
https://carycitizenarchive.com/wp-content/uploads/2018/03/HaroldBlog-Mar26-Featured.jpg
550
800
Harold Weinbrecht
https://carycitizenarchive.com/wp-content/uploads/2020/03/cc-archive-logo-450-v3.png
Harold Weinbrecht
2018-03-26 10:30:12
2018-03-26 10:38:21
Harold's Blog: Town Council Meeting, Cary Branding and More