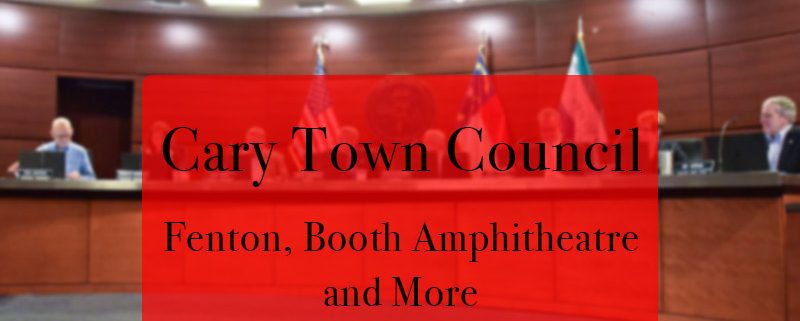 Cary, NC – The Thursday, October 25, 2018 Cary Town Council meeting may have been the shortest meeting of the year, with limited discussion or public comments and two items tabled. But the meeting still saw important votes on the Fenton development, Koka Booth Amphitheatre and more.
Fenton Agreement
The only Public Hearing that had any public comment was on the development agreement with the Fenton project. The agreement sets up how public facilities are integrated into Columbia Development's project, as well as how and when the developer will be reimbursed for building public infrastructure such as utility connections, roads and greenways.
The agreement says Columbia Development will be reimbursed once all of Fenton is completed and open, and the main street feature must be completed first. Reimbursement is capped at $22.5 million. The agreement also provides $5.5 million in exchange for the developers building an energy efficient site, with the office space requiring an Energy Star score of 75 or higher. Also in the agreement are limits of assignment, which puts restrictions on when Columbia Development can leave the project. All told, the Fenton project is a $795 million investment according to town staff.
The only speaker for this Public Hearing was the attorney for Columbia Development who used his time to thank staff and say that the company is excited about this project. With that, the Cary Town Council approved the development agreement unanimously.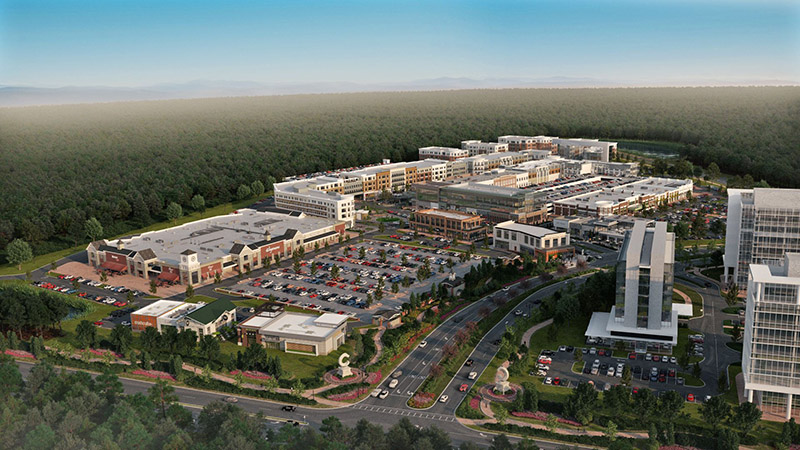 Other Public Hearings
There were a total of six Public Hearings on the agenda but only the Fenton development agreement had any public comment. Three Public Hearings were for annexations, one along Harmony Lane, one for property along Rochelle Road and one for property on Wilson Road, in order to connect them to town utilities. None had any public comment and Town Council approved them unanimously.
Another Public Hearing was to amend part of MacGregor Center, the shopping center along Lake Pine Drive. The amendment to the Planned Development District would allow for two personal service establishments (a business that provides one-on-one service such as a tailor, a manicurist, a personal trainer, etc.) and allow for commercial indoor recreational facilities. There was no discussion or comment and the proposal was sent to the Planning and Zoning Board for their input and recommendation.
The only Public Hearing that saw any comment from Town Council was for a rezoning of 1.58 acres of land along Good Hope Church Road, next to the historic Hurst House, to rezone it from Office/Research and Development to Residential 40, with conditions in place limiting the land use to one detached dwelling. The applicants spoke and said simply that they want to build a house here that is in a low density spot.
The site in question is adjacent to other R-40 land; R-40 is default farmland zoning for open space and means a lot size must be a minimum of 40,000 square feet, limiting it to very low density.
"I've been here for 11 years and I've never heard anyone ask for R-40," Councilmember Don Frantz said.
The proposal went to the Planning and Zoning Board for their recommendation but Cary Mayor Harold Weinbrecht said directly he did not think there would be any trouble getting this rezoning done.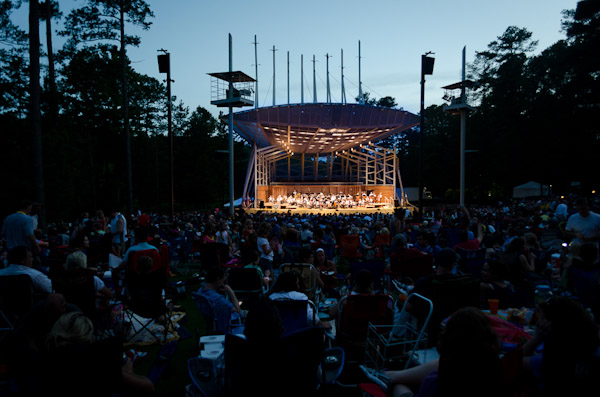 Koka Booth Amphitheatre
Two of the three Discussion Items on the agenda were tabled at the start of the meeting so the only Discussion Item Town Council heard was the management plan and budget for Koka Booth Amphitheatre.
Unlike previous years, the event venue did not run a surplus this year. Cultural Arts Manager Lyman Collins said there were only eight concerts this past year, with weather and cancelations affecting both shows and attendance. Collins also said other venues are facing some setbacks, with revenue down 30 percent at Red Hat Amphitheater.
Other events are still popular at Koka Booth Amphitheatre; three times as many tickets for the Chinese Lantern Festival were sold. To try and bring in more and better quality concerns, Collins said the venue will try an open promoter model to attract more promoters and acts.
The total needs for Koka Booth Amphitheatre's 2019 season is $789,755, with "an appropriation of $101,102 from funds set aside for FY 2019 mid-year appropriations is required to fund the remaining request for the Koka Booth FY 2019 operations."
Town Council approved the budget unanimously.
Public Speaks Out and Recognitions
There was only one speaker at Public Speaks Out. She identified herself as a Downtown Cary resident and said she was not happy about the proposed size of the downtown parking deck, adjacent to the new library. She said its size and scale was not consistent with the rest of Downtown Cary and she worried about what else would come to downtown if this was the current trajectory.
The meeting started with a recognition of Cary Band Day, now in its 60th year. Councilmembers Ken George and Jennifer Robinson both participated in Cary Band Day as students in the past.
---
Story by Michael Papich. Photos by Columbia Development and Hal Goodtree.
https://carycitizenarchive.com/wp-content/uploads/2018/10/TownCouncil-Oct26-Featured.jpg
483
800
Michael Papich
https://carycitizenarchive.com/wp-content/uploads/2020/03/cc-archive-logo-450-v3.png
Michael Papich
2018-10-26 12:59:55
2018-10-26 12:59:55
Cary Town Council: Fenton Agreement, Booth Amphitheatre Budget and More