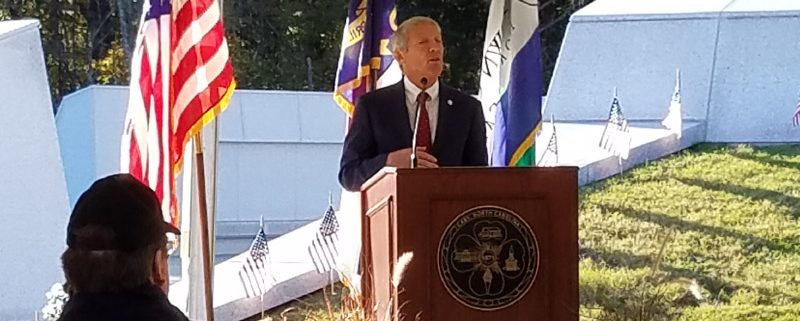 Cary, NC – This week was long one for me with lots of important events.
Monday – Planning for the Week
Monday I met with the town manager for our weekly one-on-one. We talked about downtown projects and the upcoming quarterly meeting.
Tuesday – Election Day
Tuesday I joined Council member Frantz in a taping of Cary Matters. This episode will be about the Page-Walker Arts and History Center and its 150th anniversary. The Page-Walker was initially built by Cary's founder, Allison Francis 'Frank' Page, in popular French Second Empire architectural style.
The Page family operated the hotel until 1884, when it was sold to Jacob and Helen Walker. They, along with their family, operated it as a hotel until 1926. In 1941 John Williams, a former railroad employee purchased the hotel for use as his private residence. Behind the hotel he built circus wagons and kept ponies for his "dog and pony shows".  In 1971 it was sold to Bob Strother who had it listed on the National Register of Historic Places in 1979. In 1985 the Town bought the hotel in agreement with the newly incorporated Friends of Page-Walker Hotel. The hotel underwent a massive restoration and on December 4th, 1994 the Page Walker Arts and History Center became fully operational. The taping of this episode took two takes and were done in about 15 minutes.
Tuesday night was election night across the nation, state, and county. The nation saw the Republican Party increase their majority in the Senate and the Democratic Party take over the House of Representatives. In the state we saw the super majority of the Republicans in the legislature disappear which gives the Democratic Governor power in vetoes. In Wake County we saw almost every seat become Democratic. The voter turnout was heavy, one of the biggest in decades. I believe one of the reasons for the big turnout is the divisive nature nationwide. I saw many people voting with slate cards in their hands and an angry look on their faces.
[Begin soapbox]
It saddens me to know that our country and state is so divided. In Cary we have proven that party doesn't matter. We believe that working toward a common goal is easier when all work together and there is no place for divisiveness. It is always OK to disagree but we must always work together on each and every decision. That is the only way we can possibly reach our potential as a community. So far, at the end of my 11th year as mayor, I am proud to say we are doing exactly that. Now if we can only get that message across to our state and federal representative.
[End Soapbox]
Wednesday – Economic Evaluation
Wednesday I attended a Cary Chamber breakfast where the guest speaker was Ted Abernathy who has an economic strategy firm. Before his talk I read a proclamation recognizing Saturday, November 25th (the Saturday after Thanksgiving) as Small Business Saturday. It is very important that we all support our small businesses especially since so much shopping has now gone to the internet. Mr. Abernathy's talk had dozens of very interesting points. Some takeaways for me included:
Talent continues to move to the urban areas and away from rural areas.
Urban area jobs seem to focus in one area. For example, our area is attracting more and more tech and financial companies.
There will be more and more automation making it difficult for rural areas.
There will be significant advancements in technology in the next ten years.
Urban areas are seeing most of the job growth.
North Carolina is 2nd in the nation in tech job growth.
The available work force is not meeting the needs of employers.
This region will grow by 70% by 2045.
Rural, mostly between here and the coast, areas are losing population and that trend will continue.
North Carolina is losing more and more agriculture and manufacturing jobs.
Cary's tax base is made up of about 23% commercial.
Stock market declines are expected within the next year.
I was only able to stay for his talk and not the discussions that followed. The information provided was very valuable and should be studied especially for state and national decisions.
Thursday – Quarterly Meeting Rescheduled
Thursday the staff and council were scheduled to have a quarterly meeting. This was cancelled since Mayor Pro-Tem Bush and I were unable to attend. Ms. Bush was out of the country on a vacation that was planned long ago. I had to suddenly cancel because my wife's outpatient surgery was rescheduled for this day. The topics for the quarterly meeting will be added to a council work session next week and via email to council members.
Friday – Al Swanstrom
Friday I learned of the passing of friend and former Planning and Zoning Board Chairman Al Swanstrom. He served his community many years and was a friend to all. Please pray for his family and friends. Rest in Peace Al.
Saturday – Tree Lighting
Saturday I participated in the tree lighting ceremony for Parkside Commons. In my remarks I welcomed everyone and thanked them for attending. Then I invited the children to help me flip the switch to turn on the lights. There were about two dozen kids pushing the switch as I counted down from ten. Luckily I was able to keep it down until the appropriate time.
After the tree lighting I did a selfie with two Cary police officers in attendance. It was a lot of fun and I really appreciate the opportunity to participate in this event.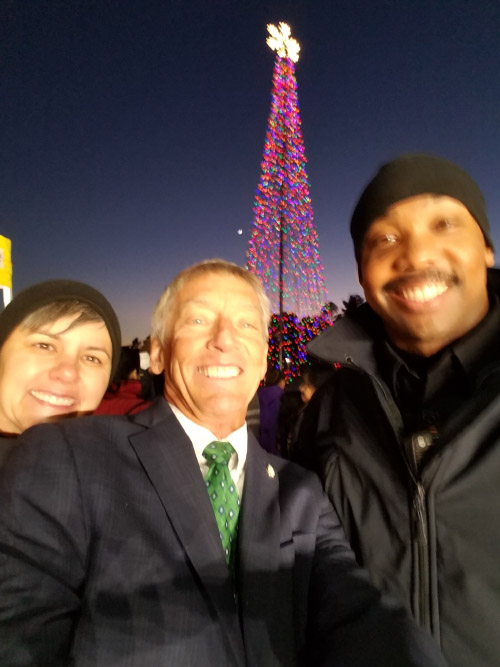 Sunday – Veterans Day
Sunday I joined council members Smith, Frantz, Yerha, and George for the Veterans Day celebration at Cary's Veterans Freedom Park. Council member Smith was the emcee and made a few remarks, I followed with the reading of a proclamation, and then we heard stories from two decorated veterans. It was a great ceremony and one worth of honoring those who have given so much so that we can live in freedom. God bless all our veterans.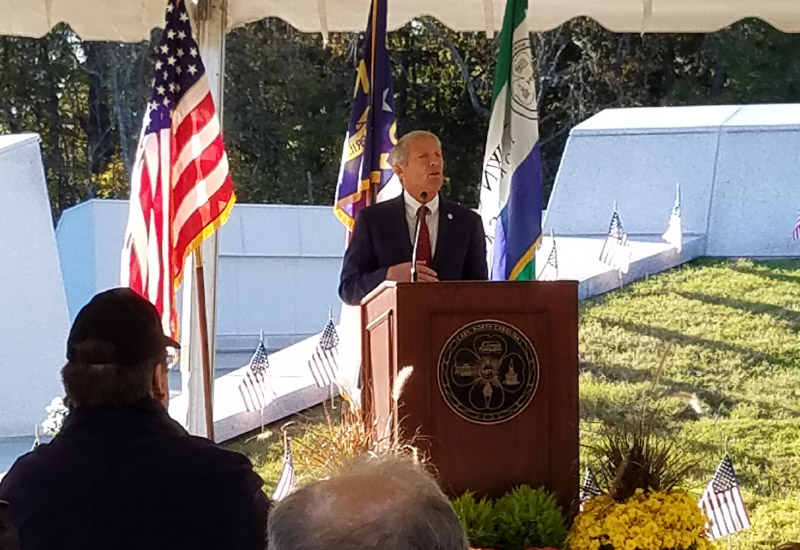 Emails From Staff
Emails this week included an emergency request from Dorcas asking that I notify my readers of urgent food pantry needs. These needs include fresh produce, hearty soups and stews, canned ham, canned fruit, canned applesauce, baking supplies, paper towels and toilet paper, baking mixes, mac and cheese, canned tomatoes and pasta sauce, and dinner mixes.
If you can help please drop these off at Dorcas which is located on 187 High House Road in Cary.
Town Manager's Report
The town manager's report for this week included:
Congressman Price Visits Cary Veterans

Council members Jack Smith, Don Frantz, Ed Yerha and Ken George attended this year's Veterans Luncheon. Council Member Smith introduced Congressman David Price for a few remarks and keynote speaker Assistant Secretary Martin Falls, NC Department of Military and Veterans Affairs.

In addition to the speakers, the over 300 veterans and families were served lunch by over 50 volunteers and treated to a superb musical program by the 80-member Cary Christian School Chamber and Concert Choirs and the Cary Town Band.

Branding

As part of the ongoing research phase of the Community Branding Initiative, North Star will be in Cary on Wednesday, November 14 to collect additional feedback through one-on-one structured interviews, focus groups, and informal conversations with citizens, workers, and visitors in various spots around town. A community-wide survey will be distributed in December, allowing everyone who lives and/or works in Cary to provide input.

Cary Regional Library and Parking Deck

Beginning on Monday, November 12, the precast concrete panels will be arriving for the parking deck construction. South Walker Street between East Park Street and Walnut Street will close periodically to accommodate the delivery of these panels to the Cary Regional Library and Parking Deck project site. Deliveries will take place weekdays between 7 a.m. and 5:30 p.m. for up to four months. Drivers and pedestrians are encouraged to use alternate routes, including East Park Street and South Academy Street, during this time. The project is 35% complete.

Leaf Pick Up Begins

The Town began the annual loose leaf collection program this week. We provide three town-wide sweeps, the first to be completed by Thanksgiving, and the second by Christmas Eve. After the first of the year, crews go back for a third and final sweep.

House on the Move

On Sunday, November 11, between 7:30 and 9:30 a.m., the William's House will move approximately one block along E. Chatham Street to its new home at 210 E. Chatham Street. The William's House will be incorporated into an adaptive reuse development project that will have both office and retail space. The house is being relocated in order to develop Chatham Walk, a 33 unit condominium project.

130 Gold Meadow Drive

To protect the health, safety and appearance of the Edgehill Farm subdivision, Council adopted an ordinance in August for the owner of 130 Gold Meadow Drive to comply with Minimum Housing standards or demolish the structure. The owner failed to comply with Council's order, which further directed staff to demolish if owner action was not taken. As a result, Minimum Housing Officer Darrell Parnell contracted with a vendor for the demolition. Demolition of the structure at 130 Gold Meadow is now complete, and Mr. Parnell is finalizing the administrative lien work with the Wake County Register of Deeds.

The neighbors are very appreciative of this work, as demonstrated by the following email from Kelly McCullen, a neighboring resident:

"Please extend my sincere gratitude to Mr. Parnell for his leadership and guidance on this matter. The blend of patience and compassion is sometimes hard to come by within 'The Bureaucracy,' but he exceeded as a town leader in minimum housing standard enforcement."

The Pandas Are Coming

Pandas are on the move as set up begins at Koka Booth Amphitheatre for the 4th annual Chinese Lantern Festival. The festival kicks off on November 23 and runs through January 13.

White Oak Greenway Segment Opens

The White Oak Creek Greenway at the American Tobacco Trail is now open. While the greenway itself is complete, users should be careful on the trail because Apex is still working on constructing neighborhood connections and adding additional signage throughout this segment. A dedication is planned in the spring.

Western Cary Parks Open House

Preliminary master plans for neighborhoods parks in western Cary were on display at the Open House on November 7 at the Hive. Over 30 residents, plus reporters from the News & Observer and 17 News, came by to view the park master plans and learn about this project as well as other projects in progress in the area. The plans were very well received, with many compliments from residents who had attended the first public meeting last January.

Crabtree Creek Greenway

The scenic 1.7 mile Crabtree Creek Greenway was dedicated on a beautiful, fall Sunday afternoon. Council members as well as other elected officials from Morrisville and Wake County celebrated with us. Thanks to all the staff that coordinated this event and special recognition to Sandi Bailey who was a major contributor to getting the grant funding for the project starting over six years ago. Project manager Amy Mackintosh coordinated with many staff, outside agencies, consultants and contractors to build a wonderful new amenity. As an example of what greenways mean to our community, here is an excerpt of an email from a citizen:

"I just wanted to say thanks for all your efforts in regard to the Cary greenway system. As you know I'm sure, it gets much use and the more I take advantage of this wonderful resource, the more I realize that. The greenway system in the Triangle is one of many reasons why the quality of life here is something we shouldn't take for granted.

As a cyclist and runner, I realize that physical fitness is something we should strive to encourage more Americans to get involved in. The work you and others are doing on the greenway system is one way we're doing that locally of course. Suffice it to say that I and many others are looking forward to seeing the two stretches of greenway on either side of Hwy 54 connected via the tunnel, and any other future greenway expansion. Thanks again for your work in this segment of our local government.

P.S. – Kudos for the work done on the recently-opened Crabtree Creek greenway!"

UNC-TV Films in Downtown

UNC-TV's North Carolina Weekend filmed their November show in Downtown Cary with a feature on the growing food and beer scene.

McCrimmon Parkway Improvements

NCDOT held a public meeting on November 8 on a proposed project to improve McCrimmon Pkwy from Davis Drive to Perimeter Park Drive to reduce congestion and improve safety. The street is planned to be widened to 4 lanes with bike lanes and sidewalks on both sides.

Two notable features of the project include 1) a grade separation over NC 54 and the railroad and 2) a continuous flow intersection (CFI) at Davis Drive. A CFI is an innovative design that improves mobility and safety by re-directing the left-turn movement at the intersection. A CFI is only proposed for Davis Drive, while left-turns on McCrimmon Pkwy will follow the current operation. Several CFIs are planned or under construction in North Carolina, with the closest one being in Garner at US 70/Hammond Drive.

Staff is working with NCDOT and their consultants to provide input on the plans. NCDOT's project manager is Zahid Baloch, zbloch@ncdot.gov. The public comment period is open until November 30.

NC Moves 2050

The NC Department of Transportation is updating its long-range transportation plan to help guide North Carolina's future transportation investments. A survey and crowdsource map has been created to gather public input:

When complete, the NC Moves 2050 Plan will provide a 30-year transportation blueprint to meet the needs of a dynamic state, characterized by differing regional priorities, while maintaining a focus on broader, statewide benefits.

Next Generation Air Transportation Meeting Held in Cary

On Wednesday, staff hosted the Next Generation Air Transportation (NGAT) Consortium meeting at the Page Walker.

Anthony Campbell coordinated the event and spoke on the Town's Drone Program development, and a OneCary approach leveraging the knowledge of the NGAT Consortium. Terry Yates presented on Smart/Connected Cities initiatives and the role drones will play in providing data to 911 and 311 systems as well as how we can achieve the goals of the 2040 Cary Community Plan.

The day ended with Lucid Technologies demonstrating how drones and biodegradable chemicals can provide safe and effective methods to clean buildings and large vehicles. It was a great event showcasing how drone technology is revolutionizing industries and the challenges of urban air mobility.

Small Business Proclamation and Chamber's Business EXPO

Mayor Weinbrecht presented a Small Business Proclamation at the Cary Chamber of Commerce Eye-Opener on Wednesday morning prior to Ted Abernathy's presentation on the economic climate. Afterwards, Cary was well represented at the Chamber's Business EXPO.

This event provides the opportunity for staff from Planning and Development Services and the Office of Economic Development to speak with attendees about the Imagine Cary Community Plan and the Development and Small Business Liaison Programs. Staff also demonstrates Cary's online resources including the Active Development Map and the Property Research Map. Attendees asked questions about the development process, current projects under construction, and shared how much they love Cary.

More Energy Savings

Guided by the Council-approved Strategic Energy Action Plan (SEAP), the Sustainability Team and staff members across the organization work together to manage our operational energy use and save money both from the supply-side (finding the best rates and schedules) and demand-side (reducing the amount of energy we use).

Recently, staff worked with Duke Energy to shift several of our meters to cost-saving rates and to take advantage of another rate savings opportunity with a total savings of $41,000 per year. In 2014, the estimate of the overall savings from the SEAP effort was a $590,000 per year. The Strategic Energy Action Plan will be updated in 2019.

Environmentally Speaking: Movie Series Kicks Off

After a delay due to Hurricane Florence, the Environmentally Speaking Green Movie Series kicked off this Thursday at the Cary Theater with a showing of Wasted! The Story of Food Waste. Small hosted conversations were held in downtown businesses after the movie.

Staff is proud of this collaboration between The Cary Theater, Sustainability and the Environmental Advisory Board. This series helps to build community around coming together to discuss ideas. In January, there will be a double feature: Happy and Minimalism. In March will be Living in Futures Past. The series will wrap up in May with a collection of agricultural short films, a fundraiser for Good Hope Farm.

Dorcas Ministries Celebrates 50 Years

Approximately 550 people attended Dorcas Ministries' annual Thanksgiving Breakfast on Thursday, November 1, including several Cary staff and Council members. This year's event helped mark the organization's 50th anniversary and was moderated by WRAL's Debra Morgan. Each attendee received a Dorcas Ministries pin designed by Jerry Miller and commissioned by Ralph Ashworth.

It was so powerful to see the impact of this organization in our community and to celebrate their success. For more information on the history of Dorcas and the types of services they offer, check out this video.

Congratulations to this group on its 50th anniversary and thanks for all the good work they've done, and will continue to do, in our community.

Cary Represented on Wake's Community Advocacy Committee

Over the last several years, Wake County Human Services has established six Community Advocacy Committees (CACs) to represent different regions of the county. As a member of the Western Region CAC, Community Outreach Specialist Carla Witherington was invited to attend an annual Joint Retreat where representatives from each region convene to share their challenges, successes, and goals. This year's theme was "Partnering to Strengthen Our Communities." Common issues across the county included mental health, food security, housing, transit, and foster parent recruitment. By establishing and extending partnerships, the CACs plan to continue exploring solutions and celebrating each small triumph along the way.

Awards

The Town of Cary's water system was recognized as the "Distribution System of the Year" at the 98th Annual NC American Waterworks Association Conference in Raleigh this week. Jim Bridges, a Senior Mechanic/Operator at the North Cary Water Reclamation Facility, was awarded state-wide recognition as the "Safe Water Maintenance Technologist of the Year." The South Cary Water Reclamation Facility's Stephen Avent was recognized as the "Laboratory Analyst of the Year." Dave Hallgren, Donald Smith, and Jarrod Buchanan each presented technical papers at the conference.

Numerous other staff from the Public Works, Utilities, and Water Resources Departments attended the conference to advance their knowledge of water and wastewater treatment as well as share their expertise with colleagues from across the state. Pictured from left to right are Joel Arnold, Jeff Adkins, Betsy Drake, Alexandra Jones, Davis Reynolds, Sarah Brahman, Jim Bridges, and Paul Ray.

Recognition

A big thank you to those who worked at facilities that hosted elections, especially for early voting. The Herb Young Community Center staff, as well as public works, police and fire, were all instrumental in providing a great experience for the early voters. This facility was one of the most popular sites for early voters in Wake County with more than 28,000 voters casting their ballots during the early voting period.

Congratulations to Sam Trogdon for becoming a Certified Park and Recreation Executive (CPRE). CPRE establishes a national standard for managerial, administrative and executive parks and recreation professionals. This mastery-level credential focuses on the practical knowledge and current real-world skills necessary in today's changing park and recreation environment.
Emails from Citizens
Emails from citizens this week include:
A complaint about cable public access station being hijacked. (Staff looked into this and there is nothing wrong on our end broadcasting. Spectrum has been notified and is looking into this on their end. The Attorney General has also been contacted).
Dozens of emails from high school students, via a student assignment, complaining about all sorts of things most of them not related to municipal government. (To be able to respond to citizens with legitimate Cary concerns I turned these emails over to staff for response. It would be nice if the teacher would first teach the students what each level of government is responsible for).
A suggestion from a developer that I get an EKG implying that I don't have a heart (I usually ignore nastygrams so I hope he doesn't expect a response).
A request to be an intern to the mayor (NC has a council-manager form of government which means the mayor doesn't sit in the office and run the operation. That is the job of the town manager. In addition, there are rules and regulations that make it very difficult for someone to do anything without getting paid. And there are even more rules about who and how to pay. So staff is looking into seeing if there are times this student can shadow me at council meetings and other events).
A request to support the proposed North Harrison hotels.
A complaint that federal grants were used to get a greenway and part of the criteria was access to schools (The acts of the School Board and the funding of the Panther Creek Greenway are two separate, independent processes. I know the experiences of our citizens during the School Board process have been difficult. The federal granting program, though, is a separate process that funds projects based on good planning principles, which Panther Creek Greenway meets. The underlying basis for this federally funded transportation project includes filling gaps in the greenway system, crossing a major barrier (NC-540) and connecting residential areas with public facilities/commercial/activity centers. While the funding process looks at proximity to schools as overall scoring criteria, the connection to them is not a federal funding requirement.)
Next week staff meetings, a CAMPO (Capital Metropolitan Planning Organization) meeting, a work session on Green Level mixed use proposal along with quarterly meeting topics, a Hometown Spirit Award reception, a regularly scheduled council meeting, and the Waverly Place tree lighting. By the way, the nominees for the Hometown Spirit Award include Brent Miller, Guy Mendenhall, and Cindy Sinkez.
Get In Touch
Well, that is all for this week. My next post will be on Sunday, November 18th.  Although I have Facebook and Twitter accounts those are not the best means of communications with me. Please send all Town of Cary questions or comments to Harold.Weinbrecht@townofcary.org and email personal comments to augustanat@mindspring.com.
---
From the blog of Cary Mayor Harold Weinbrecht. Photos courtesy of Harold Weinbrecht.
https://carycitizenarchive.com/wp-content/uploads/2018/11/HaroldBlog-Nov12-6.jpg
550
800
Harold Weinbrecht
https://carycitizenarchive.com/wp-content/uploads/2020/03/cc-archive-logo-450-v3.png
Harold Weinbrecht
2018-11-12 13:01:18
2018-11-12 12:41:55
Harold's Blog: Election Day, Veterans' Proclamation and More