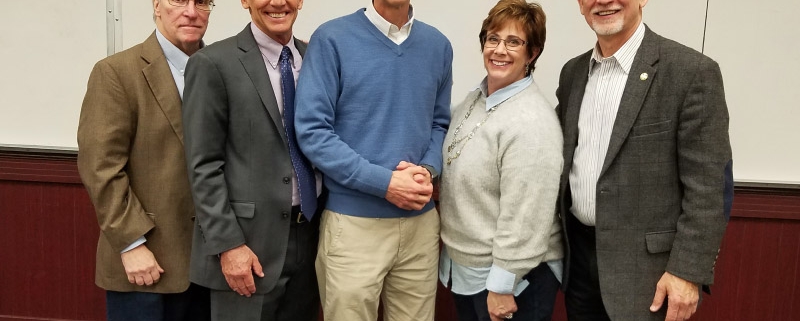 Cary, NC – This week was much slower with just a few activities.
Tuesday – Chinese Business Association
Tuesday I attended the North Carolina Chinese Business Association annual reception at the Governor's mansion. I estimate that there were about two hundred in attendance. After arriving I talked with several business owners and professors. At 6 PM the emcee, Renee Chou from WRAL, started introducing the speakers. The speakers included the Governor, Secretary of State, two North Carolina Senators, and many Chinese business leaders.
The speakers spoke for about an hour about the importance of our Chinese businesses. The Governor and his wife were only in attendance for about half an hour. After the speakers I spent most of the time taking pictures with various business leaders. I left the event after about two and a half hours.
Thursday – Mike Bajorek
Thursday I joined Mayor Pro-Tem Bush, and council members Yerha, George, and Smith at the retirement reception for Deputy Manager Mike Bajorek. Bajorek had a significant impact in his 31 years of service with the Town of Cary. When I think of things like excellent customer service, excellent snow removal, etc., I will always think of Bajorek.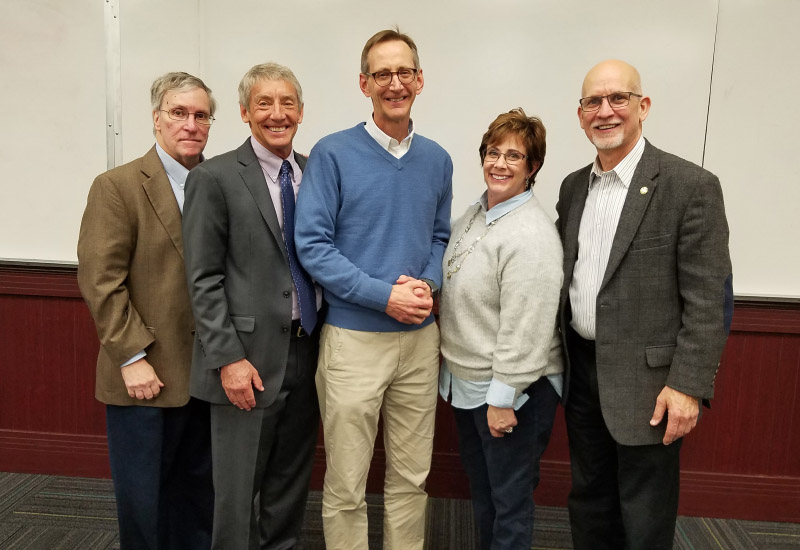 In addition he was a great guy who lived the faith. We are so blessed to have had his service for all these years and we will miss him. I sincerely wish him the best in his new adventures as he begins his retirement years.
Friday – Cary Towne Center
Friday I had my one-on-one meeting with the town manager and the Public Information Officer. We talked about several things including the council-staff working retreat, the Weldon Ridge Public hearing, and future staff changes.
We also talked about the recent selling of the Cary Towne Mall which we had been expecting for a few weeks. While nothing has been proposed or filed with the town, I hope this sell results in a great mixed use project. I believe these new investors have much more creativity and ambition than to just propose a big box like IKEA which is not what the council or the citizens are looking for at this site. I am anxious and excited for them and for the town.
Town Manager's Report
The town manager's report for this week included:
Cary Towne Center

Cary Towne Center was sold to Turnbridge Equities and Denali Properties on January 31. The purchase comprises over 828,000 square feet and 76 acres. Cary Towne Center will continue normal operations despite the change in ownership. "We look forward to being a part of the exciting transformation taking place throughout Cary. We are committed to working with local leaders on a shared vision to reinvigorate Cary Towne Center and ensure it again becomes a dynamic place with a strong sense of community pride," said Jason Davis, Managing Director of Turnbridge Equities.

Having met personally with the buyers as well as their local representatives, we believe this is an extraordinarily positive step for our community.

For additional information about Turnbridge Equities and Denali Properties please visit www.turnbridgeeq.com and http://www.denaliproperties.com.

2018 Crime Stats

We just completed compilation of the 2018 Crime Stats, and it is good news! Part I Crime (serious offenses such as aggravated assault, rape and robbery) is down 7%. There was also a 9% reduction in Part II Crimes.

Police Listening Sessions

This week I held another round of listening sessions with members of our police department. It was great to see the sessions so well attended and continues our conversations about the police chief recruitment process, the role of Public Safety Director, and ongoing work around the shift study. We also talked about the importance of communication, internally and externally, and how we can continue to have an open dialogue moving forward.
On Capitol Hill

As a member of the Government Finance Officer Association Committee on Treasury and Investment Management, Cary's Deputy Treasurer Mary Beth Huber participated in discussions about best practices and current issues in Washington DC this week. She also represented both Cary and the profession in meetings on Capitol Hill with legislators to support the continuation of tax-exempt status for municipal debt and to encourage reversal of the recent limitations on refinancing debt. Her visit included time with the David Price's Legislative Director, Sean Maxwell.

Former Contract Instructor Charged

We have sent emails to 99 families that a former Town of Cary summer camp instructor has been charged out of state with child molestation of a family member. Nathan Elder was an employee of our contractor, Play-Well, and taught classes to children in the summers of 2017 and 2018.  We have received no complaints about Elder but are notifying families for transparency and out of an abundance of caution. We have also created an FAQ on the website for those wanting more detail.

Traffic Concerns at Reedy Creek Middle School

Reedy Creek Middle School's Magnet Program is experiencing tremendous growth and attracting families from as far away as Garner and Wendell. This success has led Wake County Public Schools to shrink the school's base attendance area, resulting in concerns from parents that traffic will worsen on Reedy Creek Road as more parents drive their children to school.

Parents contacted Cary with these concerns, asking for assistance to keep traffic flowing and students safe. This week, Cary staff organized a discussion with Wake County Public Schools and the North Carolina Department of Transportation. The discussion centered around how traffic is currently functioning, what the student population will look like in the future, the design of the Reedy Creek Road Improvement Project, and what the next steps are to keep students and their families safe at the school.
With 30 attendees, the discussion was plentiful and constructive, and all parties walked away knowing that both Cary and NCDOT are aware of the traffic concerns, and that attention is being given to the concerns of parents.

Cary staff will follow up to investigate traffic signal timing at Harrison Ave and Reedy Creek Road and will reach out to parents to update them on the discussion. NCDOT will investigate the crash history along Harrison Ave and Reedy Creek Road.

Cary Theater Celebrates Five Years

Happy 5th Birthday Month to The Cary Theater! We're celebrating with promotions all during February!

Pressure Zone Information Meeting

Our sixth and final pressure zone increase will occur April 9. In preparation, residents in the Preston Village and Heritage Pines area have received an initial letter and are invited to attend an open house style information session Tuesday, February 5 from 6-8 p.m. at Green Hope Elementary School's cafeteria. Citizens can talk one-on-one with staff and schedule a free pressure check to help them determine how best to prepare their property for the increase in pressure.

2020 Census

Along with representatives from multiple North Carolina counties, municipalities and non-profit organizations, Cary staff members Deanna Hawkes, Erin Puckett, Carla Witherington and Debra Grannan attended the North Carolina Statewide Convening Workshop for 2020 Census Preparation at NCSU's McKimmon Center on January 31. The program emphasized the importance of the Census as a tool to determine our seats in the House of Representatives, levels of federal funding for state and local programs and the value it brings to economic development. Participants discussed ways of reaching hard-to-count communities and learned that in North Carolina, an estimated 73,000 young children are at risk of not being counted in the 2020 Census.

Moving forward, Cary will collaborate with Wake County in the formation of a Complete Count Committee to improve Census participation. More information is available at www.nccensus.org.

Smart Cities Showcase

David Spencer and Terry Yates presented at the Smart Cities Showcase in Durham sponsored by the Triangle J Council of Governments and the Triangle Clean Cities Coalition. The presentation focused on the Cary's Smart City efforts specifically in the transportation arena. This included smart city technology related to traffic management, traffic analytics, connected vehicles, smart parking, transit, pedestrian safety, etc.

BMX Community Comes Together

A fundraising event for a member of the BMX community who recently suffered a life-altering concussion was held at the Cary Skate Park. Cary provided special event and logistical support. The Jam was focused on BMX but welcomed skaters and scooter riders as well. Over 100 participants and spectators attended the event, including some international pros.
Neighborhood Meeting

The Neighborhood Meeting scheduled for February 6 has been cancelled because no rezoning submittals were received by the application deadline.

Awards

On Tuesday, Michael Morton, VP, CTO of Dell Boomi presented the Town's IT and Admin staff with their 2018 Emerging Technology Award. This award highlights customers in the early stages of their groundbreaking connected community transformation journeys and who embrace emerging technologies like IoT, Edge Computing, Blockchain and AI/Machine Learning. Cary uses Dell Boomi products to connect Internet of Things (IoT) systems and devices to software platforms such as Salesforce. This connectivity provides vital data to staff and automates work response flows ultimately improving staff and citizen interactions.

Recognition

Congratulations to Ian Francia who achieved the status of Certified Sports Field Manager. This designation is highly sought after in the sports turn industry, as there are only 265 Certified Sports Field Managers in the country – five of whom work for Cary.

Advisory Board Meetings

There are four advisory group meetings scheduled for next week and they will all take place on Monday, Feb. 4:

Parks, Recreation and Cultural Resources Advisory Board

Members will receive information on the Historic Properties Assessment.

The group continues working on initiatives as assigned by the Environmental Advisory Board.

Information Services Advisory Board

Members will hear from two outside speakers related to enhancing the lives of others through technology.

Two cases will be heard, Trinity Grove Drive and Carpenter Fire Station Road.

Supplemental Information Provided to Council
Next week's activities include staff meetings, water pressure zone change public meeting, a town council meeting, a NC Metro Mayors Legislative update meeting, a 70th wedding anniversary for two leaders in our Indian-American community, and a talk at a Democratic gathering.
Get In Touch
Well, that is all for this week. My next post will be on Sunday, February 10th.  Although I have Facebook and Twitter accounts those are not the best means of communications with me. Please send all Town of Cary questions or comments to Harold.Weinbrecht@townofcary.org and email personal comments to augustanat@mindspring.com.
---
From the blog of Cary Mayor Harold Weinbrecht. Photos courtesy of Harold Weinbrecht.
https://carycitizenarchive.com/wp-content/uploads/2019/02/HaroldBlog-Feb4-4.jpg
550
800
Harold Weinbrecht
https://carycitizenarchive.com/wp-content/uploads/2020/03/cc-archive-logo-450-v3.png
Harold Weinbrecht
2019-02-04 13:03:04
2019-02-04 13:03:04
Harold's Blog: Cary Towne Center, Mike Bajorek and More