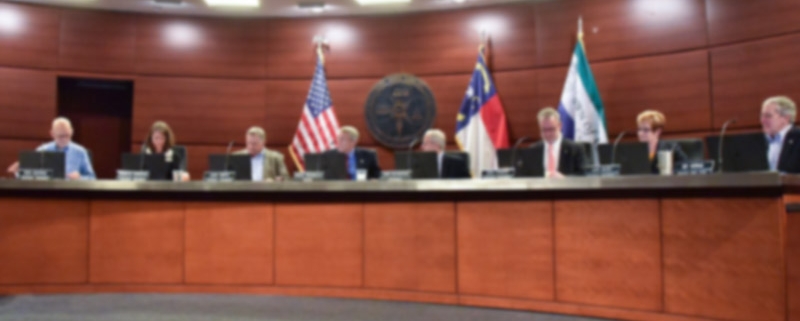 Cary, NC – The latest Cary Town Council meeting saw extensive discussion on a mini-storage unit during a Quasi-Judicial hearing, as well as a Public Hearing on parking for an office on Weston Parkway and more.
Weston Office Amendment
Of the three Public Hearings on the agenda at the Thursday, February 7, 2019 Cary Town Council meeting, only one had speakers come or any lengthy discussion from Town Council. This was a Public Hearing to amend a 5.32 acre section of Office and Institutional land to allow for more parking spaces. The office building is located on Weston Parkway. In order to add up to 57 new parking spaces, the applicants are asking to reduce the streetscape buffer from 50 feet to 30 feet and the western side buffer from 25 feet to 10 feet.
The applicant is offering other conditions in an attempt to balance this out. The rear buffer would be made Type A, which is a thicker type than what is there currently. There are also conditions that the building size there would not increase and they will build a street side trail.
The developer for the applicant spoke to say they picked buffer reductions that would have the least impact and that their plan for the parking lot is a more efficient design.
There were two speakers for this Public Hearing. One represented Red Storm, a Cary-based video game company that bought the office in question. He said they want to continue to be in Cary and said the office was in a "state of disrepair" when they bought it and they want to improve it.
The other speaker was an adjacent neighbor who said she appreciated the rear buffer being increased but still had concerns about added light and noise pollution, as well as traffic through a nearby egress.
Mayor Pro Tem Lori Bush and Mayor Harold Weinbrecht talked about town conditions on light pollution and how they will have to settle that when a Site Plan comes forward, if the zoning amendment passes. Weinbrecht also said that, while Red Storm is a local company, they can only look at proposed land use and not who the applicant is.
In general, Town Council seemed to be supportive and while they said some work still needs to be done, many appeared optimistic. Councilmembers Don Frantz and Jack Smith also talked about how Weston Parkway is a "special" road in Cary and its look and feel should be preserved as much as possible; Smith said having an active office could help that.
"The last thing we need is a pretty parkway and then an empty office building," Smith said.
Councilmember At-Large Ed Yerha had the most criticism, as he said the parking on the site already surpasses the town's Land Development Ordinance and this would increase that more.
"Removing a buffer for more impervious surface, when it's already over-parked, concerns me," Yerha said.
The amendment then went to the Planning and Zoning Board for their vote on whether this is consistent with the Cary Community Plan.
Public Hearings
There were two other Public Hearings on the agenda. One was an extension of the $80 million bond from 2012. The bond will expire in November 2019.
This vote would extend the bond for three years and allow Cary to use the remaining $16 million for capital projects, including improvements to Fire Station No. 2, the Downtown Cary Park and downtown streetscape projects.
Town Council approved the bond extension unanimously.
The other Public Hearing was an annexation request for a lot on Penny Road. The annexation passed unanimously without any comment or discussion.
Quasi-Judicial Hearings
There were two Quasi-Judicial Hearings at this Town Council meeting. The first was a request to reduce the buffer next to I-4o for development of a 32,000 square foot office building. The applicant, Bitting Electric, is a Cary-based business.
While the proposal is to reduce the visibility buffer, there is a sizable berm next to the property in question, and Frantz said he thought this would hide the office from the road, which several other councilmembers agreed with.
Councilmember Jennifer Robinson was concerned about what would happen if the highway widened in the future and how that would cut into the buffer even more. In the end, Robinson was the only no vote, with the buffer reduction passing 6-1.
The other Quasi-Judicial Hearing saw more discussion and several vote changes before the final decision. This was a proposal for a mini-storage site, but because it is in an Office/Research and Development zoning district, the developers would need a Special Use permit to build mini-storage here. The location is at the intersection of Airport Boulevard and Davis Drive.
Bush was the most vocal opposition to this proposal. Among her concerns were the proximity to commercial business and the intersection served as a "premier entrance" to Cary. Also, Bush said there was already storage in the area.
"It's not appropriate to have storage units right next to storage units," Bush said, comparing it to having multiple drive-thru restaurants next to each other, which Cary does not permit.
Frantz said this particular mini-storage was hidden away through trees so it was easier to accept but he admitted he was not "warm and fuzzy" about the proposal.
"We're getting tired of these," Frantz said.
At first, there was a 3-4 vote to deny the request, which led to more discussion which touched on many of the same issues. Then, a vote to approve also failed 3-4, with Councilmember Ken George switching his vote to oppose the project.
Then, George made a motion to deny the Special Use permit and it passed 5-2, with only Frantz and Yerha voting against denial.
Public Speaks Out
There were two speakers at Public Speaks Out, one of whom spoke at the last meeting. Her home is surrounded by a new rezoning in West Cary and she said she has not been able to sell her home to get out of this area. At the last meeting, she asked the town for assistance in this matter and she returned to say she had not heard from anyone in the town and her problem remains unresolved.
The other speaker was a Cary resident who complained about what he called unchecked growth in town and large developments. He contrasted this to a town he used to live in called Simsbury, Connecticut that has very little growth and he said has not changed much in the past 20 years (Simsbury has a population of just under 25,000).
After this last speaker finished his comments, Weinbrecht asked that he talk to him in the future to discuss the town and its growth.
---
Story by Michael Papich. Photos by Google Maps and Hal Goodtree.
https://carycitizenarchive.com/wp-content/uploads/2019/01/TownCouncil-Template-Blur.jpg
483
800
Michael Papich
https://carycitizenarchive.com/wp-content/uploads/2020/03/cc-archive-logo-450-v3.png
Michael Papich
2019-02-08 13:01:11
2019-02-08 11:10:08
Cary Town Council: Weston Office, Mini-Storage and More