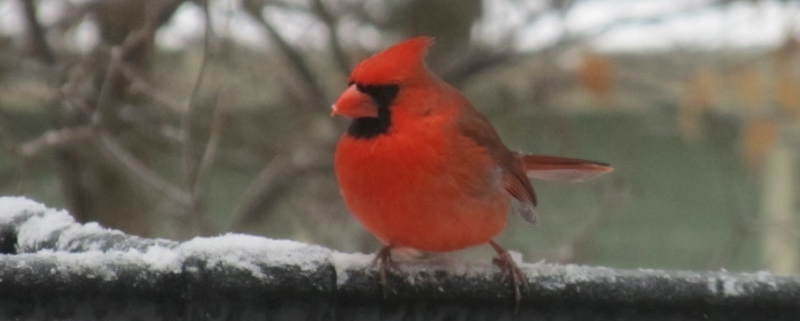 Cary, NC – Each February, people around the world take part in one of the largest and most valuable "citizen science" projects: the Great Backyard Bird Count (GBBC). This year's count, sponsored by Cornell Lab of Ornithology since 1998, takes place Friday, February 15 through Monday, February 18, 2019 and is expected to involve more than 200,000 bird lovers in over 100 countries.
As has been the case for years, many checklists will be submitted from Western Wake County. I have been a bird counter for more than ten years and will report on my findings at several Cary locations in a follow-up story after the GBBC concludes. I invite you to share the experience of the GBBC in 2019 and will tell you how to get involved.
Why Count Birds?
The songbirds and other avian species of which we are so delighted are constantly experiencing change and many species are under stress from loss of habitat, lack of food sources, variation of weather and climate and predation.
Ornithologists (scientists who study birds) seek the best possible data on how bird populations are changing in response to these stresses. Happily, efforts like the GBBC provide large amounts of data at a local level over an ever-longer period of time.
Just last year, 176,905 checklists were filed documenting abundance and distribution of 6,310 species (perhaps 63 percent of all species estimated to exist).
How Does The Great Backyard Bird Count Work?
Participation in the GBBC is easy: create a free online account at gbbc.birdcount.org. Then, count birds for at least 15 minutes some time during the weekend of February 15-18.  You can choose to count anywhere you like, at as many locations as you like, as often as you like.
For first timers I recommend counting just the birds at your own home or at your local park. You do not need to know all the bird species; do the best job you can, even if it is "spotted ten birds I don't recognize." You may also count any time of day, but I strongly recommend early morning or late afternoon for best results. Count as a family or group for added confidence and fun!
After the count, file your reports online. These checklists will be accepted for several more weeks.
How Else Can I Take Part In The GBBC?
There is an annual bird count at Marla Dorrel Park, 111 Thurston Drive on Saturday, February 16, 2019 at 10 AM. Counters will work collaboratively to document the birds seen in and around the Kids Together Playground.
This count is a wonderful way for a first-timer to see how the process works under experienced leadership.
Where will I be counting?
This birder will check bird populations at four locations during the GBBC weekend. As I have done for years, I plan to count birds in my North Cary frontyards and backyards. While many of the birds I'll see are familiar and well adapted to "people places," I am always curious about changes from year to year, especially among birds that migrate to this area each winter.
I also plan to count at Fred Bond Municipal Park; it offers a wide range of habitats where birds can be found and where I have viewed birds for years. And I'll make checks at one of our Cary greenways. I've chosen the Higgins Greenway in Central Cary, which offers a fine creekside habitat.
Finally, I'm interested to know what the urban bird scene looks like by making counts at Downtown Cary Park. Look forward to my report of what I find!
Will you participate? Give the GBBC a try this year!
---
Story and photos by David Lindquist.
https://carycitizenarchive.com/wp-content/uploads/2019/02/BirdCount-2019-2.jpg
550
800
David Lindquist
https://carycitizenarchive.com/wp-content/uploads/2020/03/cc-archive-logo-450-v3.png
David Lindquist
2019-02-08 09:21:33
2020-01-14 17:16:15
Help Local Science with the Great Backyard Bird Count