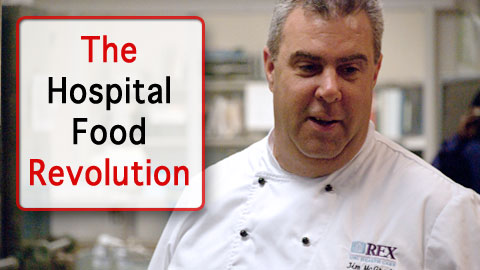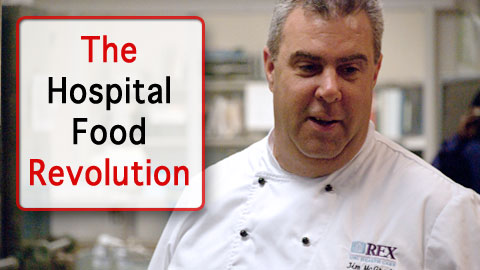 Story by Matt Young. Photos by Hal Goodtree.
Cary, NC – As a child, Jim McGrody watched Julia Child on a black-and-white television in his bedroom. He made pancakes for his brothers when he was in second grade. He knew that when he grew up, he wanted to be a chef. But now, Jim is leading a food revolution – from the kitchen of Rex Hospital.
His mission: abolish the notion that hospital food is bad.
Pan-Seared Salmon and Blueberry Panna Cotta
We were so intrigued by this story, we had to make a visit to Rex Hospital to see what author/chef Jim McGrody was doing. Jim is the Director of Food and Nutrition at Rex Healthcare in Raleigh. He recently had his book published: What We Feed Our Patients. The book is written from his "notes" over many years in the food industry – as a pot scrubber in high school, a cook in the military, a restaurant chef, college chef and leader in healthcare food service.
We were greeted by a happy staff which was at the same time bustling around doing lunch prep in an immaculate, huge kitchen. We met his "Black Hat" Chef – Ray D'Ottavio – who proudly had us taste the food. Braised zucchini, pan-seared salmon and wild rice, thank you very much. And blueberry panna cotta for dessert. A normal Rex Hospital meal. I unabashedly asked for the panna cotta recipe, and got it. He explained that people still want (or need) Jell-o. Even that had panache – it was a jello parfait! Quality control is everywhere, from dietary restrictions to "plating".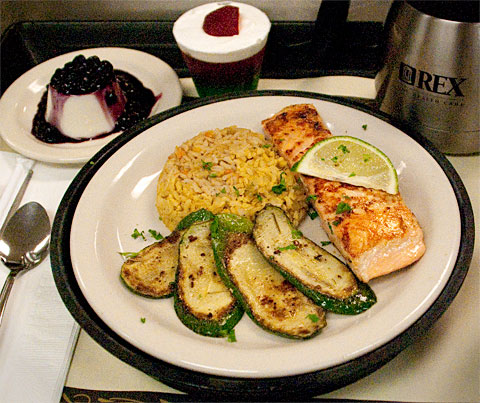 Jim told CaryCitizen: "I love food and now being in healthcare, it is even more rewarding to be part of someone's recovery. I really wrote the book because I always thought that there is no way anyone would believe this. For years I used to say 'Well that's gotta go in the book'. One day I just started writing it all down."
Jim grew up in Massachusetts. He'd been washing dishes for a year in high school, he eventually begged the owner to move up to the cook's position. He was told, "Kid, you are too young; you'll get hurt up there."  He told the owner he would do it for free for a week and if he didn't work out he would go back to the pots sink. "He must have been impressed that I wanted it so bad, because he gave me a chance." He showed up for work assuming he was going to get to work the 12 burner stove. The cooks laughed and relegated him to prep. He diced onions, shelled clams and peeled potatoes for chowder, cleaned squid, filleted fish and stuffed lobsters. He stunk when he got home so much that his mother made him remove his shoes before entering the house.
Determined to Change Hospital Food
Jim enlisted in the US Army as a food specialist (he ended up as a paratrooper as well). He eventually found himself in Fort Bragg, here in North Carolina.  In his book, Jim tells several interesting stories about cooking for large crowds, and "diversity".
"You will all get along, or I will kill you – all of you" – Jim's drill instructor in his "inspiration of the day".
Jim went from experience to experience (some hilarious, some scary) all around the country after he graduated from the well-known Culinary Institute of America in Hyde Park, NY.
Over time he became determined to change "institutional food service". The food did not have to be bad. He took what he had learned over the course of many years – serving thousands of people at a time and was determined to apply the "good practices" to the health industry.
Black Hats
Jim finally ends up working in several hospitals in Washington DC, Virginia and finally UNC Chapel Hill.
"My family packed the truck and headed back to North Carolina, the state where I had spent my army years. I liked it then and knew it would be a good fit for my family." – From What We Feed Our Patients
Jim told us, "I love North Carolina. We now live in Apex. My wife works as a nurse at UNCCH. I spent my Army years here so I knew North Carolina. I do however remember being 19 years old and going to a pig pickin' for the first time. As a kid from New England, I had never seen anything remotely close to that. I remember thinking…'barbaric'… now I get it."
The book delves into how food service can transition from Jell-O, fruit cocktail, reheated scrambled eggs and steamed meat to real food. It also touches on marketing, public relations and the business side of food prep and service.
Jim comes up with a program call "Black Hats" (the name taken from Fort Benning jump school instructors who were called the Black Hats. They were "the most hardcore" people Jim had ever met). The program awards Black Hat status (and the hats themselves) to chefs for the accomplishment of specific mastery objectives.
Hospital Food Revolution – On the Table at Rex
Eventually Jim becomes Director of Food and Nutrition at Rex Healthcare. With his staff and supervisors and through his leadership they begin to talk about and execute the use of fresh herbs, cooked to order food, better fare for vistors and staff, more variety and a level of service that seems comparable in many ways to a hotel.  One example – Rex serves Larry's Beans (a local roaster of gourmet coffee) to patients and in restaurants.
Jim told me his next challenge is this – "I want to institute a change across the country… bad food should not be served in hospitals. Period."
Results: A satisfaction survey of patients on the hospital food at Rex went from 28% satisfied to 94% satisfied during Jim's tenure.
Jim of course, gives all the credit to his team.
Imagine. Great hospital food.
https://carycitizenarchive.com/wp-content/uploads/2011/05/rex-hospital-mcgrody.jpg
270
480
Matt Young
https://carycitizenarchive.com/wp-content/uploads/2020/03/cc-archive-logo-450-v3.png
Matt Young
2011-05-11 16:11:41
2015-12-28 13:47:29
What We Feed Our Patients: The Hospital Food Revolution at Rex