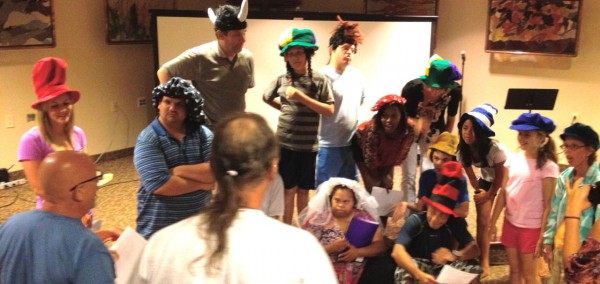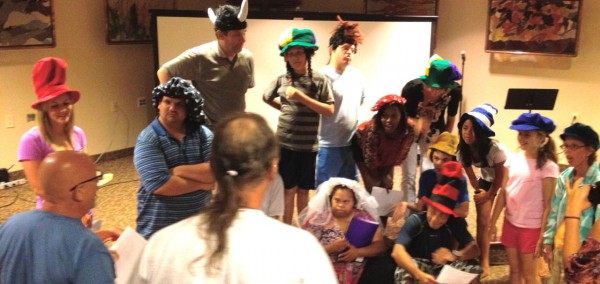 Story and photos by Lindsey Chester.
Cary, NC – Do you ever wish people could know the real ME behind the facade we wear around everyday? Now imagine if you are a person with disabilities.  Alan Rosen and his theater group TOCS have a new show that explores the real "me" inside us all.
Together on Center Stage
TOCS, or Together on Center Stage is an inclusive theater group which welcomes amateur actors of all abilities and ages. The group held their previous production at the Cary Arts Center last fall (story). The new play, Celebrating The Many Side of MYME, is about the  "Me" inside each of us that no one gets to see.
Alan is quick to point out that the show was conceived and written by his troupe of actors. He wrote a song or two, but the show is THEIR production from concept to finish. They sing, recite speeches, and even made up a word: MYME (pronounced MY- ME). He's just the facilitator.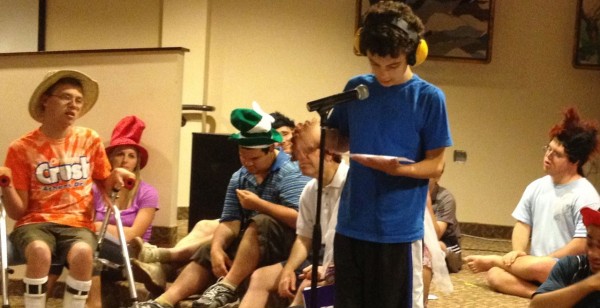 What is MYME?
The show, was conceptualized and written by the actors in about 4 weeks and will have one show on June 15. Alan's process involves all participants who create an idea for the show first and then begin to put it all together with music, monologues and movement. This often stretches the abilities and talents of all involved including his co-director Gary Swerin. The flier for the show asks the tantalizing question of  "What's  a MYME" and before the night is over the audience will come to understand no matter who you are, you have a MYME too.
Here's an excerpt from a song in the play called the MYME Song written by Alan Rosen:
Me I am me
I am many many things that you may or may not see
I'm me and I'm no one else but me–can't you see?
In their own words
From Together on Center Stage:
TOCS provides a performing arts vehicle for each member of the group regardless of their level of experience or ability.  This program promotes inclusion and is dedicated to developing social and performance skills, building self-esteem, discipline, responsibility, and  positive values through the creative arts.
Welcoming Spirit
Because Alan is fun and infinitely patient, he manages to bring out the best in everyone who participates. A young man who was volunteering for the first time the night I stopped by, was immediately asked to put on a funny hat and sing a solo. He was nervous, but obliged, and was welcomed by the group after his initial shaky performance.
That welcome and accepting spirit is what draws families back to the program. Many of the actors in this show have been in several TOCs productions. They may start out shy, but by the end of 6 weeks, they are hamming it up with the old theater pros enjoying this opportunity to be included in a program not offered anywhere else.
The TOCS group is under the wing of the Cary Players and initially performed at the Cary Arts Center. Unfortunately that building is so busy that consistent rehearsal space was hard to come by. Luckily for Alan, Tina Vance from the Cary Players' board contacted Hope Community Church. They generously offered space upstairs at the church for performance and rehearsals. Each rehearsal can take place in the same space,  where the show will take also place.  That consistency is very important for the actors.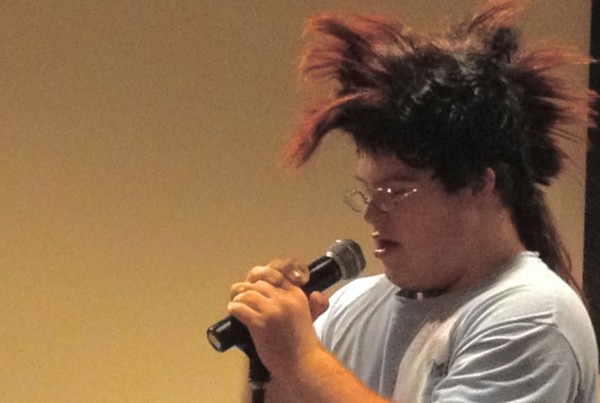 The Message
Funny hats and costumes dress up the show, but at its heart is the need for all to understand that we can not be defined by our abilities or disabilities, but who we are inside.
Event Info
Celebrating The Many Sides Of MYME
Together on Center Stage (TOCS) Theater Company
Friday June 15, 7pm
Hope Community Church
821 Buck Jones Road in Cary
Admission is free but donations will gladly be accepted.
Seating is limitied so an RSVP is recommended.  For reservations, email Alan Rosen alan@caryplayers.org.
https://carycitizenarchive.com/wp-content/uploads/2012/05/groupwalangary-e1338484909389.jpg
284
600
Lindsey Chester
https://carycitizenarchive.com/wp-content/uploads/2020/03/cc-archive-logo-450-v3.png
Lindsey Chester
2012-06-06 18:47:26
2016-01-01 18:47:09
Together on Center Stage Shows Us The Real ME