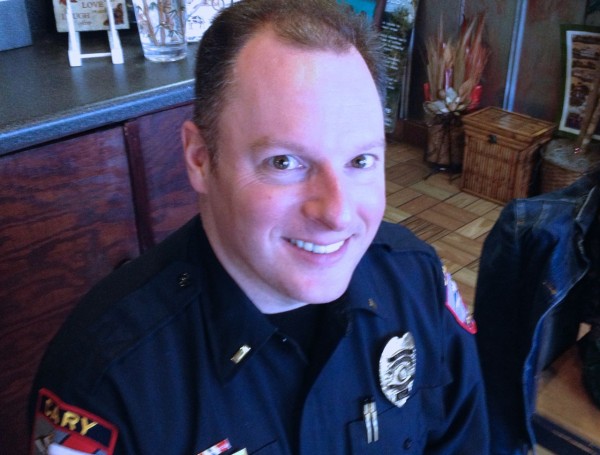 story and photo by Lindsey Chester
Cary, NC- Project Phoenix is a partnership between the police department and Town that is working with Cary apartment neighborhoods to build a sense of community. In less than 2 years, the department has seen a 13% decrease in calls to the neighborhoods that participate.Officer Ken Quinlan started as the project supervisor in September 2010 after Town Council approved a police initiative to provide funding for a new outreach project. The project required  full-time paid staff – supervisor position (Officer Quinlan) and 2 officers in early 2011, followed by 2 additional officers later in 2011 and countless staff volunteer hours.
First Things First
Ken did 4 months of initial research. He visited and communicated with other municipalities to see what outreach projects they had that worked. Ultimately, Ken created a hybrid of several models based on his knowledge of Cary's demographics, and the type of apartment communities he would serve. The project is still evolving.
With a program idea in hand, Ken reached out to the Triangle Apartment Association to get interest and feedback. Next a focus group meeting was held for 15 neighborhood property managers to figure out exactly what they needed. They all worked together a few months to develop a partnership program.  Since that time 40 neighborhoods have joined.
In order for the program to work, rules had to be established. The managers must provide an area where repeating programs can take place- a club house, meeting space, parking lot or other safe area for kids to play or adults to gather. All current property managers must go through a brief training and have their property certified as a Project Phoenix location.
Drug-Free Crime-Free
The managers must also have their residents sign leases that include a drug- free, crime free addendum. The leasing agent can then talk to potential residents and use the program as a selling feature.  The policies self-screen, as what criminal wants to live in area where there will be a big police presence? Win- win for everyone, the police have less crime, and the residents feel safer.
Ken says :
this is "Truly a partnership. (The police) truly are here to be a resource to help. One of our goals is to break down the barriers when it comes to police and town government. We are here and we do care"
Once the manager is on board, then the area officer comes out to the neighborhood and introduces himself. They find out what days/ evenings are good times for programing and they leave brochures in the clubhouse and other areas in the neighborhood so that folks can learn more. It is up to the apartment management staff to get the actual info out to residents, via a newsletter, flyers, emails, text or other means.
No Cost to Residents
The project delivers 8-9 monthly programs. The number and type of program depends largely on the makeup of the individual community. The Project has partnered with White Tiger Tae Kwon Do to start a leadership  program called Sidekicks. The RailHawks have conducted soccer clinics, and the Tennis Park staff has brought parking lot nets and equipment to teach kids tennis and USA Baseball has run "quickball" clinics. Rachel Green of Applause! Cary Youth Theatre has done drama workshops, and there are plenty of craft projects too. There is even weekly after school tutoring. All at no cost to these residents.
Not Just for Kids
Although Project Phoenix does create lots of youth-based programming through the Cary Parks & Recreation Department, there are many evening and weekend events that are for the grown-ups. Pot luck suppers are organized in which residents can meet many of their neighbors, and the police department conducts classes on safety.
Consistancy Important to Success
Consistency is also important. These programs are ongoing, and that is why there are staff assigned to areas. The 5 officers have specific neighborhoods they serve with these programs. Building trust and relationships takes consistent contact, and Ken mentioned everyone is on a first name basis. He's "Ken", not "Officer Quinlan".  These officers are in addition to the beat cops that already patrol these areas. An officer is assigned to the five areas of Cary: Western Cary, Central, South, North and  West of NC 55.
Of the 55 complexes in Cary, 40 are partnering in the program. 20 have been presented Project Phoenix plaques to display.  Ken hopes that this more stable environment creates a sense of ownership and community and what he calls "defensible space". By eliminating what he refers to as the "broken Window theory" the residents have more pride in where they live.
All For Only $262,630
The program is a line item on the Town's budget and last year cost the Town $262,630. For increased community and safety, that seems a bargain. Looking to get involved? I bet Officer Quinlan would love to hear from you. He can be reached at ken.quinlan@townofcary.org. With all the success they are having in Cary, this program could truly be a model for municipalities across the state and beyond.
Ken added that "Now, instead of a police car showing up and everyone scattering, instead now they run up to the car to say hello." He loves seeing the smiles on the kids' faces. Officer Quinlan, making a difference in Cary.
https://carycitizenarchive.com/wp-content/uploads/2013/01/Officer-Quinlin-e1357241143922.jpg
455
600
Lindsey Chester
https://carycitizenarchive.com/wp-content/uploads/2020/03/cc-archive-logo-450-v3.png
Lindsey Chester
2013-01-08 17:30:28
2013-01-10 15:59:52
Phoenix Project Makes Cary Safer