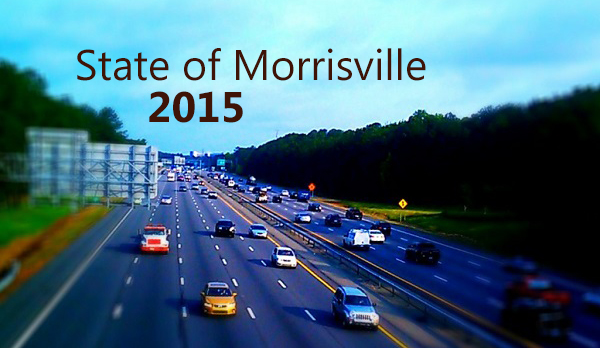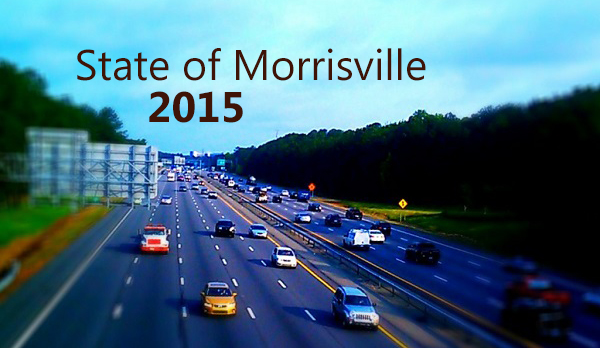 Morrisville, NC — On Tuesday, September 29, 2015, the Morrisville Chamber of Commerce hosted the State of Morrisville 2015, an informative talk and panel discussion about the town.
Introduction
The Town of Morrisville has character – as "the heart of the Triangle," it's an incredibly diverse community in a business-oriented location near Research Triangle Park and RDU. Morrisville's history is rich, too, as the town was home to the Battle of Morrisville in 1865 during the Civil War.
Morrisville is growing quickly – the current census is 23,699 residents, which is a dramatic increase from last year's estimate of 20,753. In coordination with this growth, the Morrisville Chamber of Commerce hosted a talk to address town accomplishments, issues and plans.
Morrisville Mayor Mark Stohlman and Wake County Commissioner (District 3) Jessica Holmes were in attendance along with several council members and other town officials.
Accolades
First, Mayor Mark Stohlman shared some of Morrisville's accolades from 2015:
One of the 50 Safest Cities in North Carolina
Tied for #1 in Best Raleigh Suburbs
Ranked #2 in Best Places to Start a Business
Ranked #9 in Best Cities for Young Families in NC
Public Safety Accomplishments
Next, Stohlman shared that Morrisville has made leaps in public safety initiatives this year.
Despite the town's rapid growth, burglaries are down 8% and assaults are down 3%. This year, the town held its first-ever bike safety rodeo and youth fire safety camp.
Parks & Quality of Life
With the help of Morrisville's Parks & Recreation Department, the town is hosting new events and bettering its public parks and greenways. Morrisville's first Spring Fest was a success as was the 150th Civil War Anniversary at Town Hall. Park and greenway updates included:
The Shiloh greenway is now complete.
A regulation-sized cricket pitch will open in the fall at the Church Street Park.
The Crabtree-Hatcher greenway design is done and construction will start soon. This trail will run along the Crabtree Creek connecting existing parks to Lake Crabtree. It's a close to $10 million project, and Morrisville is partnering with the Town of Cary.
Construction has started on the Northwest Park in the Breckenridge subdivision.
Road Construction
Several construction projects are underway to improve Morrisville's roads:
The Morrisville Carpenter Road widening is now complete.
An $18 million federal gift to Morrisville will allow the construction of a railroad bridge over Morrisville Parkway.
A turn lane is currently being added to Town Hall Drive.
The DOT has partnered with the Town to build a four lane road, the McCrimmon bypass project, a taxpayer-funded bond project. The Town will manage and run a road that runs from the Sheetz station on NC-54 to Airport Boulevard, and the state will manage the part from Airport Boulevard to Aviation Parkway.
Lanes will be widened near the railroad tracks by the Sheetz station on NC-54.
Transportation & Traffic
With growth comes traffic, and traffic congestion is the biggest issue in Morrisville. Mayor Stohlman shared with the crowd what is being done to address the issue.
The Town has a great relationship with the DOT – several projects that were originally planned for the 2025-2035 time frame have been pushed up to the next five years.
Two I-40 interchange projects (at Aviation Parkway and at Airport Boulevard) are coming in the next 5-10 years to alleviate congestion at both interchanges.
Construction on a section of 54 down to Airport Boulevard has been moved up to a 5-10 year window as part of the NC-54 study program. Feasibility studies are going on right now.
State of Wake County
Wake County Commissioner Jessica Holmes then shared "the state of Wake County" as it applies to Morrisville. Holmes discussed education and transit, but, first, she shared some interesting facts with us:
Wake County recently reached over 640,000 registered voters.
The airport just announced a new flight from RDU to Paris, our second international flight.
In Wake County, a kindergarten class is born every single day.
Education & Schools
Holmes, who is an education law attorney, stated that there are 157,000 kids in the Wake County public school system. "Since more students are enrolled in our schools now than ever before, we just gave the school system the largest increase in Wake County's history," Holmes said.
Here's what is being done to help kids and to address the need for more schools:
Wake County contributed to Smart Start for the first time in history to help kids from families with low incomes enter school healthy and ready to succeed.
A new elementary school in Cary will serve Morrisville students (est. 2017). The county is maximizing the money they have to continue building schools.
Morrisville will get its own library (Morrisville Community Branch Library) in 2019.
Transit
Right now, many Wake County roads are already above capacity.
If public transportation does not change by 2040, the traffic that is now a inconvenience will eventually decrease commuters' quality of life. The county is working with many community groups to have one transit plan together by December of this year.
"We're not only talking about transit, we're moving forward on an actual plan," Holmes said. "Public input has been received on four plans – and the plans are very people-driven." The new plan will incorporate a mix of commuter rails (using existing tracks) and frequent bus service.
Bus stop shelters, transit accessibility and other conveniences are important to Holmes.
Keeping the user in mind is important, because even a transit plan that makes sense will not pay for itself if we don't increase ridership. Light rail is out of the mix, and has been for a long time, because its cost is not practical. "Even though we like the idea of light rail, we're pushing forward a plan we can afford that makes sense," Holmes said.
Related Content
———————————————————————————————————————————–
Story by Jessica Patrick. Lead photo by Leo Suarez.
https://carycitizenarchive.com/wp-content/uploads/2015/09/Morrisville-State.jpg
348
600
Jessica Patrick
https://carycitizenarchive.com/wp-content/uploads/2020/03/cc-archive-logo-450-v3.png
Jessica Patrick
2015-09-30 10:52:00
2019-12-28 11:33:30
Business: 2015 State of Morrisville