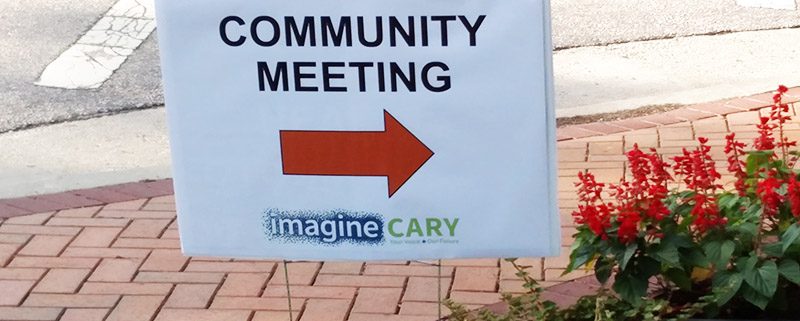 Cary, NC – On the cusp of Cary's 2040 Community Plan going to Town Council, Cary residents got the opportunity to learn about the proposed plans and changes for the town and, more importantly, let the town know what they think about it.

Available Information
Cary held two open house events on Thursday, June 28 and Tuesday, August 2, 2016 at the Herb Young Community Center. Poster boards were set up around a large room for residents to walk around and read about the different elements of the plan and staff's analysis of Cary as it is today. There were also maps showing an overview of Cary and where the plan has it going in the near future.
Arguably the main part of the plan is the Eastern Gateway redevelopment. This 800-acre piece of land stretches from Chapel Hill Road to Cary Towne Center and includes not only the mall but WakeMed Soccer Park as well. The plan, which Town Council has prioritized ahead of the rest of Imagine Cary, will not see changes to the soccer park but it will have significant redevelopment of Cary Towne Center.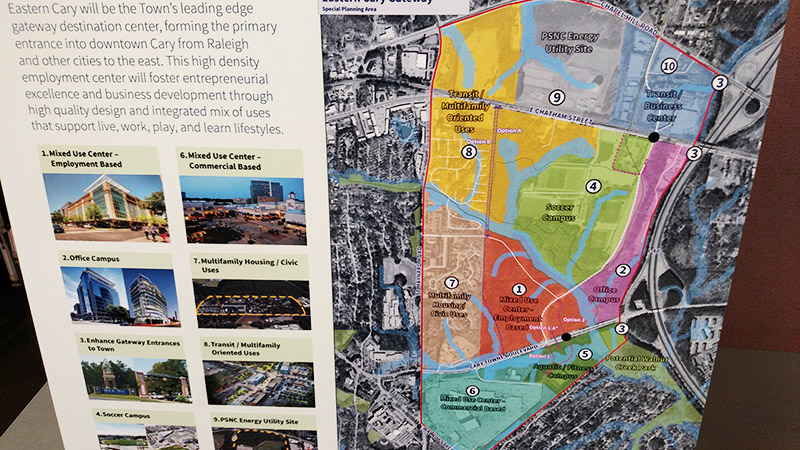 The plan is to break the mall down and turn the area into a mixed-use commercial center with smaller, walkable shops. But for the overall gateway, councilmembers hope this can be an employment center with lots of office space.
Melissa Dempsey, who lives near the mall, said she is disappointed more isn't being done to develop the mall as it is but she is still in favor of a lot of what is being proposed in the overall plan.
"This is the way most malls are going across the country: focusing on walkability," Dempsey said. "It's just nice to be able to walk to your destination."
This is also where North Carolina's first Wegmans is proposed to be, with 90 acres set aside for the popular grocery store chain.
Cary residents who attended the open house seemed receptive to the plan, such as Seph Bernard.
"I'm interested in the comprehensiveness of the plan, especially when it comes to revitalizing the mall and its surroundings," Bernard said. "I came to Cary 11 years ago and I always heard big things were on their way so this is a long time coming. I've been anxious for it."
Targeted Development
The rest of the plan for Imagine Cary and the 2040 Community Plan was broken up based on different parts of town and how each one can best be worked on. For example, the poster boards emphasized how Carpenter Village's historic elements should be preserved and repaired while including infill that matches with the surroundings and how the natural landscape of Green Level needs to be maintained for that part of town to retain its character.
Infill and redevelopment were big parts of the overall Community Plan. Less than 20 percent of Cary is currently available for new development so the town is looking to change the rules surrounding infill and redevelopment to fit the present condition.
But with so much new construction planned, some residents such as Dale Broadbent said they have concerns.
"It's very ambitious. It all looks great but around town, you'll see thousands of trees being uprooted," Broadbent said. "There's an ugly side to all of this."
Broadbent said a respect for the environment was his main priority when it comes to Imagine Cary.
The plan emphasized public transportation and investments to make sure buses can reach more neighborhoods, including those that were underserved. When discussing downtown, the poster boards highlighted how the train tracks can separate parts of Cary from one another and the best way to combat this is more busing.
"If they want to be successful in downtown, the transportation infrastructure needs to speed up," Bernard said.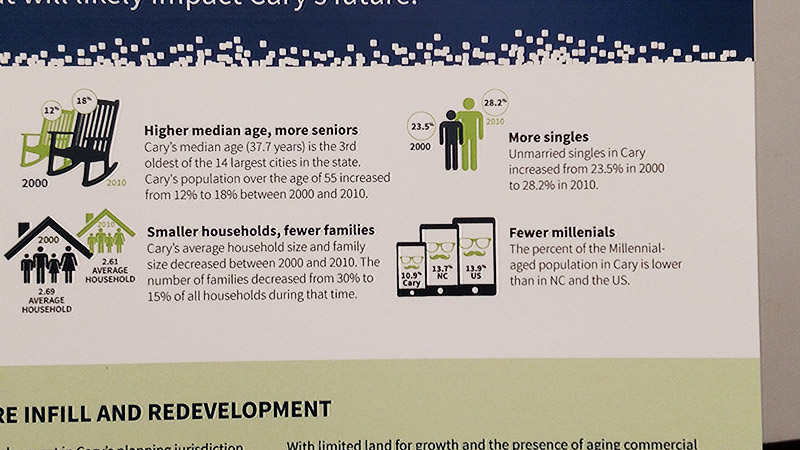 Details of the plan included analysis of where Cary's oldest and youngest neighborhoods are to track the direction the town is developing. Also included were demographics that show Cary residents are getting older overall, though an influx of new business centers bringing in new employees and families could change that.
The plan shown at the open house events were the result of years of work by town staff and focus groups with residents. Lori Campbell was a part of those early steps in the Imagine Cary process and went to the open house events to see where that input went.
"I'm interested in how Cary looks to incorporate our diversity," Campbell said. "It's important in terms of the happiness of the community; in terms of our vibrance and bringing in different perspectives and cultures and ideas."
Now, town staff will collect and evaluate resident feedback and present a revised plan to Town Council at a Tuesday, August 23, 2016 work session.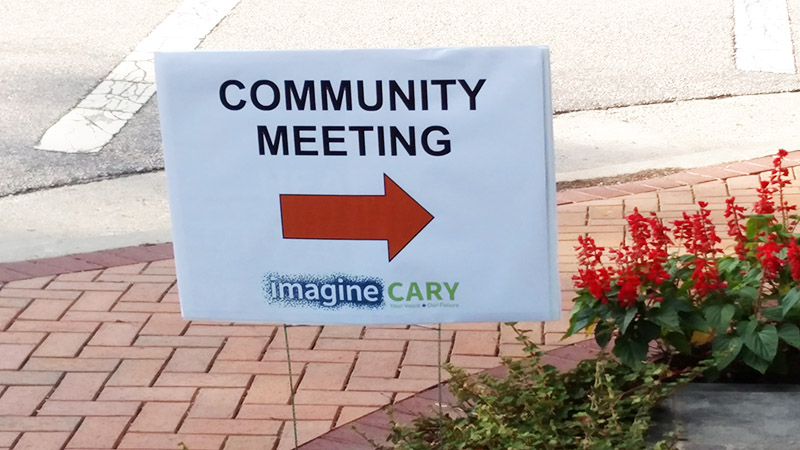 ---
Story and photos by Michael Papich.
https://carycitizenarchive.com/wp-content/uploads/2016/08/OpenHouse4-1.jpg
450
800
Michael Papich
https://carycitizenarchive.com/wp-content/uploads/2020/03/cc-archive-logo-450-v3.png
Michael Papich
2016-08-03 09:48:55
2019-12-08 10:30:43
Open House Unveils Cary Plans to Residents