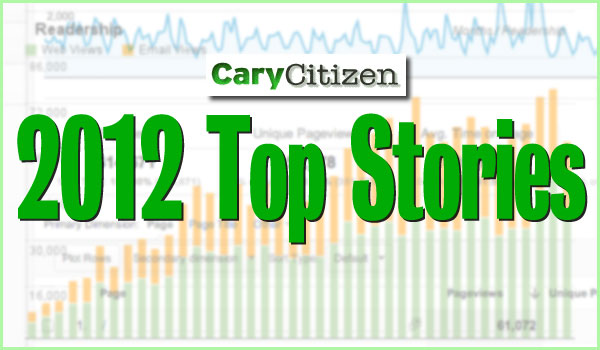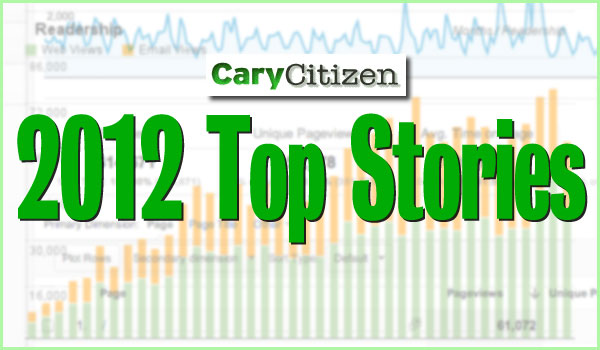 Cary, NC – CaryCitizen finished the year strong with 792,588 total readership. Here are the Top Stories from 2012 plus a few other interesting stats.
Top Stories from 2012
Calendar of Events – After the Home Page, the Calendar is the most visited content on CaryCitizen for 2012.
First Look: Walmart Neighborhood Market – People are interested in Walmart, whether it's for shopping or looking for a job.
Protest at Miracle League Ends in Arrest – In June, we published a story about a protest at a Miracle League game. This story ranked third on the year and also had the most comments (43).
Jordan Lake Boat Rentals – This story, published in May, is an aggregation piece. That is, we gather a bunch of dispersed information and publish it all in one place. Thanks to our friend Julie Roland for letting us republish this post from her blog.
Pictures of Diwali 2012 – It's unusual that a story published in October would make the Top 10 on the year. That it did is testimony to the fine photos by Brooke Meyer and the strong interest in the subject.
Designing the Perfect Christmas Tree – This was another story published in October. This is great content supported by our long-time sponsor Garden Supply Company here in Cary.
Robert Downey Jr. in Cary for Ironman 3 – Of course, anytime you can mention a Hollywood star and Cary in the same sentence, the story goes nuclear.
Walmart Neighborhood Market Coming to Cary – This story, published in April, skewed two interests. The first (as noted above) was all-things Walmart. This story also rode on the coattails of coverage in 2011 of the proposed (and aborted) Immigration (ICE) facility near the West Park neighborhood.
2012 Decorating: New Hues for Home Decor – This story was published in January, giving it the entire year to accumulate views. It was also one of the first stories we republished to Pinterest.
2012 US Olympic Table Tennis Trials Set for February in Cary – This story was also published in January, but had most of its views within just a few weeks of publication. Astoundingly, the "Get Tickets" link had 187 clicks.
Other Interesting Stats
We calculate total readership as web page views plus email opens.
2012 Web Page Views – 443,919
2012 Email Opens – 348,669
Another stat people ask about is unique visitors to the website.
2012 Unique Visitors – 206,889
CaryCitizen was viewed in 181 countries in 2012. 89.6% of the visitors were based in the United States, the vast majority right here in Cary and the Triangle.
Ad Space – 1.3 Million Impressions
Our ad space had 1,342,081 impressions in 2012. Top performers included Booth Amphitheatre (54,920 impressions with a CTR of .49%) and the RailHawks (40,488 impressions and a CTR of .52%).
An ad to fill a vacancy on Town Council had only 1,404 views but a CTR of 1.99% – almost 10 tens the national average for click-through.
Content Marketing – 26.71% Click-Through
We offer content marketing in two flavors – story ads and seasonal content.
Story ads (advertising embedded in individual stories) had 3,239 views but an incredible 865 clicks with a click-through rate of 26.71%. That's off the charts, yo.
Seasonal ads, a program we started in fall, had 12,907 views and a CTR of .90%.
The key factor in content marketing is that the ad appears in a story targeted to a specific audience, like gardening or decorating or food. It's not difficult to predict that more and more advertisers will jump on the content marketing bandwagon in 2013.
Thanks Readers!
Thanks to all our readers, advertisers, sponsors and contributors in 2012. I'll predict we get close to 1,000,000 in readership in 2013.
Happy New Year, Cary Citizens!
https://carycitizenarchive.com/wp-content/uploads/2013/01/2012-top-stories.jpg
350
600
Hal Goodtree
https://carycitizenarchive.com/wp-content/uploads/2020/03/cc-archive-logo-450-v3.png
Hal Goodtree
2013-01-02 17:25:11
2013-01-02 17:25:12
Top Stories from 2012