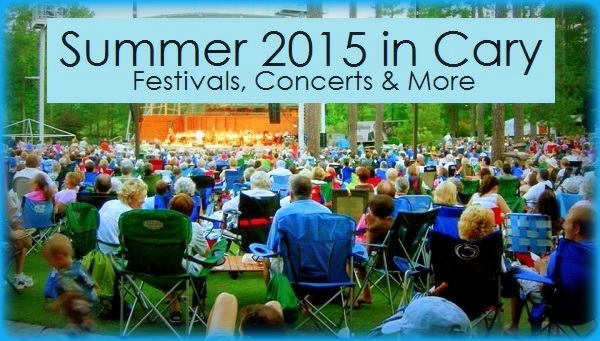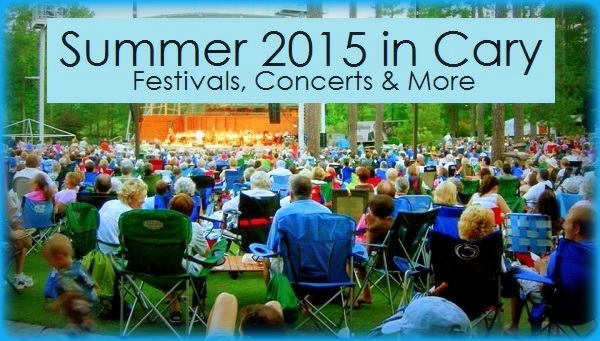 Cary, NC — This is your complete guide to outdoor concerts, large-scale festivals, moonlight movies, kids activities and more in Cary throughout May-August 2015.
2015 Guide to Summer Events in Cary
We try to keep you updated on what's going on around town year-round through our calendar of events and weekend events stories, but everyone knows that summer in Cary is packed full of concert series, festivals and more. Consider this your guide to it all.
Koka Booth Concert Series
Hob Nob Jazz Concert Series
Koka Booth Amphitheatre, 8003 Regency Parkway, Cary
Four shows are left in Koka Booth's Hob Nob Jazz concert series. Tickets are only $5 for adults, and kids under 12 are free. Picnics (without alcohol) and leashed pets are allowed.
May 13, 2015 – Tea Cup Gin
May 20, 2015 – Stanley Baird Group featuring Vocalist Connie Rogers
May 27, 2015 – Mint Julep Jazz Band
June 3, 2015 – Al Strong Quintet
All shows are 5:30-8:30 pm.
NC Symphony Summerfest
Koka Booth Amphitheatre, 8003 Regency Parkway, Cary
Concerts in the diverse 2015 Summerfest series take place May 23-July 9. Concertgoers may bring picnics, blankets and lawn chairs as early as 5:30 p.m. to enjoy the striking natural surroundings before the music begins. Lawn tickets start at $28; children 12 and under are free.
May 23, 2015 – Rhapsody in Blue & Dvorak's New World Symphony
May 30, 2015 – Your Favorite Light Classics
June 6, 2015 – Totally 80's
June 13, 2015 – White Night's Russian Festival
June 19, 2015 – An Evening of Broadway
June 20, 2015 – Symphonic Wizardry featuring the music of Harry Potter
June 27, 2015 – The Music of the Eagles
July 9, 2015 – The Hot Sardines (the NC Symphony will not perform at this concert)
All shows start at 7:30 pm.
Other Concerts at Koka Booth
As of now, this is the summer line-up of shows at Koka Booth Amphitheatre.
May 9, 2015 – Opera in the Pines
June 10, 2015 – Alabama Shakes
June 15, 2015 – Robert Plant & The Sensational Space Shifters Pixies
June 18, 2015 – "Weird Al" Yankovic
July 9, 2015 – The Hot Sardines
July 18, 2015 – Wheels of Summer Tour
August 5, 2015 – Christina Perrie & Colbie Caillat
August 9, 2015 – Garrison Keillor's A Prairie Home Companion
August 11, 2015 – Culture Club
August 12, 2015 – Peter Frampton & Cheap Trick
August 15, 2015 – Jim Gaffigan
Concert times and ticket prices vary. Purchase tickets online.
Free Outdoor Music
Live at Lunch in Downtown Cary ends May 28, 2015
Fidelity Bank Plaza, 100. W. Chatham Street, Cary
Every Thursday in May from 11:30 am-1:30 pm, the Town of Cary will host Live at Lunch, a free concert series, downtown. Tables and chairs will be set up on the Fidelity Bank plaza, and attendees are encouraged to bring a lunch–from a downtown restaurant or home.
May 14, 2015 – Hank Smith Duo (bluegrass)
May 21, 2015 – Erin Mason (soulful country & folk pop)
May 28, 2015 – Peter Lamb & Mark Wells Duo (jazz)
LIVE in the District ends June 18, 2015
Park West Village (in front of Stone Theater), Morrisville
Each Thursday through June 18, 2015 bring your lawn chairs and blanket and join Park West for live music from 6 pm-8:30 pm. There will be face painters, balloon artists and drinks for sale.
Summer Reggae Series
Rally Point Sport Grill, 1837 N. Harrison Avenue, Cary
On four Saturday nights this summer, Rally Point will feature live entertainment from The Amateurs Reggae Band and other performers like jugglers and fire eaters. There will be a nightly hula hoop contest, island drink & food specials on the patio. Reggae nights include:
May 9, 2015
June 20, 2015
July 11, 2015
August 8, 2015
Festivities start at 11 pm, but get there early to hear DJ B4.
Wind Down Wednesdays ends July 29, 2015
Waverly Place, corner of Cary Parkway and Tryon Road
Starting on June 3, 2015, enjoy a series of free concerts on the promenade every Wednesday from 6-9 pm. Bring lawn chairs and blankets, and purchase hand held food from a variety of food stations. All concerts are free and open to the public.
June 3, 2015 – Bull City Syndicate
June 10, 2015 – Peak City Sound
June 17, 2015 – The Embers featuring Craig Woolard
June 24, 2015 – The British Invaders
July 1, 2015 – The Magic Pipers
July 8, 2015 – Jim Quick and Coastline
July 15, 2015 – Band of Oz
July 22, 2015 – Hip Pocket
July 29, 2015 – A Special Collaboration featuring Rebekah Todd, Matt Phillips & Friends
PineCone Bluegrass Concerts
Sertoma Amphitheatre at Bond Park, 801 High House Road, Cary
PineCone and Cary are working together this summer to provide a series of free, outdoor bluegrass concerts to the public. All shows are free and start at 6 pm unless specified otherwise.
May 16, 2015 – The Moore Brothers (5 pm)

June 13, 2015 – Lynda Dawson & Pattie Hopkins

June 26, 2015 – PineCone Bluegrass Camps Culminating Concert (at Page-Walker)

July 11, 2015 – A Tribute to the Music of Bela Fleck & the Flecktones

August 8, 2015 – Songs of the Fall
Page-Walker Starlight Concert Series
Page-Walker Arts & History Center, 119 Ambassador Loop, Cary
The Starlight Concert Series is a lively series of free concerts that takes place in the beautiful gardens of Page-Walker on the fourth Friday of each month, May-September. Bring your friends and a picnic and enjoy music by starlight. All concerts start at 7 pm.
May 8, 2015 – Polka Plus Band (special 20th anniversary concert)
May 22, 2015 – Barrowburn (Celtic music)
June 26, 2015 – A Celebration of Bluegrass
July 24, 2015 – Moment's Notice (jazz and blues)
August 28, 2015 – Jamrock (reggae)
September 25, 2015 – Craicdown (acoustic)
Outdoor Movies at Koka Booth
Movies by Moonlight
Koka Booth Amphitheatre, 8003 Regency Parkway, Cary
For only $5 (kids under 12 are free) patrons can bring a blanket or chair as the spacious lawn at Koka Booth becomes an outdoor movie theater. No pets are allowed, but picnics (including beer and wine) are. Movies By Moonlight proceeds benefit the WakeMed Children's Hospital.
May 15, 2015 – Big Hero 6 (PG)
May 29, 2015 – The Imitation Game (PG-13)
June 4, 2015 – Jurassic Park (PG-13)
June 11, 2015 – Bridget Jones's Diary (R)
June 26, 2015 – Gone Girl (R)
July 10, 2015 – Hunger Games: Mockingjay Part 1 (PG-13)
July 11, 2015 – How to Train Your Dragon 2 (PG)
July 16, 2015 – Almost Famous (R)
July 24, 2015 – St. Vincent (PG-13)
August 6, 2015 – Dead Poets Society (PG)
August 15, 2015 – Brave (PG)
August 21, 2015 – Guardians of the Galaxy (PG-13)
Movies starts at dark (approximately 8:30 pm), and the gates open at 7 pm.
Festivals & Large Events
Amtrak Train Days
Saturday, May 9, 2015; 10 am-2 pm
The Cary Depot in Downtown Cary
Visit the depot filled with family-friendly displays, activities, vendors and giveaways.
Wheels on Academy Car Show
Saturday, May 16, 2015; 9 am-2 pm
Academy Street in Downtown Cary
Find that special car that evokes memories of the past or dreams of the future. Academy Street will be enlivened with entertainment, food, and fun for the entire family.
Dog Days of June
Saturday, June 6, 2015; 9 am-1 pm
Bond Park Field 6, 801 High House Road, Cary
A day of family fun for you and your dogs. Compete in a disc competition, vaccinate or microchip your pet, give him or her a bath and visit with local pet-focused vendors and rescue groups raising money to donate to canine charitable organizations.
Pig Pickin' in the Park
Saturday, June 6, 2015; 4:30 pm-7 pm
Bond Park, 801 High House Road, Cary
Cary-Kildaire Rotary Club will host a pig pickin' with food, live music, games and family fun.
Arts & Crafts Fairs
Downtown Cary Food & Flea
Second Sundays of each month
Ashworth Village parking lot (corner of Academy and Chatham Streets)
On the second Sunday of each month, downtown fills with music, crafts vendors, food and more.
Lazy Daze
Saturday, August 22, 2015; 9 am-5 pm
Cary Town Hall Campus, Downtown Cary
Lazy Daze is one of the largest single day juried arts festivals in the country. This is its 39th year. Due to construction, this year's festival will be moved to Cary's Town Hall Campus.
Food Trucks & Beer Festivals
Chatham Street Chowdown
Sunday, July 26, 2015; 5-9:30 pm
West Chatham Street in Downtown Cary
15 food trucks plus a wine and beer garden, seating and live music make this event popular.
Beer, Bourbon & BBQ Festival
Friday, July 31, 2015; 6-10 pm & Saturday, August 1, 2015; 2-6 pm
Koka Booth Amphitheatre, 8003 Regency Parkway, Cary
This festival features unlimited beer and bourbon tastings as you stroll from tent to tent. There will also be 40 bourbons and 60 beers on tap and BBQ galore. Tickets start at $60.
Independence Day Celebrations
Independence Day Olde Time Celebration
Saturday, July 4, 2015; 7:30 am-3 pm
Bond Park, 801 High House Road, Cary
Fishing, a parade and family-friendly competitions are all part of this old-fashioned day.
July 4th Celebration
Saturday, July 4, 2015; 3-10 pm
Koka Booth Amphitheatre, 8003 Regency Parkway, Cary
This large-scale celebration includes a Ferris wheel, scavenger hunt, berry-go-round, two concerts, picnicing, fun contests, food vendors, a spectacular fireworks display and more.
Just for Kids
Tuesdays for Tots
Koka Booth Amphitheatre, 8003 Regency Parkway, Cary
This family-friendly event offers a morning of story-telling, creative movement and play and stroller walks around Symphony Lake. It is also designed to provide opportunities for parents and care-givers to connect with each other and for kids to get outside. Admission is free.
June 2, 2015 – Fitness & Music Fun
July 7, 2015 – Down on the Farm Fun
August 4, 2015 – Community Superheroes
All events last from 9:30 am-noon.
Didn't Find What You Were Looking For?
Find a complete listing of Cary events on our CaryCitizen calendar, and follow us on Facebook to stay engaged on what is happening around town.
———————————————————————————————————————————–
Story from staff reports. Photo from Koka Booth Amphitheatre on Facebook.
———————————————————————————————————————————–
The CaryCitizen summer events guide is sponsored in part by Rally Point Sport Grill, Wind Down Wednesdays at Waverly Place and Mosquito Wizard.
https://carycitizenarchive.com/wp-content/uploads/2015/05/Summer.jpg
341
600
Staff
https://carycitizenarchive.com/wp-content/uploads/2020/03/cc-archive-logo-450-v3.png
Staff
2015-05-08 11:28:17
2019-12-08 10:16:01
2015 Guide to Summer Events in Cary